Let's talk outbound sales strategy 💁
In B2B, sales development representatives (SDRs) use tactics to build a relationship with a potential customer.
Using channels like cold calls, cold emails and social networking on LinkedIn, SDRs pitch products or solutions to your ideal customer profile (ICP).
Before you get started in the world of outbound sales, you need to know what makes a great outbound sales strategy. Here we look at the key considerations, with advice from sales leaders.
Jump ahead to:
The 5 considerations for an outbound sales strategy
Your outbound sales will only be as powerful as the strategy you've got in place.
Here are the 5 considerations you need to think about to get good results 📈
1. Get a great sales team behind you
A team of SDRs will be the backbone of your outbound sales strategy.
Building an outbound sales team can be a daunting task (particularly for startups). But there are options. You can build your team either internally or externally.
Something that's non-negotiable here is your sales culture. Your outbound sales strategy won't thrive without it.
Anders Holmberg, now VP of Sales & Customer Success at Depict outlines that "changing mindsets" is more difficult than a lot of sales leaders realize. If you're pivoting from an inbound approach, you need to be able to create an atmosphere with a proactive mindset, rather than a reactive mindset.
It's also about knowing what to look for in a good SDR. Ben Ward-Cochrane, Head of Sales at Huq Industries says:
"The top SDRs for me have always been the ones which are like really inquisitive. Inquisitive in terms of how their peers work and what really matters to the prospect. That's something that will stay with you throughout your sales career, regardless of what level you get to"

"Even if you get to being head of sales levels you're strategically thinking about that problem all the time. So looking at how you can improve your outreach, or how you can improve demos, or the way you follow-up."
2. Cement your ideal customer profile (ICP)
Before you start your outbound sales strategy, you need to cement your ICP (and buyer personas).
Fine-tuning is needed to build an effective outbound strategy. It could be worth looking at your existing customers here.
Look at who's got the best customer lifetime value (CLTV) or the quickest sales cycle. There might be a vertical that uses your product (or service) more. Find out who these companies are and use this data to refine your ICP and buyer persona.
It'll help SDRs target people that are most likely to buy.
3. Look at your tech stack
Next, you need to evaluate your tech stack. There's a lot a good SDR can do armed with a spreadsheet. But, competition is now so stiff and technology can really help to speed up sales processes (like prospecting).
A lot of sales professionals agree that an SDR needs…
A CRM
Online demonstration and collaboration platform
A sales cadence tool
Sales coaching tools
Data intelligence and enrichment software
4. Consider your sales cadence
Outbound sales need winning sales cadences.
Check out how sales cadence supports outbound sales 👇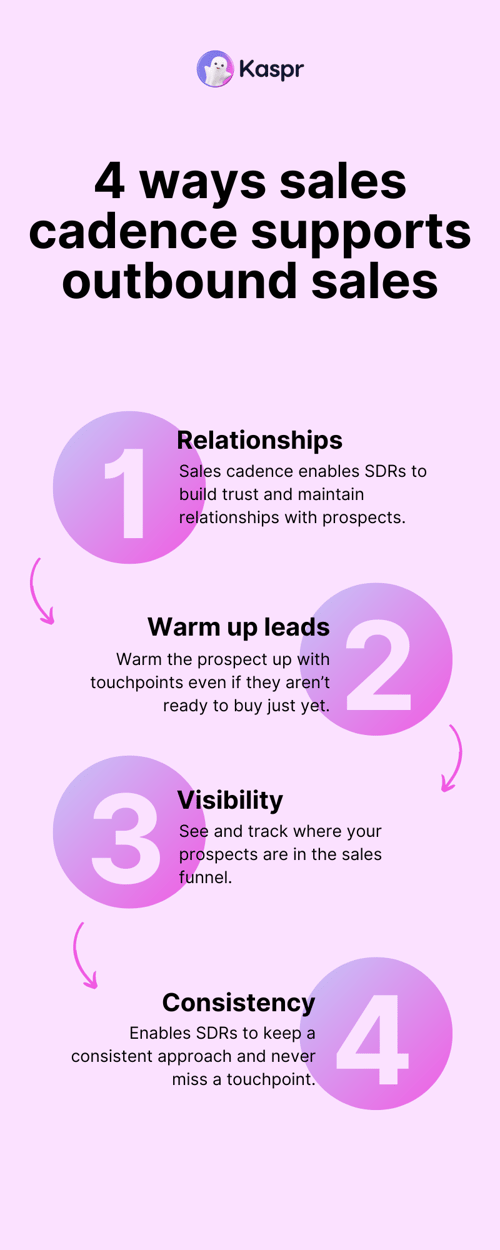 Sales cadence software can help to build out sequences across all channels. So you can automate email sends and task notifications.
It's an iterative approach. Rory Sandler, CEO and Co-founder of trumpet says you need to ask yourself questions like:
Does my content stand out from the crowd?
Is there more than one CTA per touchpoint?
Is my digital outreach optimized for mobile?
It's important to never get complacent in outbound sales. And part of that means making an effort to improve sales cadences. If you can't dedicate enough time to this, you probably need to re-evaluate whether an outbound sales strategy is right for you.
5. Sales enablement
Performance is at the forefront of outbound sales. Having good sales enablement tools and processes in place will help your team sell more.
As part of this, sales leaders need to understand how to coach their SDRs. Ryan Resiert, Subject Matter Expert at Cognism talks about the importance of looking at outcomes. This makes it easier for reps to understand what they need to do to improve their performance.
Ryan talks more about this in this clip 🎬
Why you should do B2B outbound sales
It's no secret that B2B outbound sales takes a lot of hard graft.
But if done well, there's the opportunity to close bigger deals, maintain relationships and build pipeline momentum.
There are often arguments around inbound vs outbound sales. Both can be powerful tools for revenue growth but how you choose to split them depends on your business.
Here are some of the key benefits of an outbound sales strategy 🤑
Only talk to your ideal customer profile (ICP)
Your ICP is the perfect company for what your product or solution solves.
When you have an outbound sales strategy you can tailor your messaging and who you target within the business (a persona).
Inbound sales can sometimes present leads that just aren't the right fit. With a clear target market, SDRs won't' waste their time with tire kickers, and companies that don't have the budget or will just never be interested in buying.
Close bigger deals
If higher-value deals make up the bulk of your revenue, you'll probably be heavily weighted toward outbound sales.
There is more shopping around with bigger deals. This means prospects consider their options and engage in demos to weigh up the pros and cons of each.
The beauty of SaaS is that decision-makers don't always need to bring in other departments, like IT (yay 😃). But at the same time, big deals are unlikely to close without outbound. There are a lot of choices out there.
Maintain relationships
An outbound sales strategy enables you to maintain relationships with your ICP.
Sales cadence touchpoints mean there is a common and consistent approach. SDRs have complete visibility about where prospects are at.
You can also reach back out to your closed-lost. This graveyard (turned goldmine) is just one example of how outbound sales sparks and maintains relationships 🤝
More control of your sales process
Outbound sales gives you more control. From only going after your ICP, to setting up sales cadences and your internal process.
Sales processes like mutual success plans bag prospects in the closing stages. Jack Neicho, SMB Account Executive at Salesloft says:
"It allows you to say to your client we need legal in at this point, so it's up to you to bring legal to me so that we can sign the contract. It's a process of green and red boxing things, leaving the client accountable for moving the deal along."
Jack outlines that your plan should include steps like:
Discovery call completed
Demo
Technical demo
Implementation and onboarding
Build a pipeline
Sales pipelines show how successful your outbound sales activities are. You can review and reiterate sales cadences and processes.
Building out your sales pipeline also means you've got a constant supply of prospects, all at different stages. This makes forecasting revenue easier.
How outbound benefits longer sales cycles
Longer sales cycles mean there's more time needed to reach a final decision.
They can be common if you're dealing with enterprise accounts and larger deals. There are usually more stakeholders involved and getting sign off internally can take a while.
A sales cycle typically looks like this 👇
Prospecting
Meeting/demo scheduled
Proposal sent
Closed
For B2B outbound sales, this is where cadences come in. A sales cadence is a series of scheduled touchpoints with the objective to spark and maintain a relationship with prospects. The end goal for the SDRs is getting that meeting booked in ✅
If you get your sales cadence right, it can even help to shorten the sales cycle. But sometimes it's harder to avoid a longer cycle, particularly when there are matters out of an SDR's hands.
The Chet Holmes buyer's pyramid breaks down prospects into different categories within the sales cycle. 10% are either "buying now" (3%) or "open to it" (7%).
Then, around 30% are "not thinking about it", meaning they aren't actively looking for a solution. But this is the winning zone for your sales cadence and follow-up activities.
Ryan Reisert, a Subject Matter Expert at Cognism explains more about why outbound sales is crucial for making revenue from the winning zone in the clip below 🎬
There are different types of sales cadences depending on how a prospect has interacted with your company already and which channels work for you as an SDR. How you create your sales cadence will factor this in.
Lock in your outbound sales strategy
Outbound sales is a crucial piece of the puzzle for many B2B companies 🧩
There are many reasons why you should do it, certainly if your sales cycle is longer.
To recap, here are the top 5 considerations for an outbound sales strategy:
Get a great team behind you - set up your sales culture and know what to look for when hiring your SDRs
Cement your ideal customer profile (ICP) - refine it, using factors like which customers are providing you with the most CLTV
Look at your tech stack - make sure you've got the basics to enable your SDRs to thrive
Consider your sales cadence - always be iterating it and looking at areas for improvement
Sales enablement - measure your team's performance and understand how to coach them using outcomes
INBOX INSIGHTS
Quick-to-read tactical advice and tool suggestions straight to your inbox.
Kaspr offers you the best way
to reach your customers