SaaStock is a leading tech event for SaaS companies, and Kaspr is here this year!
Follow us for live updates from day one at the RDS in Dublin! Hit refresh 🔄
17:30
It's time for the closing remarks.
Aimée Williams, Vice-President, Enterprise Technology Sector Division at IDA Ireland. Reflects on a great day!
16:52
Sales reps stand out by being personal. And by delivering the best "buyer experience."
Samir suggests using personal channels like text messages. This is even more important since most deals are done remotely and online.
"Don't have a bag on your head", video isn't an option, it's a mandatory part of a digital meeting.
16:50
Invest in SalesOps/RevOps early... the earlier the better!
16:44
"Hire good sales reps"
Solid internal hiring processes are crucial... this is GetAccept's:
Internal recruitment team
Data approach to hiring
Case interview
Quick contract process
Onboarding


16:43
You need to track lagging vs leading metrics.
16:41
When you're building out a team, you need a Head of Sales who's kick-arse at hiring.
They need to have experience in building different sales team structures.
16:36
Next up on the Growth Stage, there's Samir Smajic, Co-founder and CEO at GetAccept.
He's going to talk about building a successful sales team 💡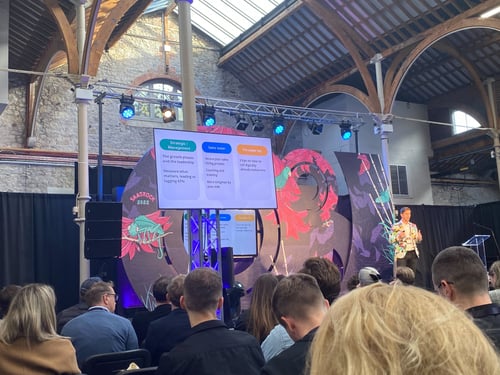 15:49
Usage-based pricing = PLG
15:34
Your path to winning at PLG:
Build to be discovered by users
Focus on user pain, not buyer pain
Community is the new moat
15:30
Now at the Growth Stage is Kyle Poyar, Partner at OpenView is talking product-led growth (PLG).
Three out of five SaaS companies are turning their attention to PLG.
15:06
This means that there needs to be organization and incentivization for continuous sales motion.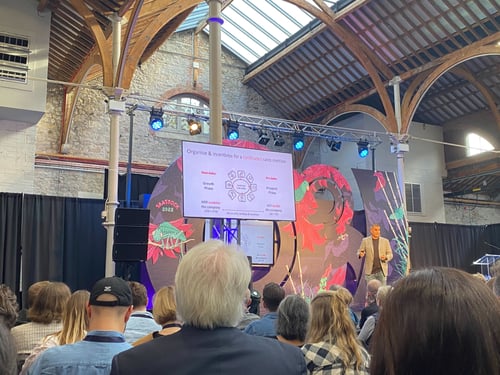 15:03
Sales and customer success alignment is key.
Account Executive (AE) + Sales Engineer (SE) + Customer Success Manager (CSM) = all need to be fully aligned to close the buyer-deployer gap.
15:00
Customer success was born out of the fact SaaS made it easier for customers to churn.
14:55
These are the signs of unmet needs:
Slow (or no) deployment
Poor user adoption
Low usage proficiency
Lack of advocacy
14:52
At the scaling stage, SaaS companies see an increased pace, frequency and complexity.
This can uncover some unmet needs.
14:50
Do you know the missing piece of software sales? Rav Dhaliwal is about to explain at the Growth Stage!
14:25
Creating an employee growth score contextualizes growth. It tells you a holistic story and continuous measure.
The future is 'just-in-time' progression. Something that's:
Self-serve
Iterative
Always-on performance
14:21
Growth is the secret sauce. Particularly in the world of sales. It's all about creating a constructed path.
Barbra talks about the 'compounding employee impact', where continuous progression is the biggest opportunity.
14:15
Customer lifetime value (CLTV) is a common concept in the world of B2B. But what about employee lifetime value (ELTV)?
Barbra Gago is up now at the Growth Stage to talk about this.
14:00
"We are not self-made. We are community made."
David talks about how we either do things out of love or out of fear. When it comes to selling, you're far more likely to buy if you know the seller has your best interests at heart.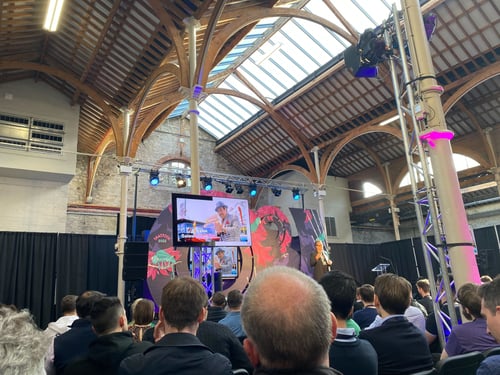 13:57
At the Growth Stage, David Henzel CEO at Upcoach is talking about how you can focus on what really matters.
He's spoken about the importance of 'eating the frog' to help stop procrastinating.
12:33
It's important to consider all of your options and make sure your team is aligned on how you will decide what you build.
Ensure agility. Build a continual process when you're researching partners and the functionality of their SaaS tools.
12:30
Now we're back at the Scale Stage where there's a fireside chat. Tarmo van der Goot, VP EMEA at Chargebee and Nigel Verdon, CEO at Railsr are discussing the importance of future-proofing your tech stack.
12:23
We bumped into the Kaspr ghost walking round the SaaStock expo! 👻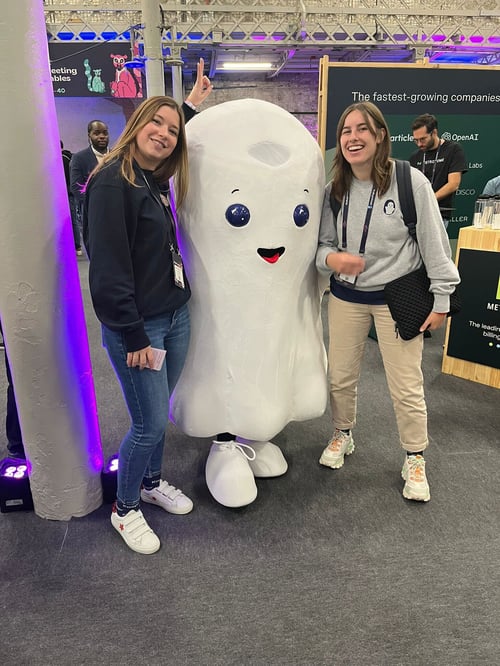 11:29
A good story still has:
Pain
Feature
Value
Positioning
But it's exciting, relatable and important 🤩
11:24
Gidi outlines that storytelling changes the brain. The chemicals and neural activity helps people to resonate...
Something to consider when cold calling!?
11:20
Back over to the Growth Stage now, where Gidi Pridor, CMO of Workvivo is talking about using storytelling for growth during the early stages of your startup.
11:02
Mohannad says that something that distinguishes Hotjar is how easy it is to use. Most customers begin are able to begin using it within 15 minutes.
Easy use = quick time to value
10:55
Now we're at the Bootstrap Stage, where Mohannad Ali, CEO of Hotjar is speaking. He's discussing Hotjar's product-led growth (PLG) journey.
10:30
A good sales pitch starts with positioning. If you're struggling with putting it into a good sales story, sometimes it's because you haven't got your positioning right.
10:24
Example of sales pitch structure from April...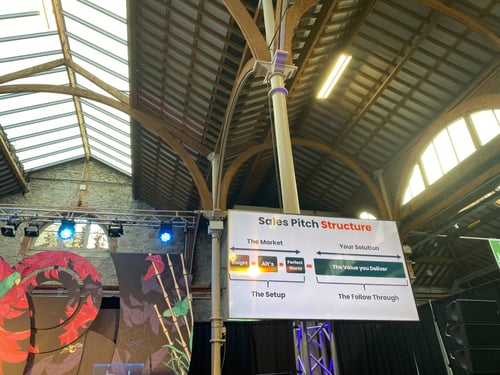 10:22
April says prospects are 'drowning in information'.
And that 40-60% of B2B sales purchase processes end in 'no decision' due to it being the lowest risk option.
10:20
Next up we're over at the Growth Stage, where April Dunford, founder and CEO of Ambient Strategy is talking about building a sales story that wins!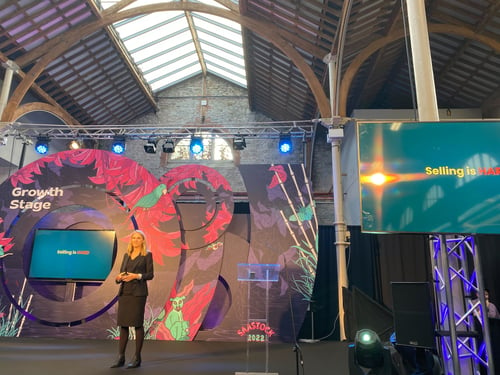 09:41
Now on the Scale Stage is Philippe Botteri and Richard Kotite discussing the 'reset' happening in the SaaS climate.
09:21
We are now live from #SaaStock2022 at the RDS in Dublin! Keep hitting refresh for all the latest news and content.
Kicking off with opening remarks from Alex Theuma, founder and CEO of SaaStock at the Scale Stage!
08:40
Time to check out the Kaspr stand (S13), stop by and say hello 👻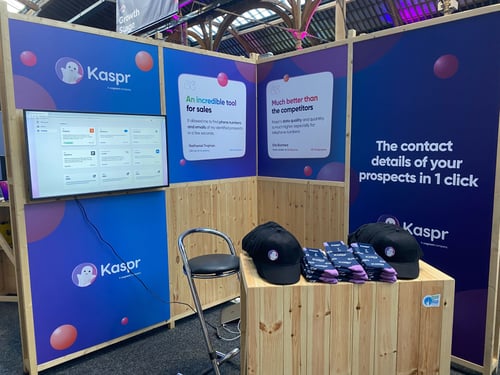 08:30
We have arrived at SaaStock 2022 at the RDS in Dublin ☘️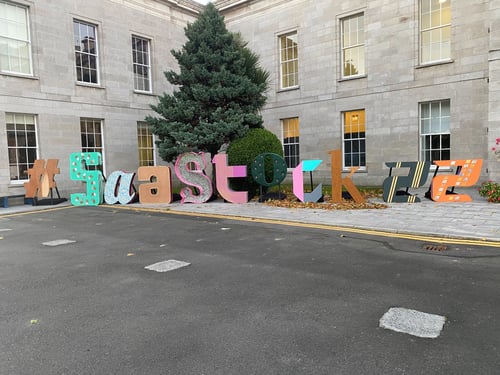 INBOX INSIGHTS
Quick-to-read tactical advice and tool suggestions straight to your inbox.
Kaspr offers you the best way
to reach your customers