An SDR career paths guide
Career progression will likely be top of mind if you're a sales development representative (SDR).
There are so many transferable skills in an SDR role.
But in terms of career paths, if you want to stay in outbound sales, there are two common routes:
Become an account executive (AE).
Transition to sales team management.
The AE role is a closing seat. Its primary function is to manage multiple calls with prospective customers every day. These demo and discovery calls aim to unpick pain points and close the opportunity with the prospect.
So, how do you prove you're ready to be an AE?
We spoke to sales reps at Cognism that have already moved into an AE or sales management role and put together this complete guide to promotion.
Here's what they said. 👇
Nail the basics first
It would be best to nail the basics before considering where to go on the career ladder.
This isn't just about being a top-performing SDR but your ability to be coachable.
Brahm Jagpal, Commercial Sales Manager at Cognism says:
"In terms of non-negotiables and hitting the benchmark to put yourself forward, you need to be coachable. It's competitive, and sometimes SDRs may be up against external potential new hires that have been an AE already."

"We encourage SDRs to put themselves forward, even if they aren't ready. It means they can get the interview feedback and know which gaps they need to fill. Whoever is learning the quickest is typically hot in contention for the next hiring round."
Skilled across every channel
You need to be confident in using all communication channels for the AE role. As an SDR, it's easy to focus on the channel you feel gets the most results, like cold calling.
But for AEs, where there are multiple contacts, you need to be able to get your message across on all channels.
Blaise Philips, Account Executive at Cognism says:
"There's of course, a heavy reliance on calls. But when it comes to long sales processes and speaking to multiple contacts, you need to be able to get your message across on every channel."
With the AE role, you're reaching out to additional stakeholders. Thomas Allcock, Enterprise Sales Manager at Cognism emphasizes the importance of being able to present a "business case" to each, depending on their job role.
This means being able to address each stakeholder's needs. Not all stakeholders are users, so AEs need to be able to talk about products and solutions from different perspectives, like financial or legal.
Being a top-performing SDR, consistently
There's something that can be said for an SDR that can deliver consistently. 💯
You are a top performer and could be in contention for promotion.
Hitting your target early also means you'll be able to spend more time focusing on your next step. Sophie Pease, Commercial Account Executive at Cognism talks about the importance of this:
"You need to put in the hours as an SDR. It's about making sure you hit your target early enough in the month to put more time into doing the training for the AE role."
Sometimes company deal size and sales cycles can influence the gap between being an SDR and becoming an AE. Steve Richard SVP of Sales Excellence at ExecVision explained this in a LinkedIn post.
"If you sell 100K deals with complex sales cycles, the gap between an SDR and AE might be too big. If you sell smaller deals, it's easier for some of your SDRs to earn a promotion to a role where they close business."
At Cognism, this logic is taken into account. SDRs progress in this way before becoming an AE. They become an Enterprise SDR straight from entry level before being eligible for promotion to AE.
Working patterns and time management
There's a lot to keep track of as an SDR, but there's even more to consider in a closing seat. It would help if you learned to manage your admin and keep on top of everything early.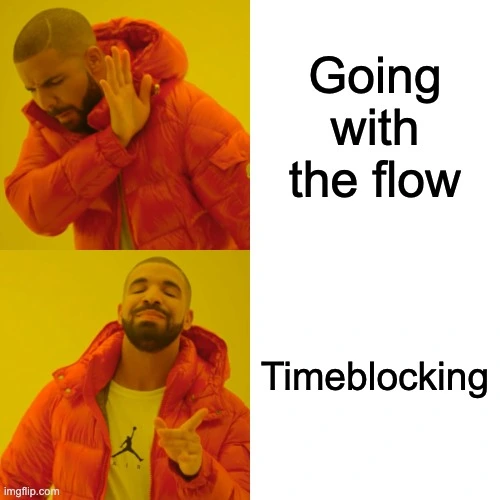 It's important to have a good system moving into the AE role.
Sophie says:
"If it can be done quickly, do it now."
Joel Matthews, Account Executive at Cognism explains the importance of blocking out time:
"All my work is blocked out. First thing in the morning, I'll do all my emails and send any
important ones I need to do that day."
"I color-code everything. This distinguishes between first demos and post-first demos so I know where each meeting is in the sales cycle. This helps me see the focus of each meeting at a glance so that I know whether I need to have my sales or my negotiating hat on."
Here's an example of what an AE's calendar might look like. 👇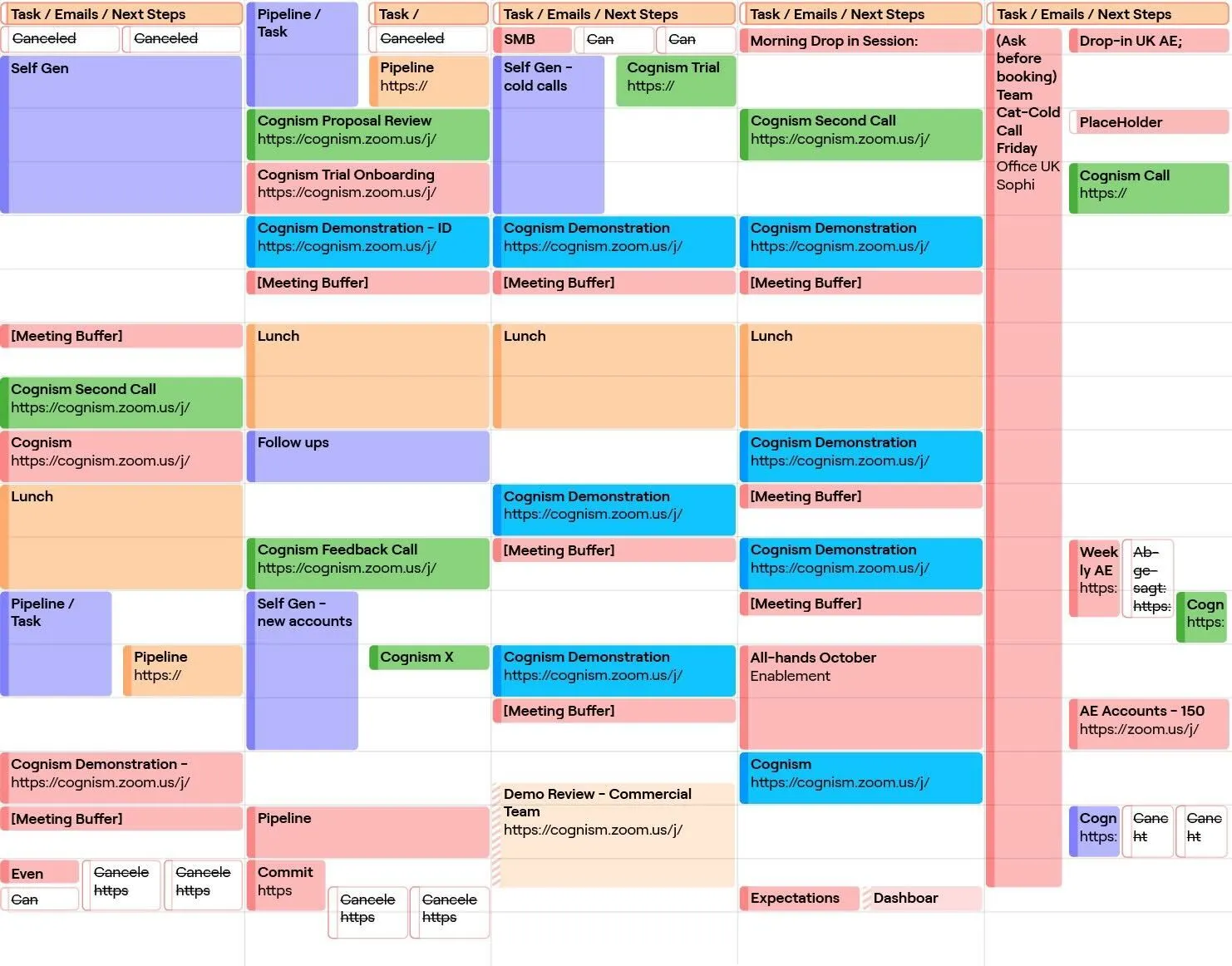 Going the extra mile
The promotion timeline from SDR to AE isn't easy. You need to know how to go the extra mile to advance your sales career. 🚀
With plenty of others looking to progress, you must go beyond meeting the benchmark criteria to stand out.
Leaning into your AE pairing
Being paired up with an existing AE is an important part of mentoring SDRs, so they're ready to take on the role in the future.
Joel recommends:
"Leaning on your AE pairing as much as possible… even if you're annoying them."
AE pairing helps SDRs to:
See how the AE role works day-to-day.
Understand how deals are managed after the first demo.
Get insight into the different language used.
Look at the sales cycle from an AE perspective.
Get help with writing AE emails.
Sophie adds:
"It's a great asset when paired with an AE as an SDR because you can learn so much from them."

"You can add to your product knowledge, learn the right questions to ask, and learn about current customers. This exposure helps you smash the AE interview and hit the ground running when you get that promotion."
Speaking to a few different AEs is a good way to step up from your AE pairing. This is important because everyone has their own selling style, and you can learn different skills from others.
One AE may be very strong in product knowledge, and another may be excellent at structuring AE calls.
Meaningful progression plans
Before you start thinking about your next steps, it's important to have a plan.
Thomas Allcock, Enterprise Sales Manager at Cognism says:
"Have a plan about how you'd like to envision where you want to go. Not just about the job role but also from a holistic point of view."

"You need to make it known that you are invested in your career progression and the company."
Five tips for standing out
Let's face it, going for a promotion is competitive, particularly when candidates outside your company are being considered.
Here are 5 top tips for standing out:
Let's look at each in more detail. 💭
1. Develop your AE skills early
You can start developing the skills you need to be an AE in the SDR role.
Brahm has some great advice on this:
"When you're booking meetings,
be a little selfish."
"Try and uncover a pain point. Take some time to try and develop your discovery skills early. This is something you can start doing on the phones."
These transferable skills will also help with:
Your attendance rates.
The quality of your accounts.
Getting a referral to the right person.
Truly understanding the case studies you've got.
Brahm also used to benchmark her approach against existing AEs. You can do this by looking at what you're saying on practice demos vs. what the AE said. It makes refining discovery calls easier and improves your understanding of different sales approaches.
Knowledge of the product (or service) becomes even more important in the AE role. That's why taking some time out to know what you sell will propel you forward.
Sophie says:
"Building your product knowledge is something that you can do throughout. Blocking out even just one hour per week."

"It's not just something that will help you progress to the AE role, but also something that is going to benefit you as an SDR to get those meetings booked."
2. Run with what makes you different
There are many selling styles out there. Knowing where to position yourself as an AE can be hard.
Sophie's advice is:
"Definitely use the AE you're paired with but also speak with other AEs to learn their different styles as well. You also need to know when to match the prospect's energy. Mirroring is an important skill to learn."
All AEs have different strengths. There's often a specific reason why they got the role. Joel says:
"You have to be a sponge, but don't be afraid to be your own person."
Brahm also outlined that a trait that really helps SDRs to stand out but isn't easy to teach is having "authentic salesmanship." Rather than just mimicking someone else because that's how you think you should be selling, you sell in a way that's in line with your own personality.
"There's no silver bullet in sales." Brahm explains why in the clip below. 🎬
By being authentic, SDRs are able to find their niche. Whether it's by sending LinkedIn voice notes, mirroring prospects on the phone, or including a lot of personalized video content within your emails.
3. Have tenacity and be adaptable
There's a gap between being an SDR and becoming an AE. But having the tenacity to want to bridge it really goes a long way.
Aside from being a sponge, there are other ways to transfer knowledge. 🧽
Brahm outlines that in the SDR role, you need to know:
Where to find information.
How to find information.
And who to ask if you can't find it.
"You can't be expected to know everything when everything is changing."
This is also why it's important to be adaptable too. Brahm says:
"Be adaptable. Be open to change and start to push your own development and try to understand where your gaps are. Because the quicker you can do that at the start, the quicker you'll progress."
Showing outside interest goes a long way. Not just in getting the promotion but actually closing sales deals later down the line in an AE position.
Tom outlined that he's got a lot of time for people who come to him or other people internally for advice about how they can be the best they can be.
"When you've got a relationship with multiple stakeholders, you're invested in a multi-threaded way."

"These people talk to each other. So, your interest will go a long way. This helps not only in going for that promotion but actually when you come to close sales deals too."
4. Be ready for the shift: SDR vs. AE
Being an SDR helps to build up resilience. Rejection becomes normalized and is part of the day-to-day job.
This is an important take home as moving up to an AE, you can't win every deal. Going through the highs and lows of life as an SDR prepares you for this. There's 5x your revenue target as an AE, so there's even more pressure.
Understanding the key points in closing a deal is very important. Certainly, in the first few months, many AEs find the transition hard.
Joel spoke about the importance of this:
"Closing your first deal is great but once you understand how you get a deal from A to Z, that's when it really clicks."
Being able to qualify is so important as well. AEs have to decide where is worth spending the biggest proportion of their time. 🤔
Joel said:
"As an SDR you look at everything through rose-tinted glasses. But having a focus on good quality leads as early as possible is really going to help you out."
5. Interview prep
It goes without saying, being well-prepared for the AE interview process is crucial. Learn about the hiring process and the people involved in it.
Joel says:
"It's like being able to speak to the invigilator before you take an exam."

"Don't be afraid to ask tough questions. Ask about what it takes and the interview process."
At Cognism, SDRs are encouraged to go through the interview process to determine their level. This means the SDR gets the feedback they need, and the hiring managers can measure whether it's been implemented during their next interview for the AE role.
Brahm says:
"It's important not to leave your SDR skills at the door. They're still relevant, and you can't rely on other people to book your meetings."
Getting organized without letting the SDR basics slip
While you're preparing to go for your next sales role, it's important to remember that you've still got a job to do. 💁
So how can you get organized without letting the SDR basics slip? We'll discuss this next.
Set aside some time
Being able to do this depends a lot on hitting your target as early as possible. Once you've hit it, you can spend more time preparing for the interview.
Make sure you:
Identify where your gaps are.
Block out the time in your calendar.
Take on feedback.


Reflect on your performance
Understanding where your strengths are is invaluable when going for the AE role. If you can discover areas for improvement, you'll only get better.
Especially if you've had a big month, it's important to know what worked to get there.
You could look at KPIs like:
How many cold calls you've made vs. meetings booked.
Which channels your meetings came from.
Time spent building pipeline vs revisiting old leads.


Once you've looked at these, make a plan for improvement. You could look at how many calls it takes on average to book a demo. Then create time blocks in your calendar to make sure you fit them all in.
Make a plan. Both for the quarter coming up and a daily game plan. Most importantly, be consistent in your efforts.
Effective prospecting
Prospecting effectively becomes even more important going into the AE role. Qualification is crucial in closing roles.
It goes beyond finding prospects matching your ideal customer profile (ICP). That's where being able to ask discovery questions comes in.
Joel said:
"Developing a mind for qualification is something I wish I'd learned as an SDR."
From SDR to AE: Your checklist for success
There's a lot to consider when going for the AE role. Let's recap what we've covered and look at our checklist for success. 👇