Selling in a recession: The challenges
Ah, that dreaded nine-letter word. Recession. 😨
It's usually when an economy shrinks for two consecutive quarters. This is measured primarily by gross domestic product (GDP).
In B2B, an economic downturn like this is typically followed (or anticipated) by layoffs, cuts to budgets, and a more cautious approach to spending money.
This tightening of purse strings makes the job of salespeople much harder.
Here's what the market expects:
Let's talk about these in more detail. 👇
1. More stakeholders involved in the buying process
Why are deals harder to close in tough economic environments? One of the main reasons is that more stakeholders need to get involved.
Procurement is one of these stakeholders. Finance is another. And they are tough to convince for a good reason.
Matthew Blanchard, GM EMEA at Varicent, says:
"Procurement wants to save the company as much money as possible and reduce the risk."
"[When] economies are shrinking, and businesses aren't seeing the best return at the end of the year, procurement has a bigger role to play."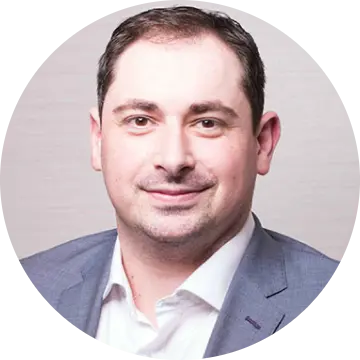 Matthew Blanchard
GM EMEA
💡 For more tips on recession-proofing, watch the everything is sales podcast
2. Sales cycles become longer
Buying behavior changes during uncertainty.
This is the reason why sales cycles become longer.
With tighter budgets, business leaders need to find a way to make their product(s) a must-have. Not just a nice-to-have.
Press play for Matthew's advice on how to position your product in uncertainty. 🎬
Sales development representatives (SDRs), need to be able to communicate the new messaging that makes your product seen as essential. And they need to deliver the right one to each stakeholder.
3. There are more personas to target
With more stakeholder involvement, there are other personas to consider.
Sales reps and account executives (AEs) need to be able to handle objections from each persona.
To do this, you need to have an idea of what their pain points might be.
For higher-cost products, even C-suite personas are likely to get involved. And that's if you can convince procurement first!
Check out these examples here. 👇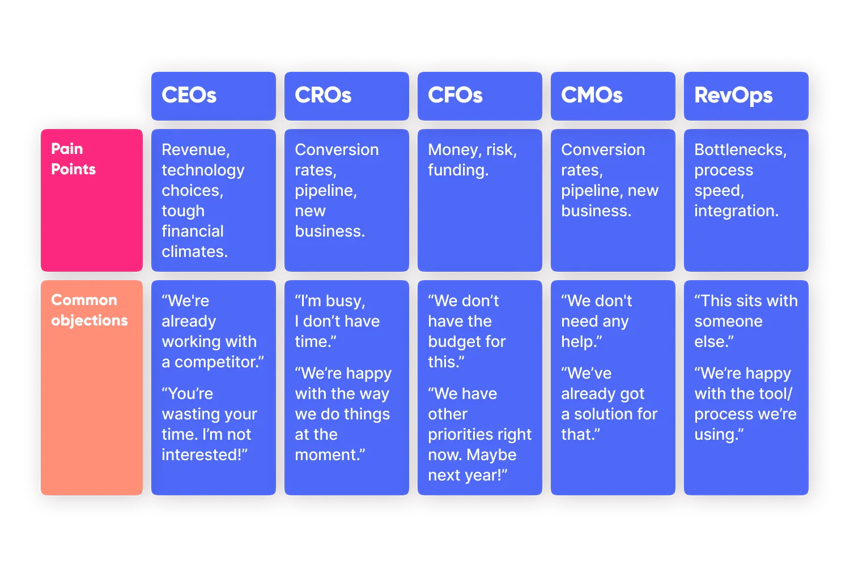 🧰 In the toolbox: Cognism - Cold calling scripts
4. Companies hold onto their budget
If we look at the Chet Holmes buyers pyramid, we know that only 3% are "buying now", 6-7% are "thinking about it", and 30% are "not thinking about it".
The winning zone is that 30%.
But unless you're able to pitch your product as a must-have, the business will hold onto its budget.
Companies look to sustainable growth rather than growth at all costs in harsher environments. This makes it more likely that businesses will stick with the solution they've already got. Even if it's only a 6/10 best fit.
The ability to pitch your product as essential lies in a rep's ability to understand pain points.
Morgan J Ingram, Creative Advisor & Content Creator at Cognism, says:
"The sales rep should be able to identify pain points on the call. The next step is to communicate that with the AE. There needs to be an identified pain for the prospect to want to meet."
5. Layoffs for sales reps
If you're leading in uncertain times, there can be difficult decisions to make. Layoffs are one of them.

Shabri Lakhani, Brand Ambassador & Subject Matter Expert at Kaspr outlines why they're happening:
"There's a lot of companies facing financial pressure that have realized they have overhired reps."
"For various reasons, this has meant that SDRs are getting laid off first. With the justification that AEs can do both of these roles."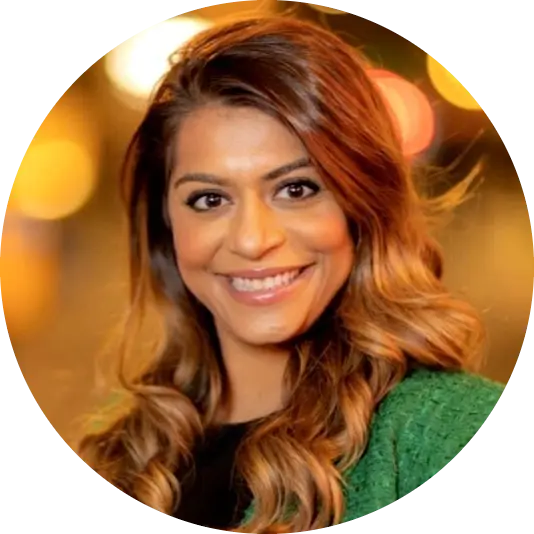 Shabri Lakhani
Brand Ambassador & Subject Matter Expert
It can be a scary time if you find yourself at a company that's going through the motions.
Matthew has some advice for not being fearful of uncertainty. 🎬
6. It's harder on salespeople's well-being
Sales isn't an easy profession at the best of times without throwing an economic downturn into the mix.
With layoffs, hiring freezes, and redundancies, uncertainty causes a lot of sales anxiety. The environment is much harder on our physical and mental well-being.
This makes it so important for individual contributors like SDRs and AEs to practice self-compassion.
It's impossible to feel motivated day in, day out, despite external factors. But it's important to remember why you're in sales in the first place.
Chris Hatfield, Founder & Coach at Sales Psyche, thinks that aspiration and inspiration should come before motivation.
He outlines this:
Aspiration - The mountain top of where you want to be.
Inspiration - The footpath of how you can get there.
Motivation - Why you're climbing the mountain in the first place.
Hit that quota: How to sell in uncertainty
You need to think differently to sell in a recession. Here's what we'll see in 2023.
The winners will be the SDRs and AEs that can position their product as a must-have, rather than a nice-to-have.
The focus will be on building relationships and actively bringing in multiple stakeholders.
The most important thing to remember is that companies are still buying. With the right mindset and focusing on what you can control, individual contributors will still be able to hit quota.
Let's get straight into it. 👇
New ways to connect with prospects
Your messaging needs to stand out. And this becomes even more important during times like a recession. Think how inundated inboxes are.
Plus, the new personas you're speaking to.
They're likely to have different preferred channels.
David Bentham, Director of Sales Development at Cognism recognizes this in his 2023 predictions. 👀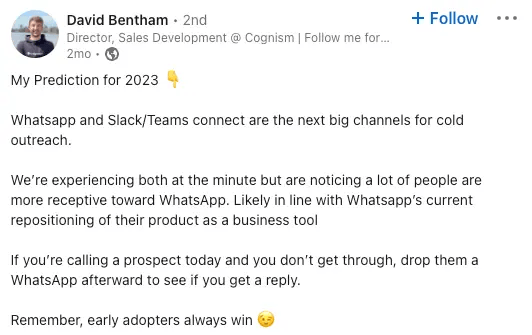 His sales reps have been experimenting with WhatsApp as a sales channel. With the repositioning of WhatsApp as a business tool, prospects have become more receptive to it.
David says:
"Early adopters always win."

"With WhatsApping, people seem very receptive to it. SDRs make a call, then drop a WhatsApp afterward. As long as you have a professional-looking picture, generally we're not getting much negative feedback on it at all."

"Slack Connect is another emerging channel. You just need their email address. It's a great way of getting another touchpoint out there that is unique."
Make use of all channels
Sales reps must also reconsider their sales cadence. We know they aren't a one-size-fits-all solution. So making use of all channels is a good idea.
Using a multi-touch approach like this at least initially helps you to understand which channel your prospect prefers.
You need to make use of:
Phone
Email
WhatsApp
Slack Connect
LinkedIn voice notes
Here's an example of a cadence that makes use of all channels. 👇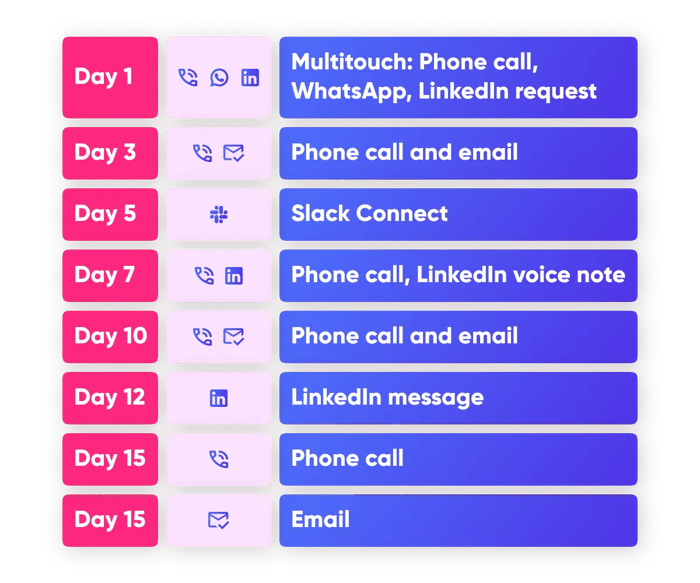 🧰 In the toolbox:
Let's also not forget the power of social selling. LinkedIn is a great place for B2B sales.
With the emergence of "creator mode" LinkedIn is incentivizing posting. Think about the wider audience you can target through engagement and how many prospects in your ideal customer profile (ICP) you'll reach.
The juice is worth the squeeze. 🍋
We know it's tough to know where to start with building a personal brand. A lot of salespeople struggle with the following:
Imposter syndrome - "I'm not experienced enough to tell people what to do."
Finding a niche or style - "I don't know how to add more value."
Setting aside the time - "I don't have the time."
Staying consistent - "I can't see the immediate ROI. So what's the point?"
There's a guide in our toolbox by Obaid Durrani, Co-Founder of Easymode and LinkedIn creator. It talks through everything. From the first steps (like profile optimization), people to follow, content creation (types of posts with examples), the gameplan, and goals.
🧰 In the toolbox: Obaid Durrani - LinkedIn System for B2B Creators
Multi-threading with stakeholders
The involvement of more stakeholders is inevitable in a tougher environment.
So why not actively encourage it? 🤷
Think about it this way: The more stakeholders you involve, the more likely you are to win the deal.
Involvement creates buy-in through the different business cases for each persona.
Cognism found that their sales reps were 7x more likely to get closed-won business if they involved five or more stakeholders in the opportunity versus one.
David Bentham says:
"Next time you set a meeting with a prospect, engage the rest of the buying group."

"SDRs at Cognism work actively on the opportunities with the AEs. This means we can get buy-in from different people within the target company."
Don't book meetings: Create conversations
It's important for SDRs to remember that their aim is to build relationships.
Of course, you need to get that meeting booked. But don't try and close the deal before a conversation has even started.
Ellie Emerson, Head of Sales Development at Fresh Relevance says:
"A sales rep's job is to create curiosity. Build it. Maintain it. Never satisfy it."
The two killers of curiosity are:
Rushing to get a meeting booked - If you don't spend time qualifying, you won't be able to show how your solution will address their challenges.
Taking too long to get a meeting booked - The longer you spend on the phone, the more disinterested the prospect will become.
A double-edged sword we know.
But there's a sweet spot, and timing your meeting-closer perfectly is crucial.
💡 If you're big on an assumption of the sale type close, David Bentham suggests trying:
"So the process from here is [process + value for the prospect], do you have your calendar in front of you?"
Looking after your mindset
Maintaining the right sales mindset with all these uncertain external factors can be tricky.
Rejection and objection are all part of working in sales. But their effect on the mental health of salespeople can feel amplified during tougher selling climates.
When you're going through a rough patch, it helps to look at your wins. Remind yourself that you can do it, and look at what strategies worked for you in the past.
Chris talks about these sales superpowers and why they are important to share with the team:
"It's about sharing how you got there. Not all superheroes were born with it. They acquired their skills and nurtured them over time. It's the same in sales."
You also need to balance being your biggest fan vs. your biggest critic. Chris explains more in this clip. 🎬
Adding a small initiative to your weekly ritual like 'weekly wins' can help highlight the positives. You could spend 15 minutes every Friday morning writing these down.
They can be work-associated or personal:
"I created X number of opportunities this week."
"I was able to get out for a walk every day this week."


Control what you can
Navigating a challenging selling environment requires mutually agreed goals.
As we've already said, SDRs need to book meetings. But sometimes, it's better to frame it as creating conversations.
This helps to break the task down into manageable chunks. These chunks are your 'controllables'.
Morgan explains more in this clip. 🎬
Before you set your 'controllables', you can look back at your previous performances.
It's well worth looking at these KPIs:
How many cold calls you've made vs. meetings booked.
Which channels your meetings came from.
Time spent building pipeline vs. revisiting old leads.
Next, it's time to make a daily game plan. Break these goals down into metrics like:
Prospecting for one to two hours each day.
Sending 40 LinkedIn connections.
Adding 50 new prospects into a cadence each month.
Approaching your next account
Sales in 2023 is going to be different. You're going to need to:
Find new ways to connect with prospects - Using new emerging channels like WhatsApp and Slack Connect.
Make use of all channels - Granted, cold calls and emails are your bread and butter. But think about where other channels fit and build a personal brand.
Multi-thread with stakeholders - Rather than cringing at the thought of more stakeholders being involved, actively seek it.
Not focus on booking meetings - Think about creating conversations and building relationships with your prospects.
Look after your mindset - It's hard out there. Put measures in place that help you celebrate wins (no matter how small).
Control what you can - External environments can't be helped. Know what you can control and put all your efforts into these tasks.


What this could look like…
So how could this look in practice? 🤔
Picture this, you've just got an inbound lead or identified an account that looks like a great fit.
Here's how the initial outreach could look from the POV of Jason Meyer, Country Manager UK at Kaspr.
Step one: Use what you've already got
Start with the basics and follow your preferred cadence. Go to the prospect's LinkedIn profile to get hints on how to personalize.
Jason says:
"You could go for the phone first. I like to do this because I want to get my personality across. Plus, I can easily access the phone numbers with Kaspr."

"Or maybe you prefer to send an email first. That's fine; whatever works for you."
The context you can uncover from the lead source will also help you know how to start your cadence.
For instance, if a lead has come through via an ad, you can make the assumption that the contact struggles with the pain points your product can address. If they have signed up for free or requested a demo, it's clear that they are actively trialing tools on the market.
Step two: Widen the net
With all these new stakeholders to consider, account mapping is useful to determine the best path of sale.
It's when sales reps visually represent data points and relationship dynamics between people in their target company. The best path of sale helps to identify decision-makers within the company.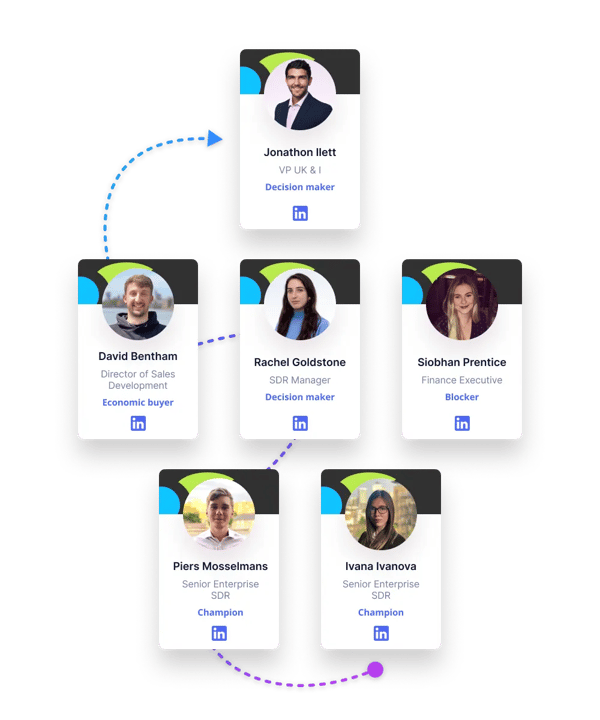 Here's how you can start to apply this to the inbound lead we spoke about in step one.
Jason says:
"You could use Sales Navigator to look at additional stakeholders."

"An easy win might be making some more outreach to other people who hold the same job role in the company as the inbound lead. They are likely to be in a similar situation. I'll find maybe three additional people."
Now you need to make sure you personalize your outreach.
If you find that one out of the three people you'd like to target next have a strong LinkedIn profile and are active, it makes sense to keep the communication on this platform.
Jason says:
"I'll start by connecting with them on LinkedIn. Next, I'll maybe comment on their posts, and finally, send a message that mentions common ground."
For the other two, if there is no clear indication that they regularly use LinkedIn, you could go the email route first.
Jason says:
"One way you could approach prospects is by sending a brief email that provides easy value. I'll use Kaspr to get their email and again mention the common ground with other prospects in the cadence."
🧰 This might help: Lavendar - Become an email wizard
Step three: Throw decision-makers into the mix
For the final part of initial outreach, let's add in some decision-makers. Remember, involvement creates buy-in.
You can use prospecting tools to access their contact data easily. 👇
Jason says:
"It's important to add decision-makers to the cadence. From my mapped accounts, these people have the most influence over the final purchasing decision."
🧰 In the toolbox: Kaspr - For instant access to the accounts you've mapped
Open the toolbox
Get access to all our useful recession-ready links.
We've put together a bunch of tools from a mixture of companies that we think are great for selling (especially in this new environment). Open the toolbox. 🧰