LinkedIn is more than just a place to find and connect with high-quality candidates.
It's where a recruiter can build a personal brand 💥
Before, it's been said that 99% of people use LinkedIn passively. Now, this is all starting to change.
Content creation is being incentivized with the launch of "creator mode"; businesses are partnering with people who are subject matter experts for their ideal customer profile (ICP).
Being active on LinkedIn could even be the difference between piquing a candidate's interest… or not. Nick Tuno, Director of Talent Acquisition at Botify, recently said:
"Personal branding has become and will continue to be a crucial element in recruitment. Candidates tend to check out recruiters' LinkedIn profiles after receiving a message from them."

"And based on how credible the profile looks, candidates might decide to pass or engage in a conversation."
It's true - there's a new type of influencer on the block. A B2B influencer.
But relax, not everyone needs to be an influencer to create content on LinkedIn. Here we'll cover some practical tips for building a personal brand that works for you.
Scroll at your own pace or use the menu below to jump ahead 👇
Jump to:
Relatable pain points
Some key blockers prevent recruiters from building their personal brands.
They include:
Imposter syndrome - Stemming from the belief that you're not experienced enough to tell people how to do their jobs.
Finding a niche or style - With content creators already out there on LinkedIn, it can be hard to see where you can add value to existing conversations and information.
Setting aside the time - It takes time to create content, many recruiters want to do it but are unsure how to fit it around their day-to-day tasks.
Staying consistent - This goes out to the post you did six months ago that didn't get a lot of engagement. When the immediate ROI is low, it's hard to see the long-term value.
Sound familiar? No worries, we'll go through how to overcome these next.
Getting started
A good place to start before creating content is to look at your profile.
Here you can optimize for LinkedIn's search function and make your profile an interesting place to be.
Make sure you:
Use a profile picture and banner image
Optimize your bio with keywords, for example: helping SaaS leaders hire SDRs
Create a headline that's benefit-led
Build out your 'about' section
Switch creator mode on -

here's how
Alice de Courcy, Chief Marketing Officer and Jonathan Ilett, VP UK & I talk through how they implement content and personal branding at Cognism in the clip below 🎬
Saif Khan, Head of Sales at Screenloop, has gained over 10k followers. He's built his following from the ground up and says there are three key things you can do to get your personal branding journey off on the right foot.
They are:
Accept you're imperfect - There's an audience out there for everyone; even if you think your insights are basic, there will be someone who finds them useful.
Have a posting routine - A/B test different times and days and see what works best for you. Getting into a routine will make sure you set time aside.
Have a content plan - If deciding what to post off the cuff doesn't work for you, make sure you have a rough plan.
You also need to know who you'd like to target with your content. In the recruitment bubble, there are a few different groups. You could focus on your clients (ideal customer profile), candidates, or other recruiters.
If your audience is more niche, you might need to set your sights beyond LinkedIn. Look at other communities like Slack channels, subreddits, and Quora threads. Do some digging to find out where your people hang out. If you're still not sure, follow people you can ask.
When you start forming your own LinkedIn posts, it can help to follow a formula. There's one called Align, Present, Proof (APP); using this, you can ensure that your content is relevant to your audience's pain points and provide them with actionable insights they can take away.
Overcoming imposter syndrome
You can block yourself from even getting started with imposter syndrome. Here are some tips for overcoming it when beginning your personal branding journey.
As long as you're consistent, nobody will care
Remember, you can't cause damage with a small audience
Don't underestimate the value you can add; there is an audience for you!
Disagreements or negative comments can be good for your personal brand
Use your first posts as a testing ground
Finding inspiration
Looking at what others in recruitment are doing on LinkedIn helps. With this inspiration, you can develop your own unique style.
Let's go through some good profiles now 👇
Hishem Azzouz, the host of The Recruitment Rollercoaster Podcast, shares a lot of value-led content. It's all relevant to what's happening in the market right now. Since Hishem mentors recruiters too, he uses the insights to create posts that encourage engagement.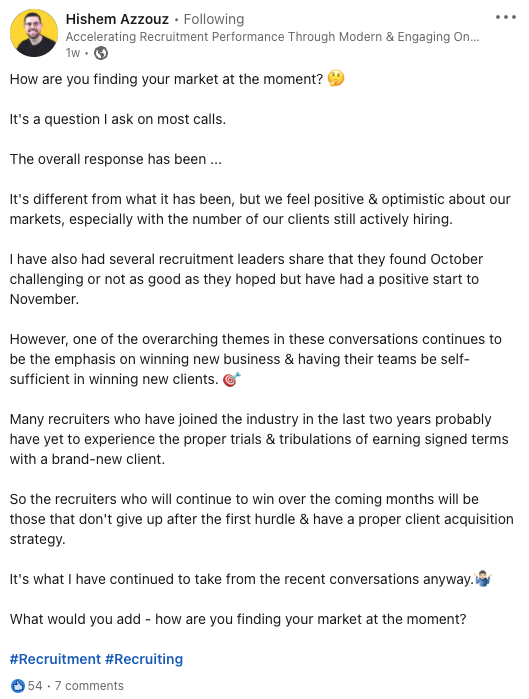 Sophie Allen recruits SDRs for leading SaaS sales businesses. One way Sophie engages with her audience is by asking for opinions on sales subjects like cold outreach.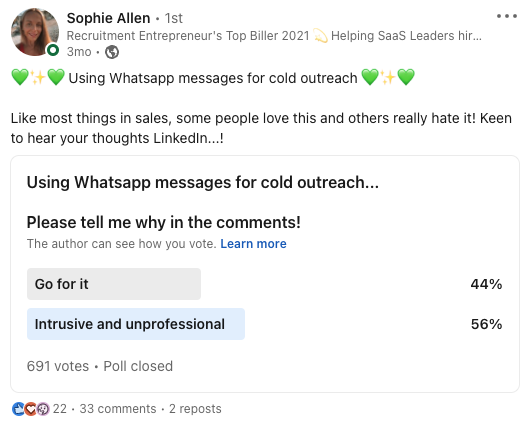 Sean Anderson is Co-Founder & CEO of Hoxo Media, a personal branding agency for recruiters. Sean's advice also focuses on his target audience; he often uses real-life experiences as the basis for his posts.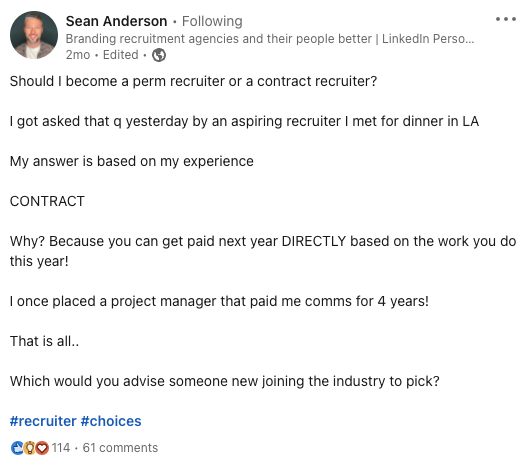 Setting your goals
Before you get started, it makes sense to set yourself goals. These will be the signs that you're on track to achieve what you set out to.
For many, building a personal brand is about being seen as a "thought leader" in the industry. This helps the target audience to not just see you as a "recruiter", but also as someone with valuable insights.
At a personal level, it's also amazing for building out your own community that will follow you when you move from one role to the next.
On LinkedIn, the key indicators of how it's going are engagement and reach 👋
So, it makes sense to set your goals around these.
You could look at:
The percentage of your target audience that interacts with your posts
How many impressions your posts get
Your profile views and connection requests
You also need to set yourself less tangible goals, like interacting with the content your target audience puts out there. It's not just about posting but adding value to updates that already exist. Set time aside each day for this activity.
Saif says:
"You'll eventually see your reach and engagement rise - more people will comment on your posts, more people will DM asking for advice, and more people will see you on their feed."

"At this point, your company is getting tangible payback for your time investment."
Platforms like SHIELD provide more in-depth metrics for personal LinkedIn profiles. This means you can see all the numbers in one place without doing a lot of manual work (hey, only accountants like spreadsheets 😵).

Your first LinkedIn posts
Now you've got your goals in place, it's time to start creating content. We get it; it's daunting, so here's what you should do.
Saif suggests:
"Focusing on posts that outline challenges, shortcomings, failures, and solutions tends to work well, as long as they're digestible and relatable. Anecdotes are always great too."
It makes sense to have a mix of content to see what works. You could try the initial post ideas below:
The introductory 'this is me' LinkedIn post
The 'this is my first post' post
The 'ask a question' post
The 'I tried X and here is what I learned' post
The 'unpopular opinion' post
See how they perform as plain text and also trial adding images. There are plenty of free image editors you can use.
Jonathan Tye, Talent Acquisition Manager at Cognism, says that once you get going, a few "human and non-work related posts" go a long way. If personal branding is overdone, candidates may find it a bit alienating.
It's important to get into a routine too. Don't set unrealistic expectations, like posting every day when you're just starting 😱
Pick one or two days (morning or afternoon) and make this when you post. This will help with consistency, which is so important when you're growing your personal brand.
Valentina Stepanoska, Recruiter at Cognism, has recently begun building her personal brand. She says:
"I've started posting two times per week on LinkedIn. I'm really seeing a difference in the number of people that are noticing me. For example, I'm getting more messages with people referring candidates and comments on my posts with people giving their opinions."
Snowballing success
It's easy to be guilty of building up your personal brand and then letting it slip. Especially when there are clients with new hiring plans or candidates giving you the runaround.
But the only way to snowball your success is by staying consistent 💯
Structures and routines help.
Once you've got going with your first few posts, you can start to consider a content plan. This will mean you can factor in which topics you'll post about on certain days of the week. This rough outline also means you can weave in relevant stuff as you write the update.
As you get further in, you might like to try a different approach. Bulk writing and scheduling will not only keep you consistent but also create a narrative as you're writing a flurry of posts at the same time.
There's also reactive posting. This is where your post is based on something you've recently read, watched, or listened to. Since these are highly topical, they often encourage engagement.
A recruiter personal brand that works for you
Like we said at the start, not everyone needs to be an influencer to create content on LinkedIn.
It's all about finding and scaling a personal brand that works for you 🤩
Let's recap the takeaways:
Getting started - Set yourself up for success by optimizing your LinkedIn profile
Finding inspiration - Find other recruiters that are doing LinkedIn well
Setting your goals - Set out and track what you want to achieve (SHIELD helps)
Your first LinkedIn posts - Use our initial ideas and pick your posting days
Snowballing success

- Build out a content plan to help scale
INBOX INSIGHTS
Quick-to-read tactical advice and tool suggestions straight to your inbox.
Kaspr offers you the best way
to reach your customers