Did you know LinkedIn says…
78% of social sellers outperform those who don't use social media platforms.
Social selling professionals are 50% more likely to meet or exceed sales quotas.
B2B sellers create 45% more opportunities than peers with lower social selling index scores.
No question that understanding your LinkedIn social selling index is becoming more important. 💯
Here we'll talk about what it is, why it's crucial for value-based selling and how to improve it.
TL;DR
The LinkedIn social selling index (SSI) measures four activities on your LinkedIn or Sales Navigator account.
LinkedIn calculates your SSI based on various points within the four activities.
Improving your SSI isn't a tick-box exercise but part of a wider value-based selling approach.
What is a LinkedIn social selling index (SSI)?
Your social selling index measures four activities as they take place on LinkedIn and Sales Navigator.
The activities are:
Create a professional brand.
Build strong relationships.
Find the right people.
Engage with insights.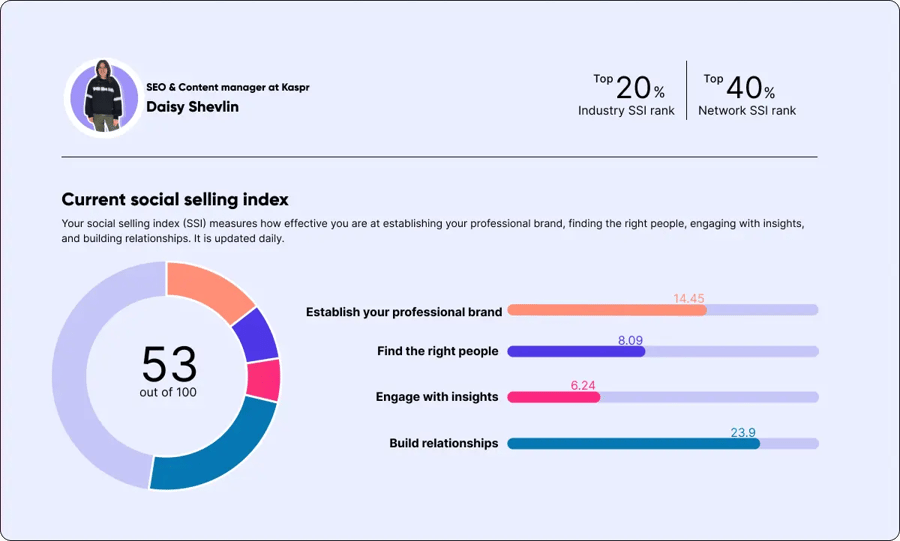 How to find out your LinkedIn SSI score?
The SSI score used to only be available to people with a Sales Navigator account. But, LinkedIn decided to make it available to anyone with a LinkedIn account.
To view it, follow these steps:
Make sure you're logged into your LinkedIn account.
Visit:

www.linkedin.com/sales/ssi

.
Voila! You'll see your score benchmarked against leaders in your industry.
How is the LinkedIn SSI calculated?
The four pillars we mentioned earlier calculate your LinkedIn SSI. 👆
These are each measured on the following points:
Create a professional brand:
Having a complete profile (including cover photo etc.).
Multimedia is used on your profile.
How many endorsements you have.
Long-form posts and the followers you get from them.
Build strong relationships:
How many connections you have.
Business leaders and internal connections in your network.
Connection acceptance rate.
Find the right people:
Advanced searches you make.
The number of profiles you view.
How many prospects view your profile.
Days you're active.
The number of potential leads you save.
Engage with insights:
How many engagements you give and receive.
Engagement on your long-form posts.
Shares of your content.
InMail response rate.
Saved accounts.
Groups you join.
Research views.
How to improve your social selling index
Improving your SSI isn't a tick-box exercise. ⛔
Instead, it needs to be about making value-based selling the norm.
Here are some things to focus on without fixating on what your score is. Start taking care of these activities in your daily prospecting; the score will take care of itself.
Create your personal brand
This ties into at least two of the measures for SSI. Creating a personal brand is a new priority for salespeople and recruiters. 💯
We spoke to Jack Neicho, Senior Account Executive at Salesloft, about building an online presence.
He's created a podcast called "no big deal". On it, he interviews sales professionals about their deals to find out what they learnt from their mistakes and how they'd approach it next time.
He said:
"I sell to salespeople. And I now have a large amount of credibility as I'm a big sales nerd, and I have a large network that's really helped me."
Finding the right people
The advanced search functionality on LinkedIn and Sales Navigator is key to finding your target audience.
With a free LinkedIn profile, you can use people search filters like:
Connections of.
Followers of.
Location.
Subjects they talk about.
Current company.
Past company.
School.
Industry.
Open to.
Service categories.
Keywords (first name, last name, job title, company, school).
This is great if you don't have a LinkedIn Sales Navigator account.
💡 Follow these Sales Navigator tips for how to find the right people with the features.
Don't forget about leveraging your existing network too. Jack talks about how it's helped him find the right people.
He says:
"With bottom-up selling, I'll often know an account executive or sales rep in a company that I can reach out to. I can ask them about their tech stack and their challenges."
Bottom-up selling like this as part of first touchpoints is a great way to dig for ground-level information. Cognism uses this method to find information from its main users like sales reps, account executives and marketers.
Although they aren't the decision-makers, they have insight into daily challenges and tasks.
Here's an example of an InMail you could send when bottom-up selling. 👇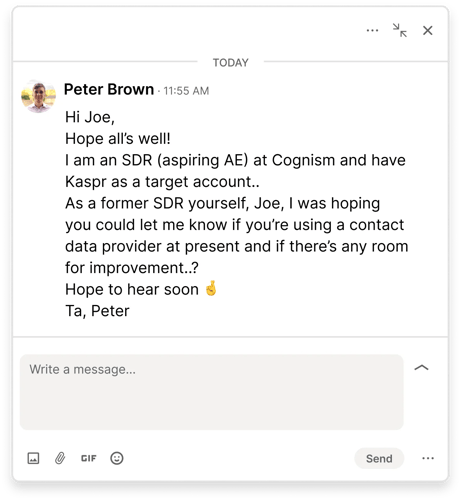 Engage with what your ICP shares
You should incorporate LinkedIn-based sales efforts into your daily prospecting.
Morgan J Ingram, Creative Advisor at Cognism, explains it well below. You've gotta focus on what you can control. 🎬
Aside from your posts and building your profile and outreach, you must engage with your professional network. After accepting your sent connection requests, consider what comes next. When do you start engaging with your audience's content?
Remember, you've got to have goals to keep your ICP engaged. Aim to like, share and comment if you can add value.
Here are three rules to live by:
Always reply to your DMs.
Reply to every comment on your LinkedIn posts.
Always personalize your connection requests.
Nurture relationships
Success in outbound sales today is all about building relationships. LinkedIn is the perfect platform to do this and create demand for your company.
The goals we mentioned above for engaging with your ICP will help. But what else can you do to measure how building your professional network nurtures relationships?
Obaid Durrani, Head of Content at HockeyStack, has a few ideas. He's developed his own LinkedIn system for B2B content creation.
Here are what metrics he suggests:
Increased engagement. The engagement you're having with relevant people will be on the rise. This goes beyond meaningless comments like 'I agree'.
Increased followers. You won't be attracting anyone and everyone but the people you want to do business with.
Increased performance. The content you share will begin to perform better as you understand your audience more and more.
Increased output. Posting content becomes part of your sales cadence. You start to post more.
More opportunities. You'll notice that you get invited onto podcasts and other side gigs. This is a good sign what you're doing is working.
FAQ
Here are some asked questions about the LinkedIn SSI. 👇
Does the LinkedIn social selling index affect my visibility on the platform?
LinkedIn's social selling index (SSI) measures how you use LinkedIn for social selling activities. The SSI does not affect your profile visibility. But it can impact your visibility based on your engagement with other users and LinkedIn presence.
What are the benefits of a high social selling index score on LinkedIn?
Having a high LinkedIn social selling index score can provide several benefits. And not just help you achieve your sales target.
Increased visibility: A high SSI score indicates you are active on LinkedIn. This means the algorithm may focus on showing your content and profile to a wider audience.
Personal branding: You can present yourself as a thought leader by sharing valuable content and engaging with others. This can help boost your reputation and credibility.
Professional network reach: Using social media platforms helps to grow your network. You will engage with relevant people in your industry when you do activities that boost SSI. And not only potential prospects but also influencers and partners.
Improved relationship building: Social selling is about building meaningful relationships. A high SSI score indicates that you engage with your network, start conversations, and nurture relationships.
Access to insights and tools: LinkedIn provides more insights and tools to users with higher SSI scores. These resources may include access to advanced analytics, personalized recommendations, and training materials. Leveraging these resources can further enhance your social selling strategies and effectiveness.
Competitive advantage: A high SSI score can give you an edge in a competitive marketplace. It shows your dedication to using LinkedIn as a sales tool and differentiates you from others who don't have a strong online presence.
Can I see my social selling index score on LinkedIn for free?
Yes! Although viewing your score used to be part of Sales Navigator licences, anyone can now view it for free.
Follow these steps to view your LinkedIn social selling index for free:
Make sure you're logged into your LinkedIn account.
Visit:

www.linkedin.com/sales/ssi

.
You'll see your score benchmarked against other influencers in your industry.
INBOX INSIGHTS
Quick-to-read tactical advice and tool suggestions straight to your inbox.
Kaspr offers you the best way
to reach your customers