Your prospects aren't hiding from you.
They're all waiting for you on LinkedIn. 💯
Their profiles have useful information for research, and you can send them a connection request. But how do you get their email address?
Let's break down how simple it is to get email addresses from LinkedIn. 👇
1. Go to your prospect's LinkedIn profile
The first step to getting email addresses from LinkedIn is to go to your prospect's profile. Use the search bar (and the range of filters) on the top of the LinkedIn homepage.
Make sure you're targeting your ideal customer profile (ICP) and look for someone who fits the buyer persona.
2. Access their email address
Use the ✨ free Kaspr LinkedIn Chrome Extension ✨ as your email extractor tool.
The super cute Kaspr widget will pop up on your prospect's profile.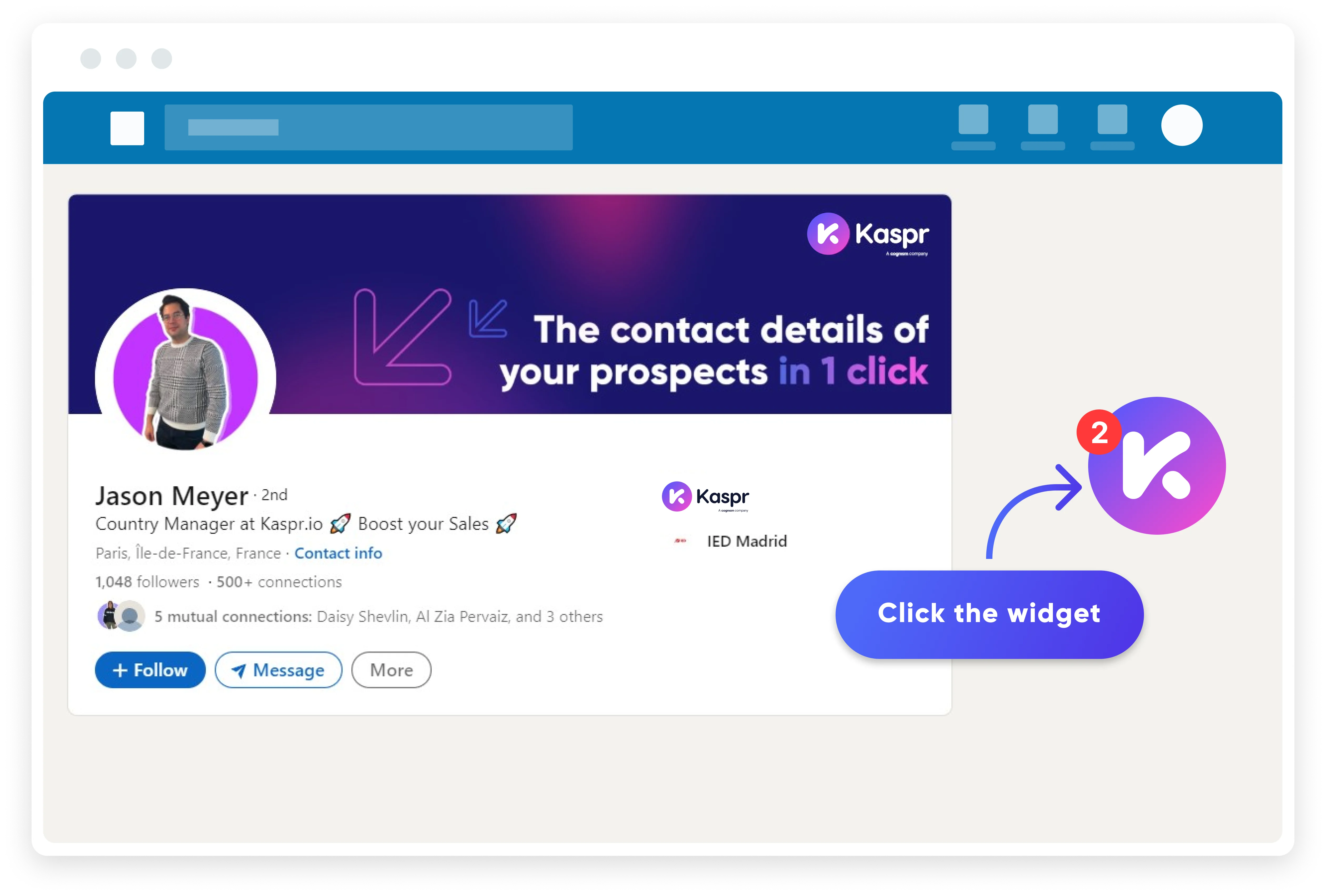 Click the widget, and for one credit, the contact information you need will appear. Not only will you get email addresses, but phone numbers, too.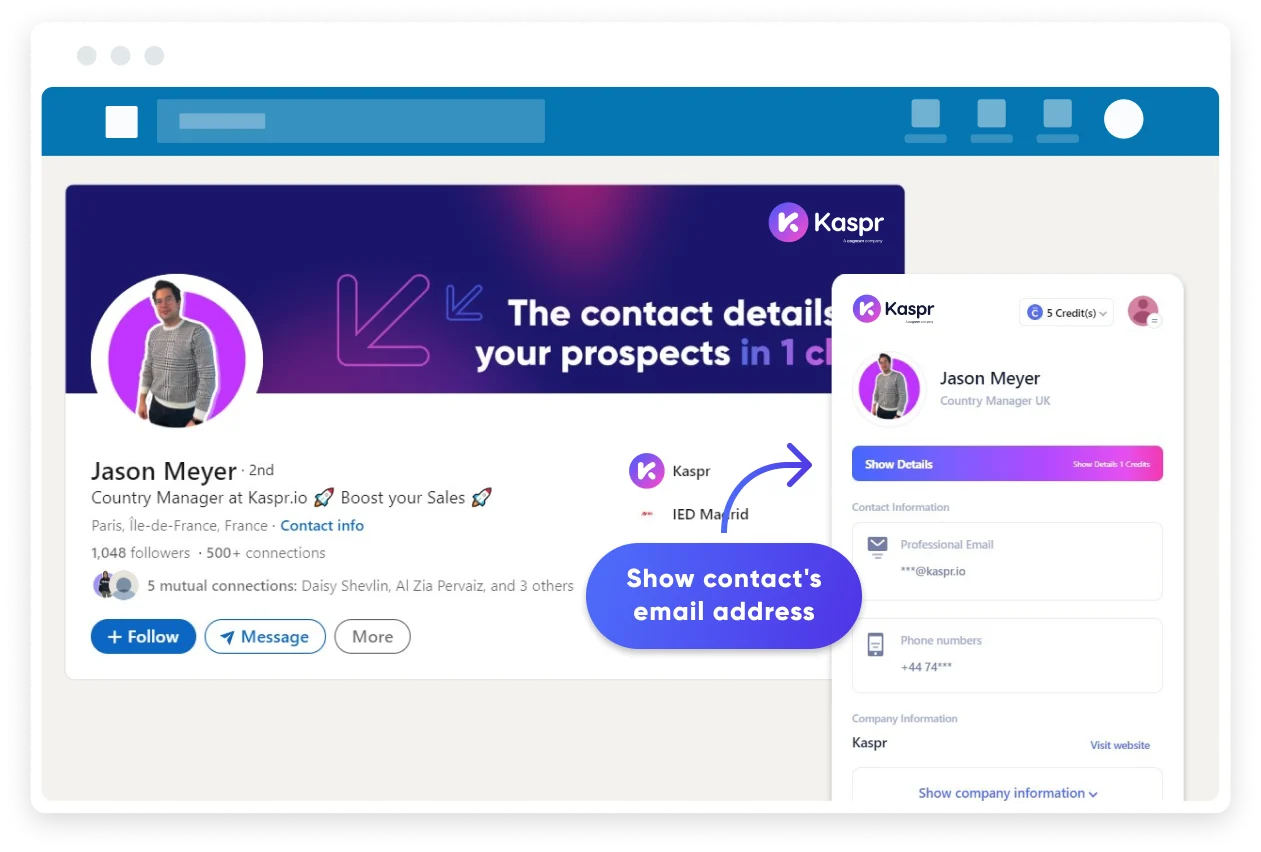 Who wants to try and guess email formats anyway? 🤷
3. Enrich the contact data
Take this valuable data further by enriching it in the Kaspr dashboard.
Save and manage your prospect's contact details by clicking Add to Leads on the widget, so you can access this info whenever you need it. You can create lists within the dashboard to manage leads and bulk email exports of only the prospects you want to contact.
The Kaspr dashboard takes this contact information to the next level by using automation that helps you confidently kick-off your sales outreach.
Thanks to the sales automation tab in the dashboard, you can enrich the data in two ways:
✅ Contact level: with professional email addresses and phone numbers.
✅ Company level: with business email addresses and phone numbers.
Plus, the data is all GDPR and CCPA aligned.
Other ways to get email addresses from LinkedIn
The Kaspr widget makes finding email addresses from LinkedIn simple. But there are other ways you can go about it, too.
Sales teams looking for a less easy and accurate way (honesty is the best policy 🤷) can do so manually or with bulk email finders.
Here's how. 👇
Manually
Finding email addresses from LinkedIn manually means requires a bit of heavy lifting.
All you need is your LinkedIn account, and from there, head over to the prospect profile. Click "contact info" under their name and cross your fingers, hoping your prospect hasn't hidden their email address. If it's listed, hopefully, it's up to date!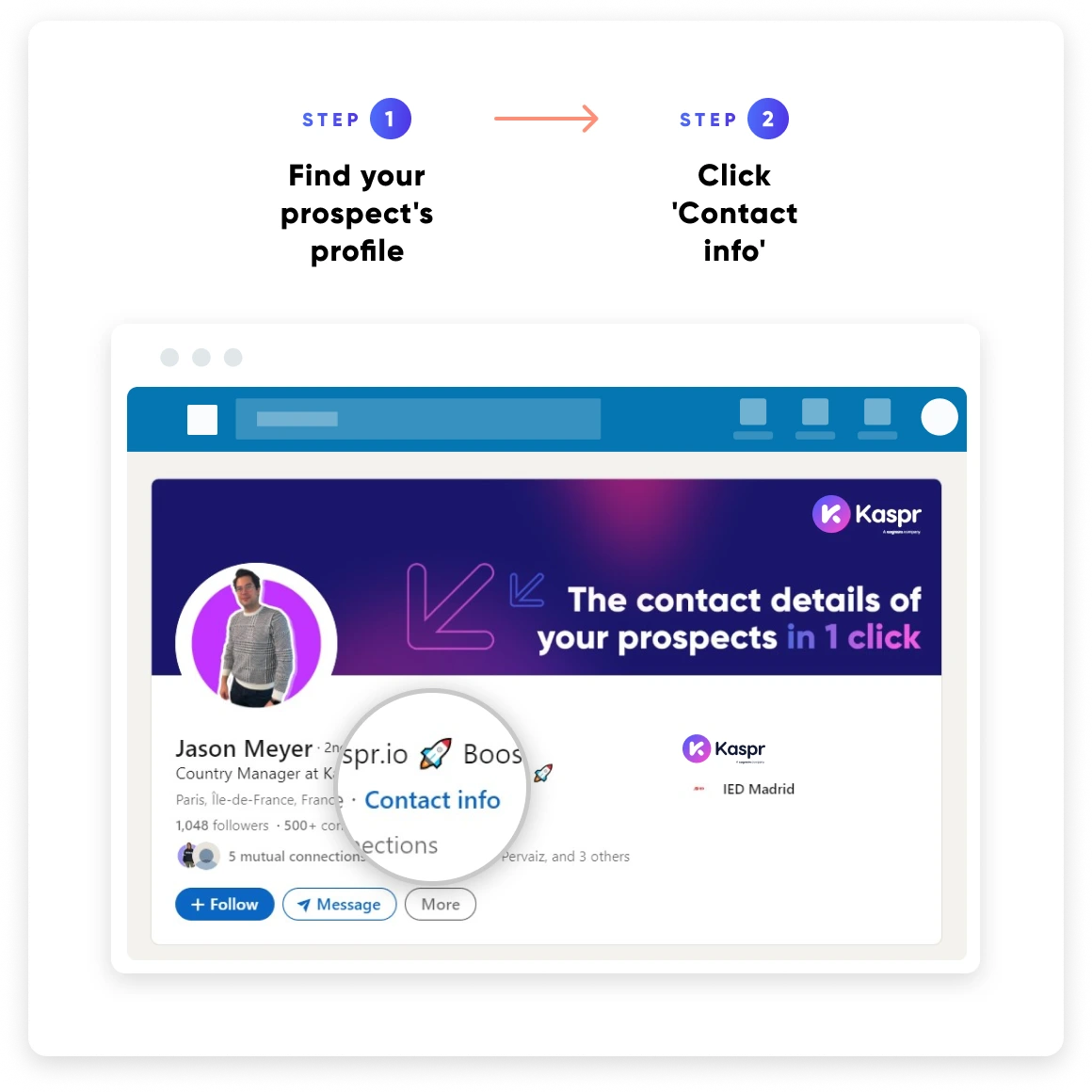 This method is free, but it does come with its own challenges. For starters, it's time-consuming since you have to navigate to each profile individually. If you were trying to do this for hundreds of prospects, this would take a lot of time.
Even if the contact information is listed, there's no guarantee it will be correct. So, you could spend all this time and energy only to find an email address that is no longer used. You could write a perfect cold email, only for it never to get read.
Finally, this method makes it difficult to stay organized. Even if you're using LinkedIn Sales Navigator, it doesn't keep things as organized as a contact data dashboard (like Kaspr). You'll also have to manually add these details into your CRM, making it even more time-consuming. ⌛
Bulk email finder tools
There's also the option of using a bulk email lookup tool, which means exporting a CSV file from LinkedIn Sales Navigator and enriching the data in a bulk email finder.
Some examples of these are:
Once your sales reps create a spreadsheet with your prospect's first and last name and the domain name, these tools allow you to upload the file to find multiple email addresses.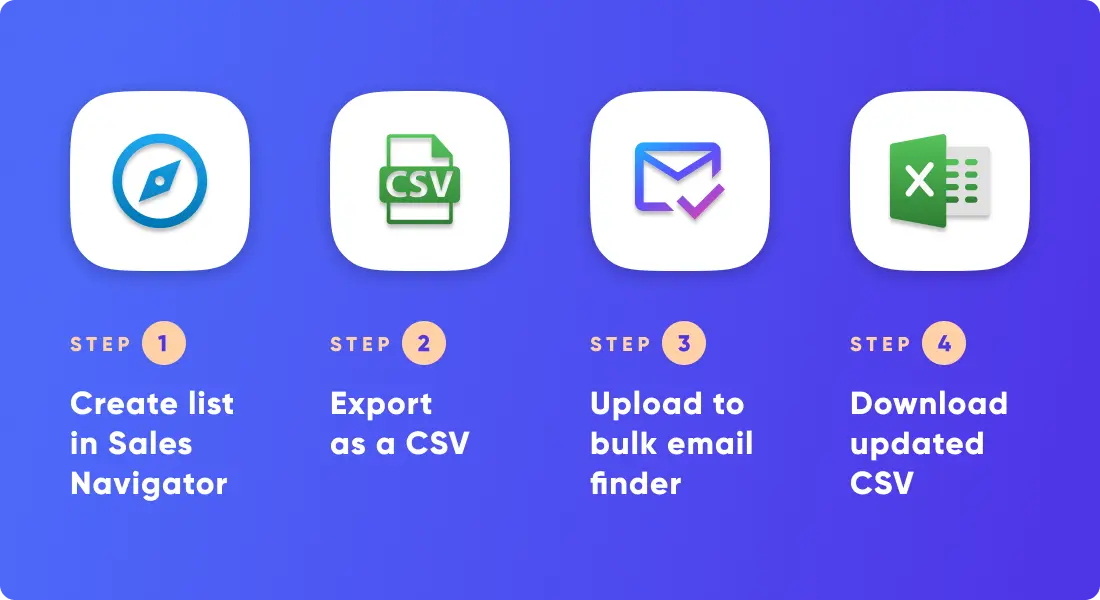 Using a bulk email finder over the manual method is much faster, making finding email addresses at scale easier. But because this contact gets downloaded into a spreadsheet, there's still manual work to get everything organized and then uploaded into a CRM.
And it can also be costly since many of these tools aren't free. Or they're free for a limited amount of emails or with a limited database of only personal email addresses instead of professional ones. Once you've reached your limit, you'll have to pay for more.
At the end of the day, several time-consuming steps go into bulk email fingers, slowing down your sales reps and making it more challenging to hit quotas.
How to write a winning cold email
Once you've got your prospect's valid email address, it's time to write a highly personalized email. You've got to make yourself stand out.
Before you click send, it's important to master the approach of your cold emails. Here are some things to keep in mind:
Grab their attention. Don't forget a subject line that stands out in their crowded inbox but stays within 19 characters.
Keep it short and sweet. The email should include a short and precise message. Use 150 words with simple language that gets to the point quickly.
Get personal. Personalization is key - but you don't have to write a customized email for hundreds of prospects. There's a sweet spot here, and leaving a unique message impression is still possible.
It's not all about you. A winning cold email should be about your contacts, not yourself. Highlight what they can gain or achieve by learning more about your offering.
Name drop. If you know a prospect is using a product by the competition, they might be interested in knowing how yours is different. So, highlight your product's main selling points in a way that highlights why yours is better.
Use some data. Got a fun fact about your product or service to share? Start your email with that, then back it up with facts, benefits, statistics, or quotes from real customers.
Show your face. While a well-worded email is great, think about elevating your outreach. Consider adding a video to the body of your email. That way, your prospect can put a face to a name and see you've taken time to personalize your approach.
Don't forget the call to action. Your aim is to book a meeting. So don't forget to make your intentions clear.
Try Kaspr for free
You already know how Kaspr helps you get email addresses from LinkedIn, so save yourself some time and trouble. Sign up for free.
There are over 120 million email addresses within our database, all GDPR and CCPA aligned. Start sending cold emails that don't bounce back today.
Join the 40K+ Kaspr users:
✅ GDPR and CCPA aligned.
✅ 120m+ email addresses.
✅ 90m+ phone numbers.
✅ All-in-one prospecting tool.
✅ Fully self-service.
✅ Customizable plans.
INBOX INSIGHTS
Quick-to-read tactical advice and tool suggestions straight to your inbox.
Kaspr offers you the best way
to reach your customers