We've said it before, and we'll say it again. 📣
B2B buying behavior has changed.
Prospectors must consider the entire buyer's journey beyond the sales funnel.
To recap:
Prospects do 57-70% of their own research before speaking to a sales rep.
Notions like PLG mean they often don't need to speak to anyone before buying.
Buying cycles are getting longer, especially in times of uncertainty.
The mindset around prospecting needs to change.
You've got two choices now:
🔵 Take the blue pill and continue to believe what you always have about the sales funnel.
Or
🔴 Take the red pill to break free of the funnel and understand exactly how your buyers buy.
Why the sales funnel is a rabbit hole
The sales funnel mentality is company-centric. For reps, it's about building awareness, gathering information, and booking meetings.
Here's a recap of it:
Awareness stage. Sales reps prospecting or leads coming through inbound.
Interest stage. Lead qualification and nurturing.
Sales pitches. Delivering sales presentations and demos.
Consideration stage. Sending proposals and negotiating on price and terms.
Decision stage. The account executive closes the deal with the help of the SDR.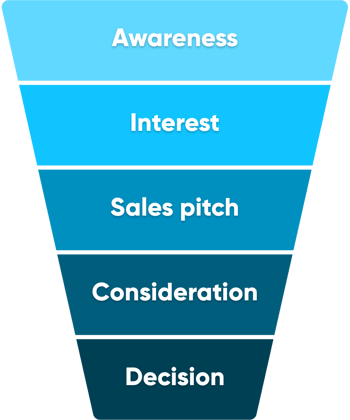 But what about the funnel above the funnel? Here's where SDRs fall into the rabbit hole. 🐇
You're doing it wrong if all you're trying to do is book a meeting right away. It takes time to build awareness and create demand. With cold calling, many reps are still trying to book meetings before the prospect knows they have a problem that needs fixing.
Remember, prospects don't exist neatly in a funnel that suits your CRM. They have their own tasks, and buying software isn't always the most important one.
It's important to look at Chet Holmes' buyer's pyramid:
3% are "buying now".
6-7% are "open to it".
30% are "not thinking about it".
30% "don't think they're interested".
30% "know they aren't interested".
If we flip this pyramid, it becomes the funnel above the funnel. The winning zone is the 30% that are "not thinking about it". 👇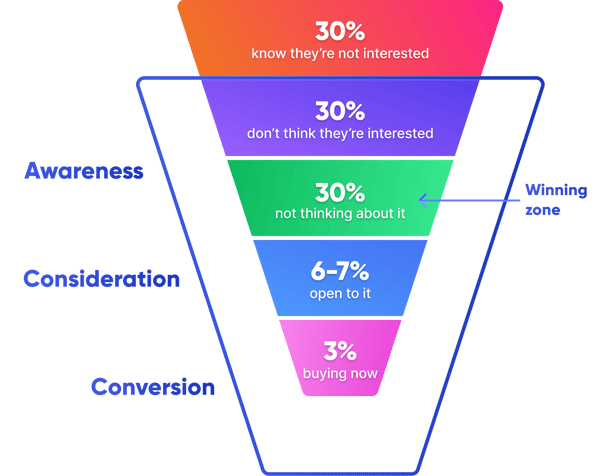 Reps must listen to what the winning zone says. Follow-ups and trying to avoid getting a meeting booked immediately are key.
Ryan Reisert, previously Subject Matter Expert at Cognism, says that:
"If reps focus on this winning zone and gathering information, they could take their conversion rate from 10% to 20-30%."
Sales funnel vs. buyer's journey mentality
Here's some background on why the sales funnel is not how B2B buyers actually behave.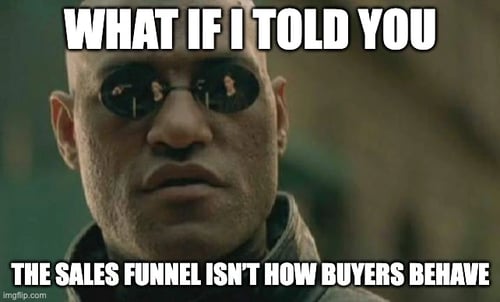 As we've already said, buyers hold off speaking to a rep for as long as possible. Why? Because sales isn't the only channel for research anymore. The funnel forgets that there are endless channels (and mediums) for consuming information now.
Potential buyers are researching at a time that suits them, in a format that suits them. But this process isn't linear, and neither is the timing of reaching out to a company.
Selling needs to be value-based now, and when you place a magnifying glass on the funnel, it doesn't help this mentality shift. This is because the sales funnel mindset assumes the buyer wants information at a certain point in the sales cycle. 🙅
The sales funnel is a company-centric approach. This means it focuses on company-based goals and assumes that buyers follow a perfect journey of having specific information at a specific time.
There is now a need for sellers to focus on a buyer's journey mentality, which is a customer-centric approach. So instead, it focuses on the B2B customer and their needs.
SDRs focusing on the buyer's journey will win because they appreciate that the journey can be complex. Some prospects might do all the research themselves, while others need more assistance.
The role of the seller is now to be the guide to help potential buyers make sense of all the information available to them.
If you want to book meetings and progress your SDR career, you need to:
Book meetings with intent. It's no good just booking meetings for the sake of it. You need to be intentional in targeting ideal customers.
Lead with value. This will help you build better relationships; by showing you understand what's happening in the prospect's business.
Know how your buyers buy. Meet your prospects where they are already existing. How do they like to find information?
Why is the buyer journey so important?
Unlike the sales funnel, the buyer journey is about the prospect.
The concept of the buyer's journey helps companies learn what the pain points are. Reps can use this knowledge to adjust outbound sales strategies and meet the prospect's needs.
It looks at the purchasing behavior of the B2B customer at each stage.
These core stages include:
The awareness stage - The potential customer knows they have a problem and has started researching how to resolve it. They may or may not know about your company.
The consideration stage - As the prospect looks for solutions to their challenges, more products come into contention. They are weighing up competitors' and maybe even sitting on demos to determine what might resolve their pain points.
The decision stage - The prospect has decided to buy something, but it's hypothetical. They might still need to consider final details like customer support, SLAs and implementation costs.
Embracing the funnel above the funnel
So, we've already brought up the funnel above the funnel. It's important to mention that it's not the SDR's job to redesign how the sales org is set up. But a shift in mindset will lead to more personal success and, ultimately more meetings booked.
So, what exactly can SDRs do to embrace the funnel above the funnel?
Well, part of it is to detach from the outcome.
It's instinctive for SDRs to be meeting-focused. After all, it's a KPI they're measured on and the result every rep wants so that they can get their bonus. 💰
Morgan J Ingram, Content Creator at Cognism, says:
"Attach yourself to the process of asking the right questions. Be thoughtful and actively listen. You won't do this if you're attached to the outcome of booking a meeting."
Detachment doesn't mean you don't care, just think of it as getting your priorities straight.
Bottom-up selling
With the funnel flipped upside-down, SDRs can focus on strategies like bottom-up selling. Remember Chet Holmes' buyer's pyramid? More opportunities come from those that aren't buying right now. 💯
Bottom-up selling is all about selling to your end users. You can work your way into a target account rather than trying to go straight for the decision-maker.
This process of digging for information on the ground level makes your first outreach valuable. You'll come to decision-makers with far more information than any generic search on LinkedIn could tell you.
You'll know:
The size of the team.
What's in their tech stack.
Key pain points.
Current processes.
Exactly who decides on buying your product.
Above all else, SDRs need to be relevant, which is something no other channel can recreate.
Here's an example of bottom-up selling outreach Cognism sends to its users. 👇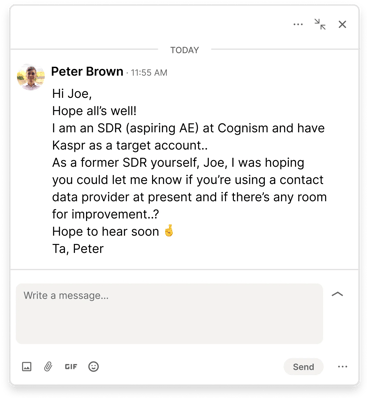 Altering your mindset
Shifting to think about the buyer's journey is a sales mindset change.
Reps get themselves into a rut of being appointment setters.
Morgan explains:
"A lot of SDRs view themselves as appointment setters. You need to realize that you're setting yourself up for a very key skill for the future of your career. You're also setting up pipeline for the organization."

"Without a pipeline, nobody's getting hired. No one's closing anything."
To break free from the sales funnel, it helps to set smaller habits and goals.
Aside from daily prospecting, you could:
Spend more time qualifying your prospective customers. This will likely translate into fewer no-shows to meetings and better customer lifetime value.
Take some time to use the product you sell. Product knowledge is a key trait in top-performing

SDRs

.
Carve out time to build your personal brand. Post educational content on LinkedIn and engage with your ideal buyer persona.
Buyer journey mapping = going beyond BANT
BANT is a commonly referenced model for the B2B sales process.
It stands for:
Budget.
Authority.
Need.
Timing.
But, to break free of the funnel, you must go beyond BANT. Many sales leaders agree SDRs need to use it very carefully, too. 👇
Too often, it's used as a checkbox exercise. BANT also doesn't align well with the funnel above the funnel.
This is because, where reps target prospects in the awareness stage, the prospect is in educational mode.
BANT can mean prospects get qualified in or out before they understand their problem. If they don't know they have a problem, they don't know they need your product.
The solution? Think value-led instead.
Don't rush the purchase process
When generating leads, this could be the first time B2B buyers have heard of you.
Rory Sadler, Co-founder and CEO at trumpet, says:
"It's easy to fall into the trap of ticking off BANT or your list of questions in your sales playbook. This makes the conversation feel very unnatural."

"I'm not saying don't use them as they're a great guide but focus on having a conversation and digging deeper into each answer rather than jumping to the next."
So why qualify out someone who doesn't have the budget when they are only just hearing about your product?
As Ellie Emmerson, Head of Sales Development at Fresh Relevance, once said:
"An SDR's job is to create curiosity, maintain it, but never satisfy it!"
You can add more value when you don't rush future purchase decisions by going through a checklist.
Think about these two key points:
Real conversations. Make it value-led and listen to what the prospect has to say. Don't go through a tickbox exercise.
Know your buyer persona inside and out. Be able to pick out pain points that are specific to them, not generic to the company.
Closing thoughts
To align with how buying behavior has changed, SDRs need to change their mindset.
It's not about forgetting the sales funnel and BANT. Okay, well, maybe a little bit. But we know both of these are often important at an organizational level.
However, you must think beyond them to shift to a buyer's journey mentality.
The key points are:
Embrace the funnel above the funnel. Dig for information at ground level before you even speak to the decision-maker. It'll help you become relevant, which no other channel prospects use for research can do.
Drop the appointment-setting mindset. SDRs who only focus on getting meetings booked aren't thinking about value. This means they'll see fewer deals closed without thinking about the bigger picture.
Be careful with BANT. Remember, the winning zone of prospects doesn't even know they have a problem. BANT qualifies them out immediately, which is why it doesn't align with the buyer's journey.
The real question is: Now you know what you know, will you stay in Wonderland? 🐰
INBOX INSIGHTS
Quick-to-read tactical advice and tool suggestions straight to your inbox.
Kaspr offers you the best way
to reach your customers