Converting prospects into customers is the biggest concern of any B2B company, especially if you're trying to scale up. 🌱
As a sales development representative (SDR), nailing your sales cadence is crucial. Cadence leads to closed deals. Engaging the prospect over time until they are ready to buy.
Let's dive into some of the best on the market in 2023. 👇
Top sales cadence tools 2023
Jump to:
1. Kaspr
G2 score: 4.4/5 ⭐
Kaspr is an all-in-one prospecting tool that extracts data from LinkedIn. It has a Chrome Extension and dashboard to enrich contact information.
As well as getting the data you need, Kaspr has cadence capabilities. Build LinkedIn workflows to send invites to connect and messages to your list. It's an ideal tool for individual contributors who prospect and would like to automate their LinkedIn outreach.
"Really easy to use. No need to constantly access a different application and disrupt your workflow. You can see very quickly if Kaspr can deliver the results you need (it often can)." - Kaspr user on G2
Cool bits:
Try for free (get up to 50 credits).
Instant access to contact details.
LinkedIn workflow automation.
Data enrichment.
CRM integration.
2. Lemlist
G2 score: 4.1/5 ⭐
Lemlist is a cadence sales software for getting replies from leads. With personalized emails, automated follow-up, and multichannel outreach capabilities.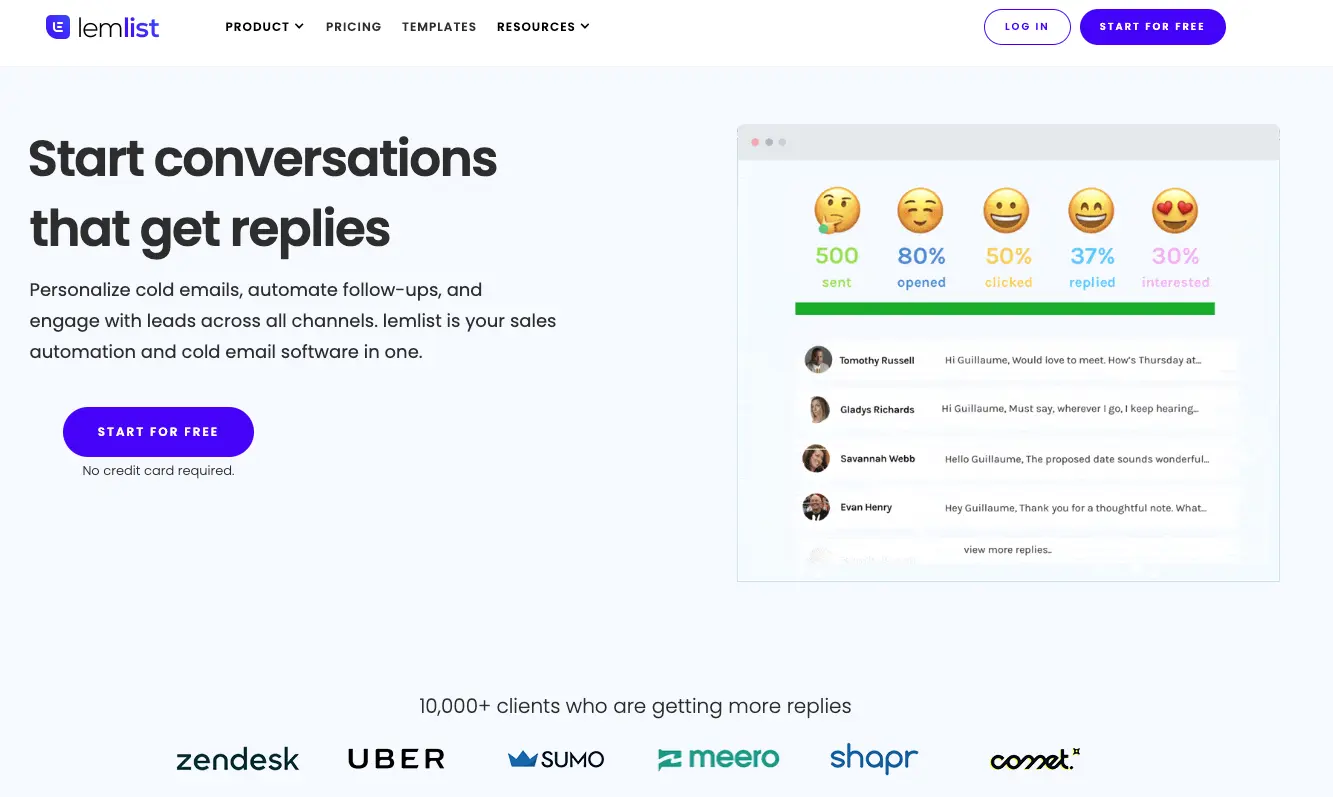 People that work in sales love Lemlist as a tool for warming cold leads up.
One on G2 says: "Lemlist's personality feature is the best on the market. You can personalize pictures, videos, and even the landing pages you are going to send your potential clients to. The results of the cold email campaigns are astonishing!"
Cool bits:
Personalize your cold emails at scale.
Automated follow-ups with sequences.
Engage leads across multiple channels.
14-day free trial.
Wide range of integrations, including Kaspr so you can save time. 😉
3. Outreach
G2 score: 4.3/5 ⭐
Outreach automates sales engagements. The platform guides sales reps through sales cadence with AI-driven generated insights.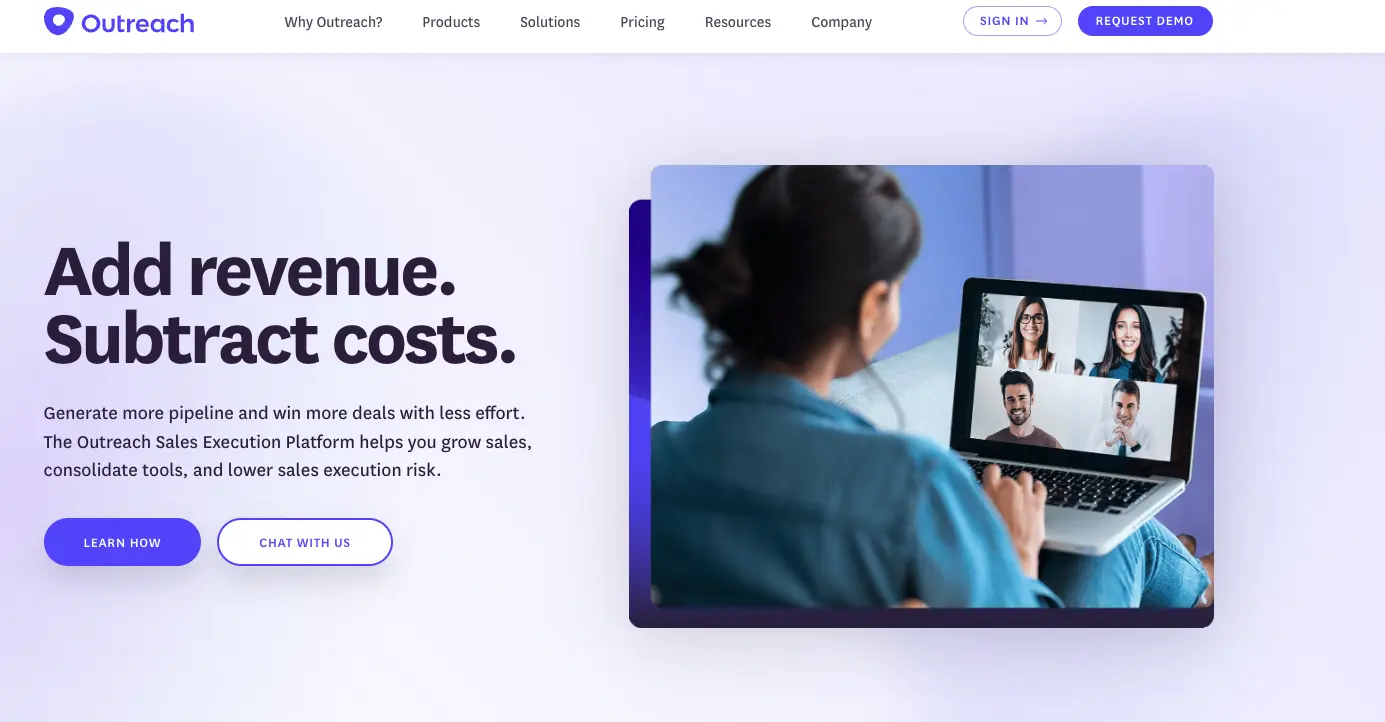 Some sales reps have described Outreach as a one-stop shop for everything they need to do.
"The primary problem Outreach solves for me is consistency. With automated sequences, I know my calls and emails are going out at a good cadence with consistent follow-up." - Outreach user
Cool bits:
Automated workflows.
AI-driven insights that guide reps through each stage.
Access to real-world tested workflows and playbooks for knowledge.
Lots of integrations, including LinkedIn Sales Navigator and Cognism.
4. HubSpot
G2 score: 4.4/5 ⭐
Known for its marketing tools, HubSpot also houses sales cadence capabilities. Within their HubSpot Sales Hub there's the ability to build cadences, review insights and view prospect data all in one place.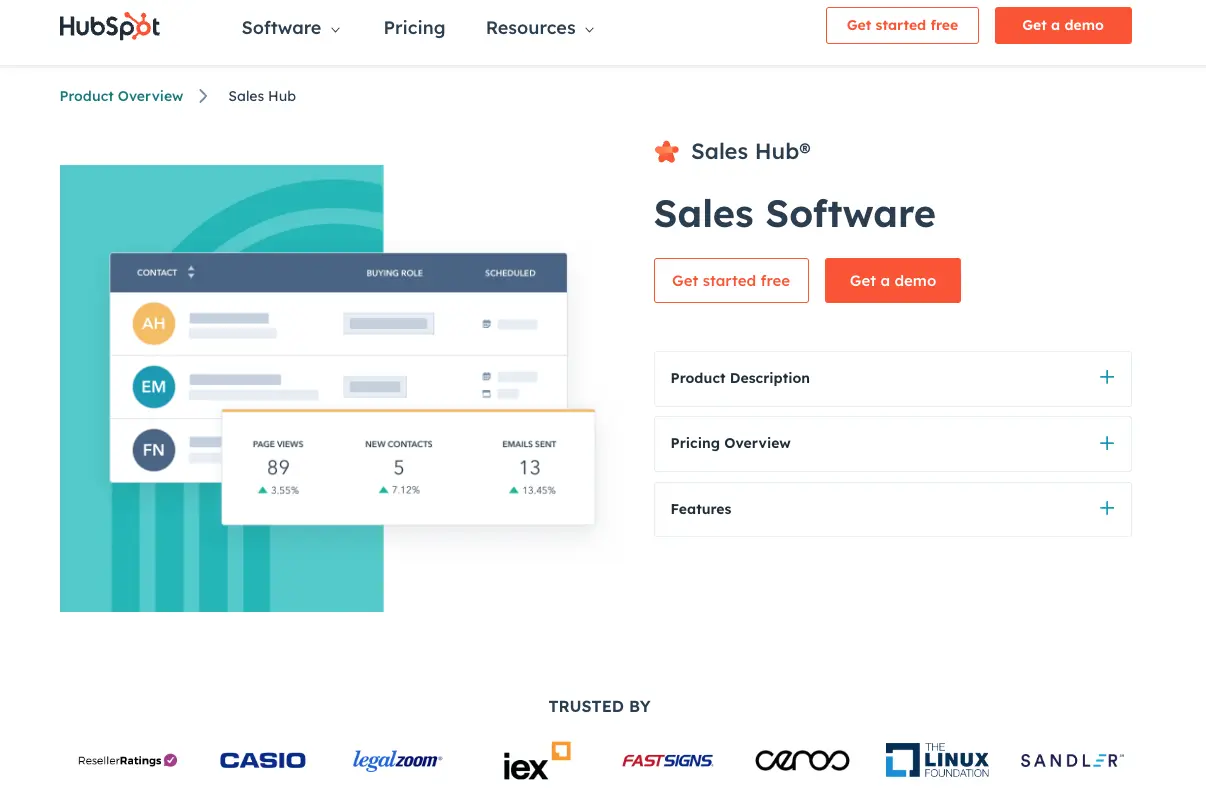 With its free CRM option, HubSpot can be more suitable for smaller businesses just starting out with their sales cadence.
Sales reps say it has: "Very good follow-up utilities that will make your sales cadence work" - HubSpot user
Cool bits:
Prioritize dials easily with email metric notifications (clicks, opens etc).
Easy-to-use sales cadence builder.
Faster sales cadence creation with Kaspr

integration

. 😉
A sales cadence software and CRM in one place.
5. Salesloft
G2 score: 4.5/5 ⭐
Salesloft's cadence options help you orchestrate every sales activity and synchronize it to your CRM.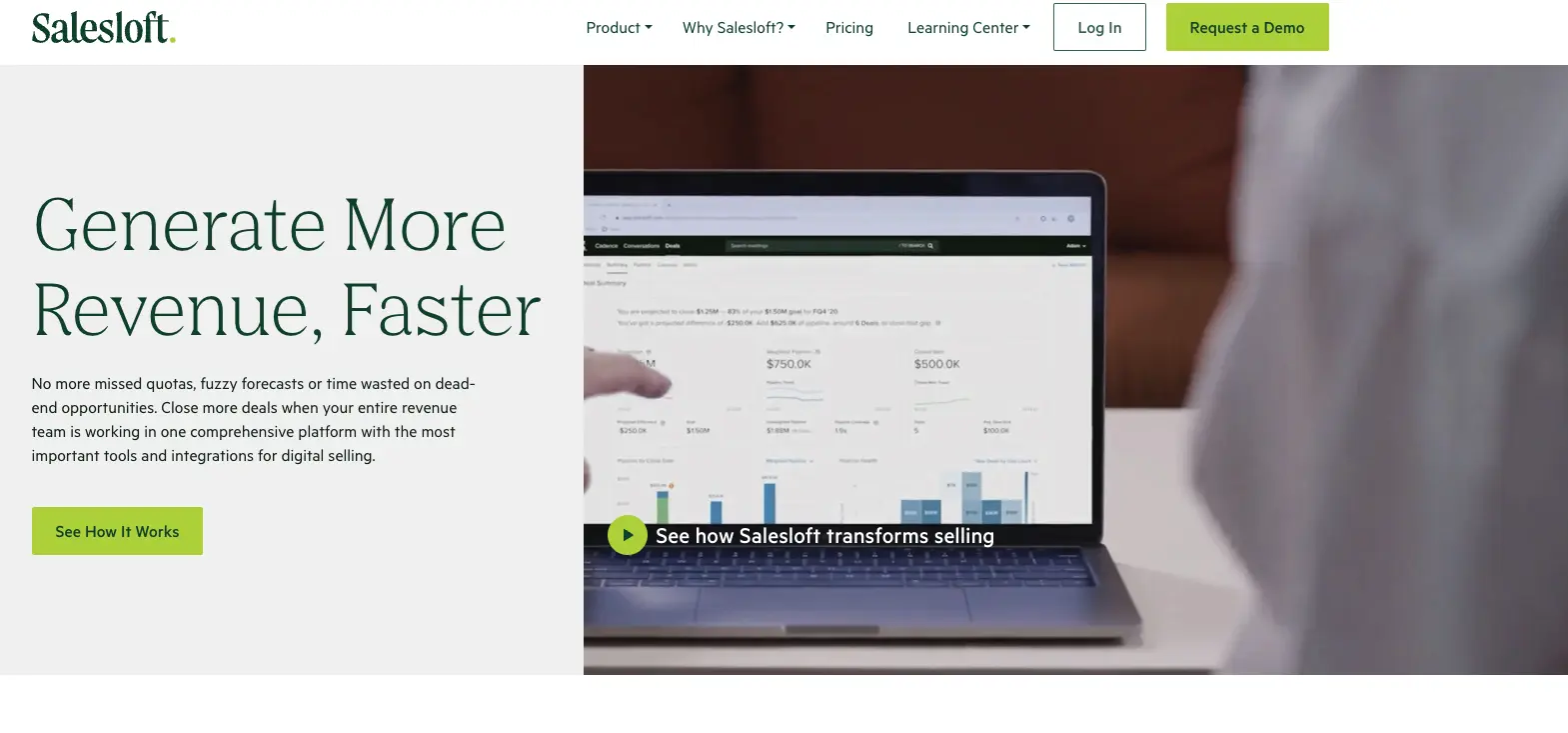 Enterprise businesses like Cisco Meraki and Shopify trust Salesloft with their cadences. It's rated by sales representatives because:
"It is extremely easy to create both team and personal cadences to hold yourself accountable in your outreach, as well as templates and snippets for personalization. Moreover, the metrics are easy to understand and iterate upon".
Cool bits:
Quick to setup and start using.
Metric tracking for each cadence.
Call recording capabilities.
Great onboarding process.
6. Salesmate
G2 score: 4.6/5 ⭐
Salesmate is a sales cadence software with excellent personalization capabilities. You can build a targeted approach across multiple channels like email, text, and phone calls.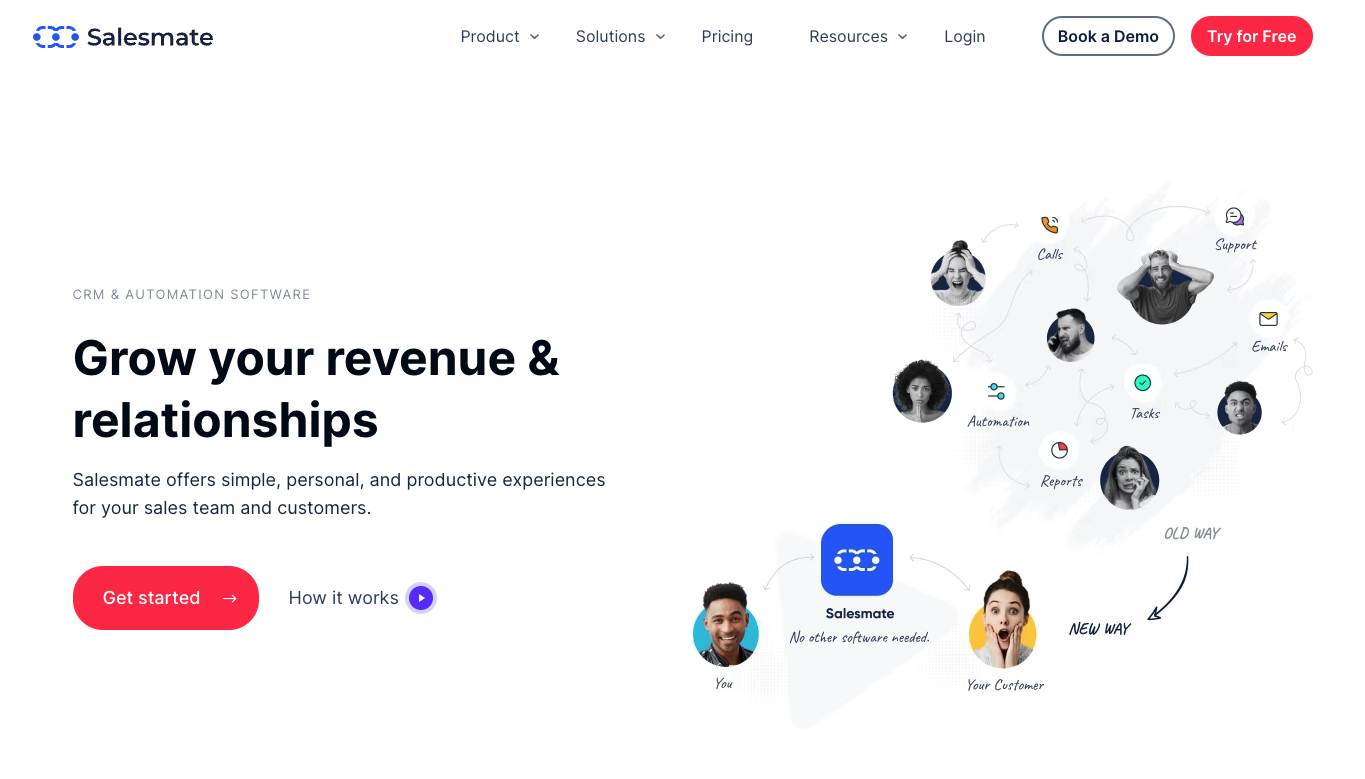 It's a great sales cadence option for smaller and mid-size businesses.
"Salesmate works great for cold outreach. We can create automated email campaigns to send out to a list, so the whole process is automated. We can even see stats on who opened each email". - Salesmate user
Cool bits:
Email personalization and pre-built templates.
Text cadence for multichannel.
Good customer service.
7. Koncert
G2 score: 4.6/5 ⭐

Koncert is a multichannel sales cadence software. You can set up a series of touchpoints via phone, email, video, text, and social media.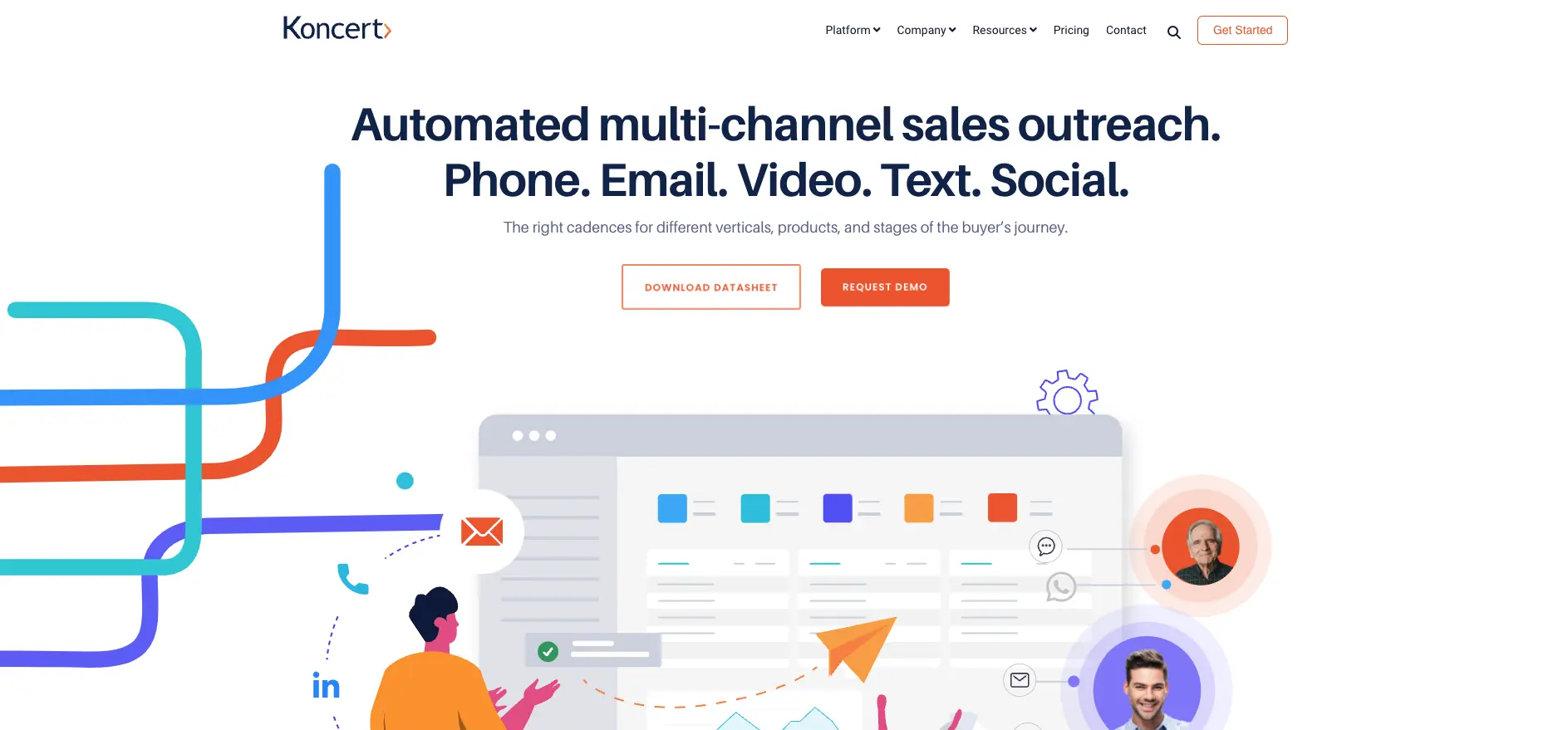 One user says: "It is super helpful to build a list by industry or person and I know exactly who I'm going to talk to in a given call block and can rotate these lists each day/week."
Cool bits:
Scores prospect activity (like opening an email).
Manage your workload.
Inbounds get routed to the top of the queue.
8. Freshworks
G2 score: 4.5/5 ⭐
Freshworks offer their own sales sequence software too. You can schedule emails, phone calls, SMSes, and reminders.
Users like it because it's so easy to use.
One user says: "The biggest strength of Freshsales is that it's very easy to use, it helps to track every time an email is opened/ when a prospect clicks on a link."
Cool bits:
Customize your outreach based on prospect activities.
Personalized experiences with 360° customer context.
AI-powered insights.
9. Keap
G2 score: 4.2/5 ⭐
Keap is a great automation tool for smaller businesses. As a sales and marketing platform, you can use it as a CRM and send automated emails and texts to your prospects.

It's great if you're looking for less full-on sales cadence software:
"The Campaign Builder is an amazing tool that allows you to automate the interaction with your prospects and clients to ensure that they are only getting relevant content, and personalize it, so the whole experience feels organic."
Cool bits:
Automation based on client actions.
Loads of templates to use.
A/B testing and analytics.
Segmentation possible.
10. EngageBay
G2 score: 4.6/5 ⭐
EngageBay is another marketing and sales platform that offers sequences.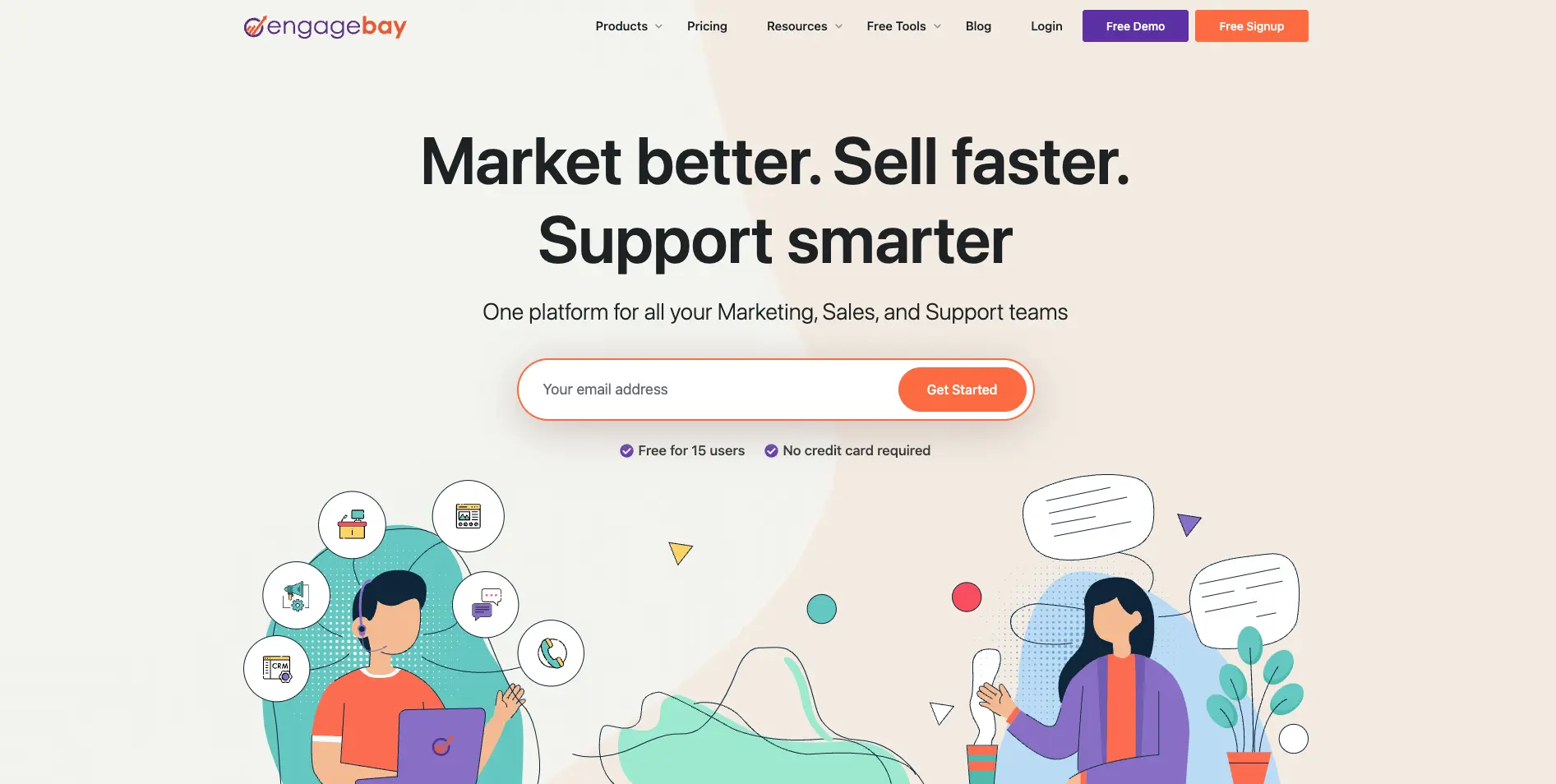 Users like it for:
"EngageBay gives me the flexibility to automate my processes and "take the work out", whether it's for Marketing, Sales, or Operations. Based on customer response, I can trigger a call, SMS, or email."
Cool bits:
Track sales emails.
Schedule your meetings.
Integrated telephony for phone calls straight from CRM.
Sales cadence tools summary
Check out our sales cadence software comparison. 👇
Easy start, stop or pause

Automation

Notifications for tasks

Personalization

Integration

Price

(monthly pricing, per user)

Free trial

Kaspr

No

Yes (for LinkedIn sequences and data enrichment)

No

Yes

Yes

$49 month

Yes

Lemlist

Yes

Yes

Yes

Yes

Yes

$59 month

14 days

Outreach

No

Yes

Yes

Yes

Yes

On request

No

HubSpot

No

Yes

Yes

Yes

Yes

$41 month

No trial but free tools

Salesloft

No

Yes

No

Yes

Yes

On request

No

Salesmate

Yes

Yes

Yes

Yes

Yes

$15 month

15 days

Koncert

No

Yes

Yes

Yes

Yes

On request

No

Freshworks

No

Yes

Yes

Yes

Yes

On request

21 says

Keap

No

Yes

Yes

Yes

Yes

$149 month (for 2 users)

14 days

EngageBay

No

Yes

Yes

Yes

Yes

$12.74 month

Yes
How to buy sales cadence software?
Sales cadence happens across many different channels with your buyer.
You need to make sure what you pick is a good fit. Let's take a closer look. 🔎
The channels that are supported
There are so many channels to consider. The main ones for outbound sales are cold calling, LinkedIn, and cold emailing.
Depending on your inbound vs. outbound split, you might need to see how well the sales cadence tool integrates with your website. This means that inbound leads can be added easily to the marketing or sales funnel.
Ease of setup and integration
Sales tech stacks can get big. You've got not only outreach tools but a CRM and potentially some form of mentoring software or sales enablement platform too.
We know as a minimum most sales teams use:
A CRM
Online demonstration and collaboration platform
Sales coaching tools
So, it's important to consider how your other tools integrate with these.
Integration with your CRM is particularly important. SDRs don't have time for manual data entry.
They'll end up looking like this. 👇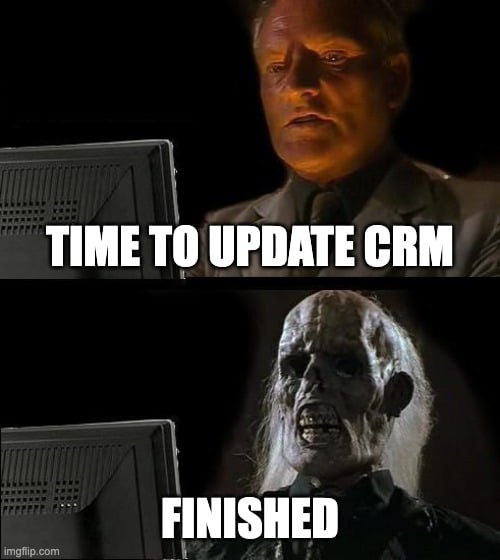 Ability to segment
You've got a target audience. The right message will differ across industries, job titles, and other important data.
If segmenting your lists is important to you, then make sure it's a capability of your sales cadence platform.
Implementing a tool that automatically groups people into these targeted cadences, means you're onto a winner. 🏆
Personalization capabilities
Everyone knows personalization is key for getting responses.
Saif Khan, now Head of Sales at Screenloop, discusses how you can personalize your sales cadence emails in the below clip. 🎬
He talks about how the new personalized cadence saw a 20% increase in meetings booked, achieving 103% of the booking target. This broke the Cognism company record for the number of meetings booked in a single month!
Dynamic text options and workflows for cold emails for email sequences are great for this.
You can add personalized aspects like a video or thumbnail with the prospect's name to take it to another level.
Automation and data insights
Automation gives a sales team hours back. You can automatically send emails or be notified when you need to call or perform a social interaction.
It means nothing in the cadence is skipped. It's a set of consistent rules.
For example, if a prospect opens more than seven of your emails without a response and is unreachable on the phone, the breakup email could be the next step. Don't forget your unforgettable sign-off. 😏
Being able to access data means you're able to see how your cadence is performing.
You should look out for if the software has analytics like:
Call to meetings booked.
Email response rate.
Touchpoints vs. engagements.
Wrapping it up on sales cadence software
To summarize, sales cadence tools are great for automating mundane processes for SDRs. They also provide data to determine how well the sales cadence works.

As a sales leader, before you decide on a B2B sales cadence software, you need to consider these key points:
The outreach channels that are supported.
Ease of setup and integration with your other sales tools.
Ability to segment for targeted cadence.
Personalization capabilities.
Automation and data insights.
You might like 👉 The Success Secret: Guide to Sales Cadence Best Practices
INBOX INSIGHTS
Quick-to-read tactical advice and tool suggestions straight to your inbox.
Kaspr offers you the best way
to reach your customers