Kaspr vs. Seamless.AI
What makes Kaspr the better choice when compared with Seamless.AI?
500M+ cell phone numbers and email addresses.
Access to unlimited B2B email addresses (in the free version too).
More flexible pricing options - pay monthly or annually.
All-in-one prospecting tool with workflows and automation included.
Real-time verified data.
Trusted by 50K+ companies worldwide





Enter your work email to get started. 👇

Free forever version | No credit card required
See how easy it is to find data with Kaspr for yourself
Try this interactive demo. 👇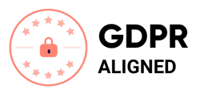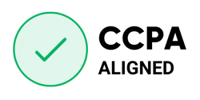 Reasons to choose Kaspr
over Seamless.AI
Prospecting made easy
Kaspr makes it so easy to get started. Our users love Kaspr for its simple UI and the fact that it is an all-in-one prospecting tool. This means you can find the contact details you need, manage your leads and outreach to them all in one place.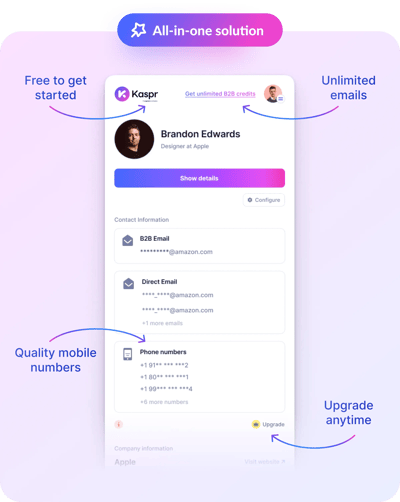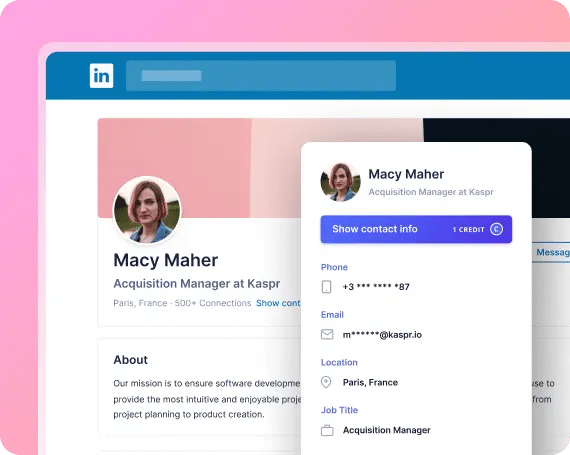 Know the data you're getting (before you get it)
Unlike tools like Seamless.AI, the Kaspr Chrome Extension shows you a preview of our data. This means no wasted credits on landlines when you want cell phone numbers and full transparency of what you'll get when you click "show the contact info" before you spend a credit.
Credits without restriction
The Kaspr pricing plans are flexible and transparent. With Seamless.AI, you need to talk to a salesperson to access any plans beyond their basic one. Kaspr gives unlimited access to B2B email addresses (for free users, too)* and makes purchasing add-ons well, seamless!
*Subject to our fair use policy.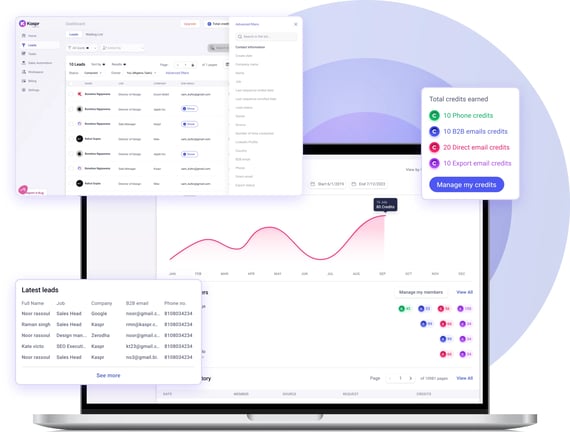 "Find cell phone numbers
that other tools don't!"
"I am using three other tools: Lusha, ZoomInfo and RocketReach. Not only is Kaspr finding the goldmine of cell numbers that the other tools are not, it's also finding alternative email addresses."
"Kaspr has become an invaluable tool in my networking on LinkedIn. This software has revolutionized how I check contact details, making it effortless to gather accurate and up-to-date information about potential connections."
"It is so simple, easy to start, and get your first cell phone numbers! It would take me so much longer to get my first touchpoint while trying to qualify new leads [without Kaspr]."
Where Kaspr and Seamless.AI get their data
Seamless.AI gets its data from accounts its customers choose to link. This includes the platform itself, company websites, professional networks, CRMs, emails and cell phone contacts. With your consent, they also collect data from the Seamless.AI website.
Kaspr gets its data from third-party sources and information from publicly available sources, such as via the internet and social networks.
There's a stringent verification process in place to make sure Kaspr's data is accurate.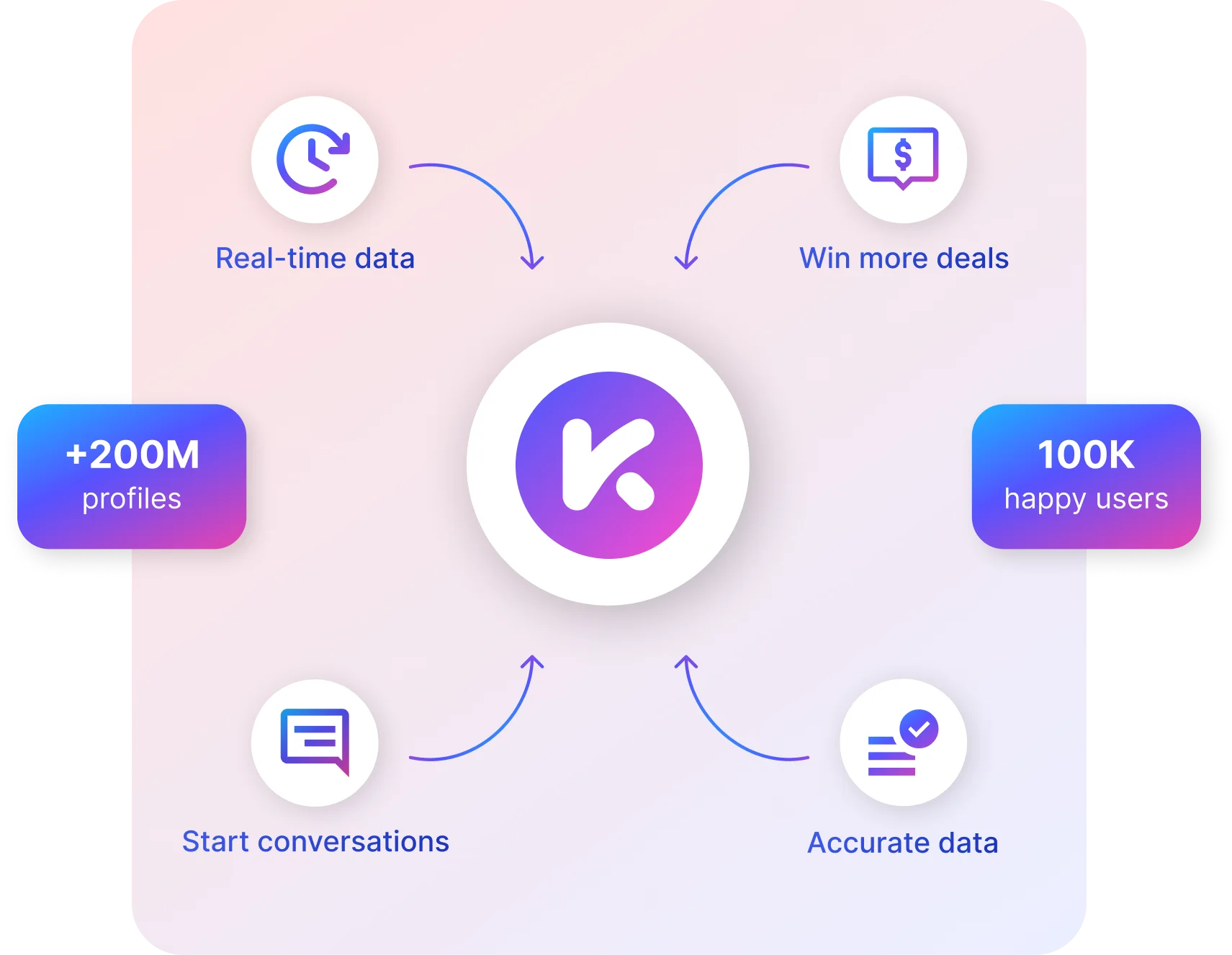 Core features: Kaspr vs. Seamless.AI
Both Kaspr and Seamless.AI provide cell phone numbers and email addresses for prospects. The databases of both tools are also updated in real- time.
Kaspr's database is strong in both Europe and the US. Seamless.AI's main focus is the US.
Kaspr is part of Cognism, which is renowned for data accuracy and has one of the largest cell phone databases in the US. We share information between our data sets, and this helps to make Kaspr's phone numbers incredibly accurate.
Kaspr also checks and verifies data against 150 sources when you request the contact info.

Yes

Yes

Yes

Yes

Yes

Yes
Kaspr users find the Chrome Extension to be non-invasive and user-friendly. They particularly like that you get notified that Kaspr has data on that contact when you land on their profile.
Kaspr's Chrome Extension can be used across various use cases, including LinkedIn, LinkedIn Sales Navigator, LinkedIn Recruiter Lite, LinkedIn posts, events and groups.
Seamless.AI's Chrome Extension on the other hand, works across company websites, LinkedIn, Gmail and Salesforce.
Chrome Extension works on
Kaspr
Seamless.AI

Yes

Yes

Yes

No

Yes

Yes

Yes

Yes

Yes

No

Yes

No

Yes

No
In Kaspr, users build LinkedIn outreach sequences to automate sending connection requests, send data to your CRM, and enrich existing data within the web app.
Kaspr also lets you limit the number of connection requests sent daily to help prevent the risk of being seen as spam.
Seamless.AI also has export features to send data between your apps. The AI capability helps with writing sales copy.
Automation
Kaspr
Seamless.AI
LinkedIn connection requests

Yes

No

Yes

No

Yes

Yes

Yes

Yes
Sales and recruitment teams can build lists within the same workspace in Kaspr and Seamless.AI.
Since Kaspr is an all-in-one prospecting tool, it also has additional functionality like assigning tasks, adding notes and tags to prospects.
Kaspr also shows the user how many phone numbers have been provided, helping demonstrate ROI.
Team collaboration
Kaspr
Seamless.AI

Yes

Yes

Yes

Yes

Yes

No

Yes

No

Yes

No
Kaspr is aligned with GDPR and CCPA. The Kaspr database is kept up-to-date with a stringent verification process.
Seamless.AI, on the other hand, is compliant with CCPA. It is unclear whether Seamless.AI are compliant with GPDR.
Compliance
Kaspr
Seamless.AI

Yes

No

Yes

Yes - Compliant
Kaspr directly integrates with several CRMs and sales apps, including HubSpot, Salesforce and Pipedrive. You can also connect to a range of other apps through Zapier integration.
Kaspr also offers integrations with popular calling software like Ringover and Aircall, so you don't need to flit between apps.
Seamless.AI is integrated with many popular sales and marketing apps. Including HubSpot, Salesforce and Pipedrive.
Popular integrations
Kaspr
Seamless.AI

Yes

Yes

Yes

Yes

Yes

Yes

Yes

Yes - Through Zapier

Yes

No

Yes

No

Yes

Yes - Through Zapier
Kaspr and Seamless.AI both have respectable G2 scores. With Kaspr currently on 4.4/5 and Seamless.AI on 4.2/5.
Kaspr offers 24/7 chat for all plans (including free) and a dedicated Account Manager for users on the Organization plan.
Seamless.AI offer email support for all plans and additional features like onboarding training for their paid plans.
Reviews & support
Kaspr
Seamless.AI

Yes

No

Yes

Yes

[Our old provider] wanted us to renew the package
to get more credits, which was 6x more expensive."
"If you did the maths, Kaspr probably saved us around 4-5 hours per week. The automation features like the LinkedIn workflows have saved us time and reduced the margin for error."
Kaspr vs. Seamless.AI pricing
Free (forever) version
Featuring access to unlimited B2B email addresses.
Starter plan
1,200 phone credits, 60 direct email credits and 3,000 export credits.
Business plan
2,400 phone credits, 2,400 direct email credits and 12,000 export credits.
Seamless.AI pricing:
Plans from Seamless.AI are only offered annually with monthly or annual billing cycles.
Free version
$0 per month
50 credits to get you started.
Basic plan
Talk to sales
250 credits in total per month.
Pro plan
Talk to sales
Includes buyer intent data.
See how Kaspr compares to other tools like Seamless.AI
Frequently asked questions
Kaspr vs. Seamless.AI: Your questions answered
+ See the 6 questions
- Compress
Thinking about getting Kaspr over Seamless.AI? Here's our FAQ.
How do I get out of a Seamless.AI contract?
All pricing plans offered by Seamless.AI are annual. They can be billed on a monthly basis or annually, but this does leave the user tied in for at least a year.
You'll need to set your Seamless.AI account not to renew to notify them that you wish to cancel their services.
Is Kaspr a good alternative to Seamless.AI?
Kaspr is a great alternative to Seamless.AI. It's an all-in-one prospecting tool that offers data enrichment and exporting like Seamless.AI but with additional features.
Users of Kaspr can enjoy the sales prospecting features like automation, sequence building and outreach within the dashboard.
Can I try Kaspr for free?
Yes. There's a free version of Kaspr available with access to unlimited B2B email addresses. Plus, 5 phone credits, 5 direct email credits and 10 export credits
Can I use Kaspr with my team?
You'll be able to work in the same workspace as your colleagues, which means that you'll be able to share leads, sales activities, and workflows.
Are Kaspr subscriptions renewed automatically?
Yes. Our subscriptions automatically renew monthly or annually, but you can change or update your subscription anytime.
Our plans aren't a contract, and you can cancel your subscription whenever you like.
Do you get add-on credits with Kaspr?
Yes. Add-on credits mean you can customize your own plan to meet the demands of busier periods.
You'll get the credits at the time of payment, and these add-ons will be billed for your next renewal period.
Start using Kaspr to
find contact details today
No credit card is required to sign up
Super accurate phone numbers