Jump ahead to:

Sales prospecting tools for 2023
1. Kaspr
4.4/5 on G2 ⭐
Kaspr is a tool for finding potential prospects.
It's closely aligned with GDPR and CCPA rules and gives the user contact info by web scraping LinkedIn or enriching contacts through Kaspr's database information.
It has two main parts:
Dashboard for managing leads.
Sign up for
Kaspr right now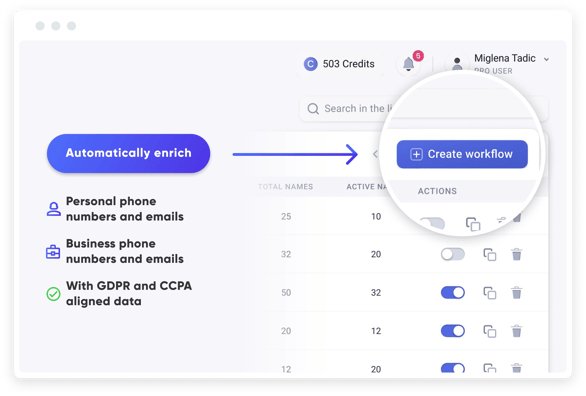 With the Kaspr Chrome Extension, you'll get access to accurate phone numbers, email addresses and company information.
Kaspr can be used across LinkedIn, Sales Navigator, and Recruiter Lite. Unlike other tools on the market, it can also extract data from LinkedIn posts, events and much more as part of your sales prospecting efforts.
Kaspr provides automation features for B2B data enrichment and LinkedIn outreach efforts too. You can enrich contacts using the widget or tailor workflows to your preferences in the dashboard.
Top features:
Free version.
LinkedIn Chrome Extension.
Contact enrichment from a LinkedIn profile, group, event, post, or list.
LinkedIn outreach sequences.
A lead organization using lists, notes, and tasks.
Integrations with HubSpot, Pipedrive, Lemlist, Salesforce, and more.
Team analytics.
Pricing:
Free version available with access to unlimited B2B email addresses.
Paid plans start at €45 (around $49) per user per month.
Custom plans with more admins and support options.
What do Kaspr customers say?
"Kaspr does what ZoomInfo promises to do.
But way cheaper, easier, and looks nicer."
"All we care about is getting phone numbers, so I also love that Kaspr previews what information I will get when I press reveal. That's amazing because it means your credits are actually valuable."
"Our BDR also hasn't complained about the number of leads once since using Kaspr, which used to happen daily!"
Andy Earnshaw
Chief Customer Officer at
Visibly HQ
2. Magical
4.8/5 on G2 ⭐
Magical is a free Chrome Extension that can help you pull information from a site like LinkedIn so you can instantly move it onto a spreadsheet or directly into your CRM.
It's a great lightweight solution if you're used to copying and pasting this type of info:
Company Name.
First Name.
Last Name.
Job Title.
Location.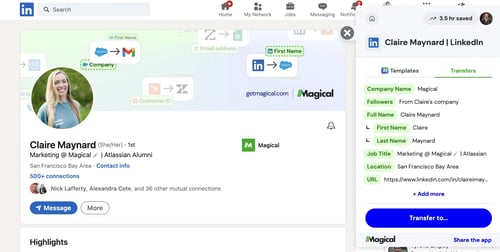 Magical can automatically identify these individual elements on a page, making it easy to move them from one tab into another. Creating a new lead in your CRM has never been easier, with information magically popping into place. And with one-click transfers to Google Sheets, Magical makes it super easy to create a spreadsheet with new prospects or leads as well. If you've been looking to use AI for sales, this is a great tool to get started.
Best of all? Magical works across over 10,000,000+ websites and web applications. No fussing around with integrations, it just works the way you want it to - wherever you want it to work.
Top features:
Free version.
Easy to install via Chrome Extension.
Autofill lead information into your CRM.
Create prospecting sheets with one click.
Also includes text expander and AI features for faster messaging.


Pricing:
Free version available.
Paid plans start at just $6.50 per month.
3. Cognism
4.7/5 on G2 ⭐
Cognism is a sales intelligence platform that provides valuable data, such as:
Contact information.
Contextual information
Intent data (powered by Bombora).
Phone-verified mobile numbers aka Diamond Data
With Cognism, you can create comprehensive lead and account lists.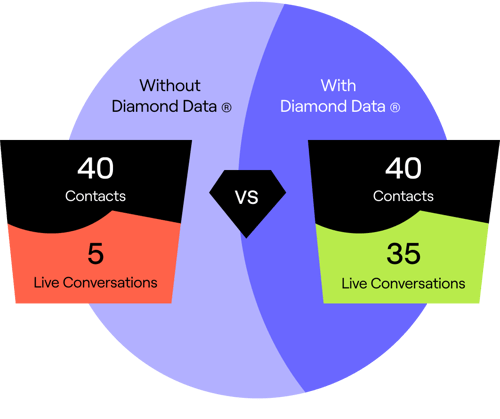 Cognism's Diamond Data® provides accurate mobile phone data with 98% accuracy through a manual human-verified process.
It's a web app and browser extension that integrates with platforms commonly used by B2B sales teams.
These include: Salesforce, HubSpot, Outreach, SalesLoft Microsoft Dynamics and Pipedrive. The extension can also be used over LinkedIn, Sales Navigator and company websites.
Cognism is a perfect choice for revenue teams. It provides valuable contextual data and efficient capabilities for building lead lists.
Top features:
Diamond Data® with 98% mobile phone accuracy.
Intent data, firmographics, technographic, and sales trigger events.
Global do-not-call lists.
Seamless integrations with many sales apps.
GDPR and CCPA compliant.
EMEA, NAM, and APAC coverage.
Pricing:
Customized packages based on your needs, available on request.
💡 Unsure who to pick? Kaspr vs. Cognism.
4. Chili Piper
4.6/5 on G2 ⭐
Chili Piper is a scheduling and booking software.
It makes setting up meetings and appointments easy for sales reps.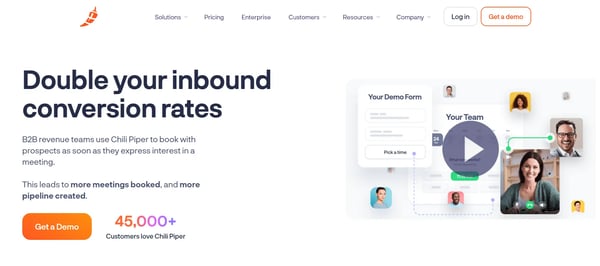 Chili Piper provides various solutions and tools that enable scheduling and booking processes.
Chili Piper revolutionizes sales team efficiency and effectiveness by streamlining and optimizing the scheduling and management of meetings and appointments.
With Chili Piper, sales professionals can seamlessly book appointments, qualify leads, and reduce response times, ensuring a smooth and productive sales process.
Top features:
Instant meeting scheduling.
Route and assign leads.
Analytics and reporting.
Real-time calendar availability.
Pricing:
Customized packages based on your needs.
Paid plans start from €20.88 per month.
5. Dealfront
4.3/5 on G2 ⭐
Dealfront is a web analytics tool that uses data to uncover hidden leads and convert them into customers.


Formerly known as Leadfeeder, Dealfront has undergone a significant transformation by merging with Echobot and embracing a rebranding and relaunch initiative.


It is a B2B platform that identifies website visitors and monitors their on-site activity. For this reason, it's popular with marketing teams.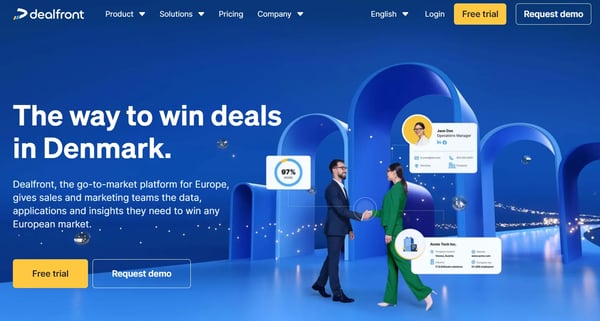 This allows you to identify actively engaged leads in the buying process. Then divide resources by focusing on those more likely to convert.
Top features:
Lead identification.
Visitor tracking.
Lead scoring.
Customized email alerts.
Pricing:
14-day free trial.
€199 per month.
6. Dripify
4.6/5 on G2 ⭐
Dripify is a marketing automation platform designed to optimize email marketing campaigns. It helps businesses automate their email marketing efforts.
You can also deliver targeted messages to your target accounts. Features like this help to improve engagement and conversion rates.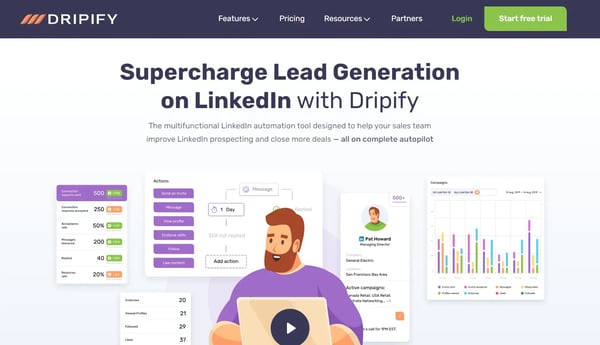 Top features:
Email campaign management.
Personalization and customization options.
Tracking and analytics.
Advanced dashboard and reports.
Complete performance automation.
Pricing:
Free trial.
Starting price $39 per user per month.
7. LinkedIn Sales Navigator
4.3/5 on G2 ⭐
Sales Navigator empowers sales teams to generate leads and build relationships on LinkedIn.
This platform gives users valuable insights about ideal prospects. Including their recent job updates, previous companies, current company profile, and mutual connections.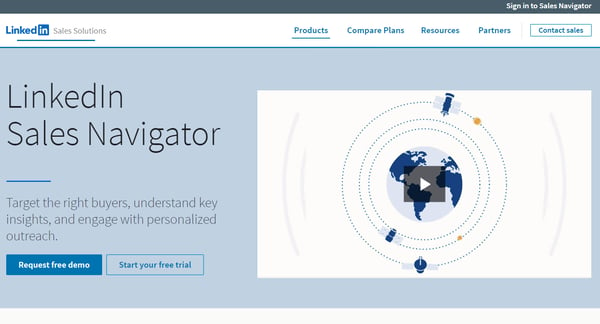 Sales Navigator offers tools for social selling, lead recommendations and custom list building.
Since it doesn't provide contact information, it is commonly utilized alongside sales intelligence tools.
Top features:
Lead recommendations based on search history.
InMail messages.
Advances search filters.
Capability to create buyer alerts, notes, and tags.
Integrations with B2B sales tools.
Pricing:
1-month free trial available.
Sales Navigator Core starts at $79.99 per user per month.
Custom plans.
8. HubSpot
4.4/5 on G2 ⭐
HubSpot is an inbound marketing and sales platform.
It provides tools and features to help businesses attract, engage, and serve customers.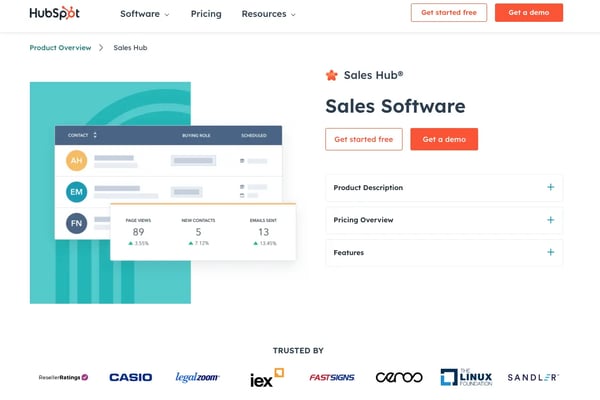 It offers solutions for:
Content management
Lead generation
Email marketing
Customer relationship management (CRM)
Analytics
HubSpot is a comprehensive platform that offers a wide range of tools and features to enhance marketing and sales efforts, optimize customer interactions, and drive business growth.
With HubSpot, you can use various functionalities to achieve your goals.
For example, HubSpot empowers sales teams by providing features like automated email sending, outreach automation, and note-taking for effective lead management.
Top features:
CRM.
Lead management.
Marketing automation
Sales analytics and reporting.
Email marketing.
Pricing:
Marketing Hub, Sales Hub, and Service Hub have different plans with varying features and add-ons.
The plans include Free, Starter ($20/month), Professional ($400-$890), and Enterprise ($1200-$3600).
9. Loom
4.7/5 on G2 ⭐
Loom is a video messaging and screen recording tool. Users can capture and share videos easily with their team or potential customers.
Loom revolutionizes sales prospecting by providing salespeople with a powerful tool to create personalized video outreach that visually communicates information in a convenient and efficient manner, enhancing engagement and accelerating the sales process.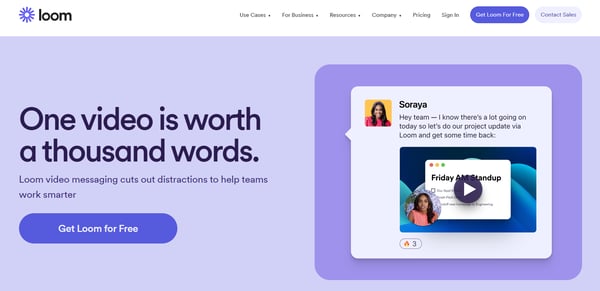 Top features:
Video messaging
Screen recording
Webcam recording
Team collaboration
Customizable video player
Integration with other tools
Pricing:
Free starter plan.
Free trial.
Starting from $12.50 a month.
10. ZoomInfo
4.4/5 on G2 ⭐
ZoomInfo is a B2B database that provides sales, marketing, and recruiting teams with valuable contact and company data.
AI and machine learning power the platform and make sure its data is updated and verified.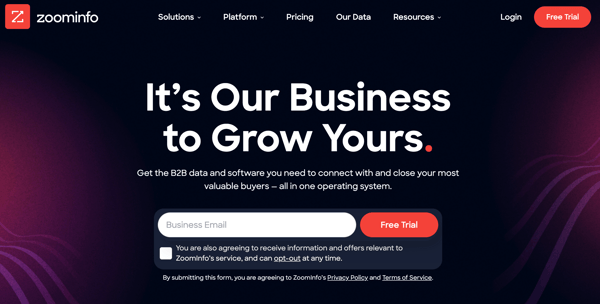 It also provides software solutions for conversation intelligence, website chat, email and phone automation, and data management.
Top features:
Buyer intent insights.
Website visitor tracking.
Data enrichment API.
Website chat.
Integration with CRM and marketing automation tools.
Pricing:
14-day free trial available.
Pricing information is not available on their website.
Customs plans and packages.
11. PandaDoc
4.7/5 on G2 ⭐
PandaDoc is a document automation platform that simplifies creating, sending, and tracking business documents.
The tool helps businesses create professional documents, gather signatures, collaborate, and gain insights.
Top features:
Document templates.
E-signature capabilities.
Collaboration tools.
Document analytics.
Workflow automation.
Pricing:
Free eSign.
Free trial.
The pricing plan starts at $35 month per user.
12. Outreach
4.3/5 on G2 ⭐
Outreach is a sales engagement platform. It helps sales teams communicate and engage with prospects and customers.
With Outreach, sales professionals can optimize outreach efforts, improve response rates, and track and manage customer interactions.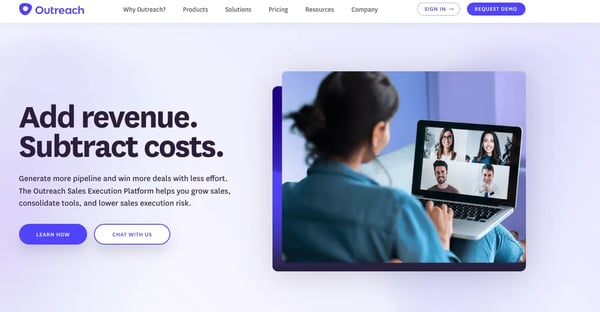 Top features:
Email outreach.
Sales call management.
Task automation.
Personalization and segmentation.
Pricing:
Customized packages based on your needs, available on request.
13. Crunchbase
4.5/5 on G2 ⭐
Crunchbase is a platform that provides business information, market trends, and funding data.
It is a trusted source for entrepreneurs, investors, and professionals who want to learn about companies, funding rounds, key executives, and industry trends.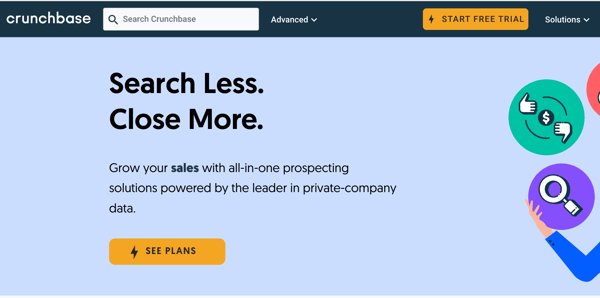 Crunchbase has a database of lots of companies. It provides access to information, so users can make business decisions and stay updated with the latest developments.
Top features:
Company profiles.
Funding data.
Investor information.
Market trends and insights.
Advanced search and filtering.
Saved Lists and alerts.


Pricing:
Free trial available.
The pricing plan starts with $29.
14. UpLead
4.7/5 on G2 ⭐
UpLead is a sales intelligence platform that provides users access to B2B contact and company data. It's got a database of verified business contacts.
The sales prospecting tool helps reps and marketing professionals find and connect with their target audience.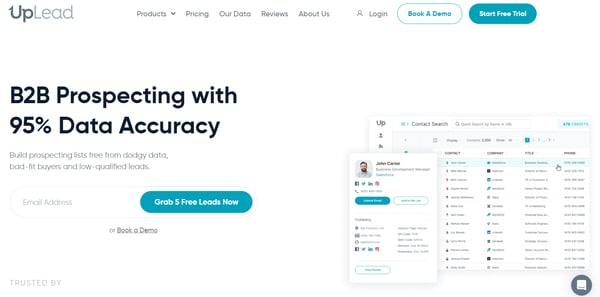 Top features:
Company data.
List Building and segmentation.
Real-time email verification.
Pricing:
Free trial.
The pricing plans start from $74 per month.
15. Calendly
4.7/5 on G2 ⭐
Calendly is an online scheduling tool that simplifies setting up and managing appointments and meetings.
It eliminates the back-and-forth of emails with an interface for sharing availability and scheduling time slots.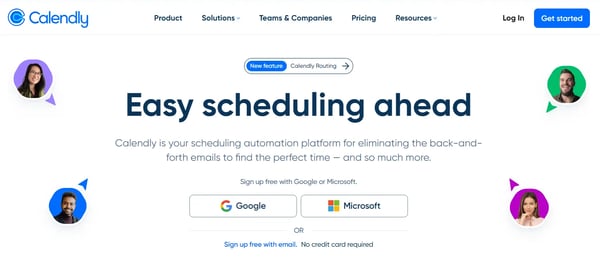 Calendly also helps sales reps and teams with organizing and booking client meetings. Particularly with inbound leads.
Top features:
Easy appointment scheduling.
Automated meeting reminders.
Calendar integration.
Customizable availability settings.
Team scheduling and collaboration.
Time zone detection and conversion.
Pricing:
Free plan available.
The pricing plan starts at $8 per month.
16. Gong
4.7/5 on G2 ⭐
Gong is a revenue intelligence platform that uses artificial intelligence (AI) to provide insights and analytics for sales teams.
It's used to perfect sales communication, understands customer preferences, and make data-driven decisions for better sales strategies.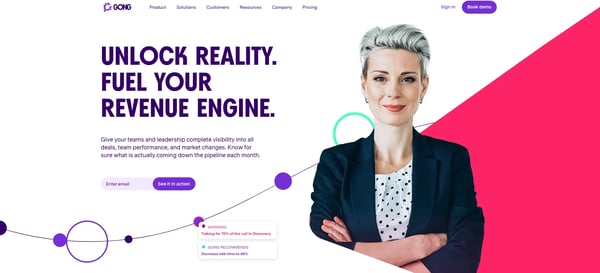 Top features:
Conversation analytics.
Call recording.
Deal and pipeline visibility.
Sales performance metrics.
Coaching and training tools.
Integration with CRM systems.
Pricing:
Customized packages based on your needs, available on request.
17. Cirrus Insight
4.2/5 on G2 ⭐
Cirrus Insight is a sales productivity tool that integrates Salesforce with your email and calendar.
It enables sales teams to access and manage Salesforce data directly from their inbox, allowing easy communication and workflow.
This integration enhances productivity and provides real-time insights to drive sales success.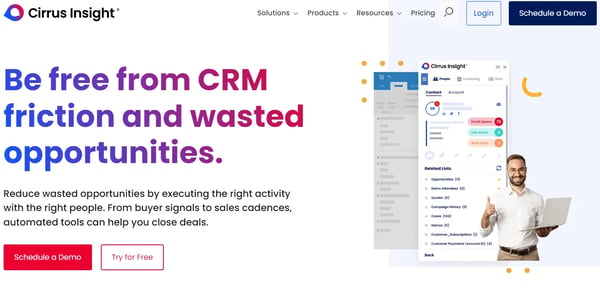 Top features:
Salesforce integration.
Email tracking and analytics.
Calendar sync.
Contact and lead management.
Task and activity tracking.
Meeting scheduling.
Pricing:
Pricing plans start at $10 per user per month ifbilled annually.
18. Reply.io
4.6/5 on G2 ⭐
Reply is a sales engagement platform that enables businesses to automate and optimize their outbound sales activities.
The tool helps you automate your prospecting, follow-ups, and outreach efforts.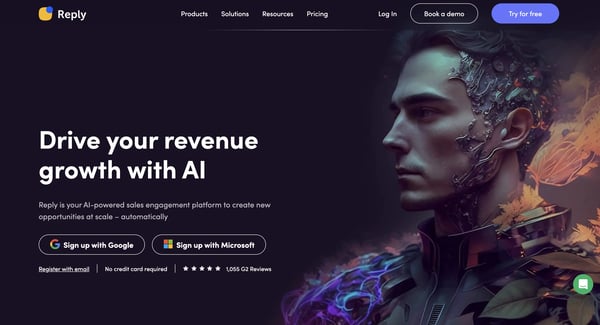 Top features:
Email sequence building.
Personalization.
A/B testing.
Email tracking and analytics.
Team collaboration and workflow automation.
Pricing:
Businesses - Starts with 60$ per user per month.
Agencies - 60$ per month per email account, billed quarterly.
Free plan available data credits 1k/data credits/month.
19. Lead Forensics
4.3/5 on G2 ⭐
Lead Forensics is a lead generation and analytics software that helps businesses identify and convert anonymous website visitors into potential customers.
Lead Forensics provides real-time insights on website traffic, uncovering qualified leads, tracking browsing behavior, and increasing conversion rates for businesses.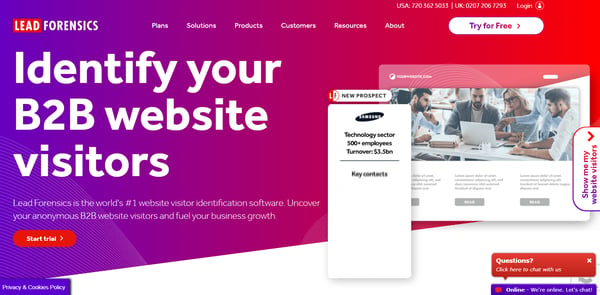 Top features:
Anonymous visitor identification.
Real-time website traffic monitoring.
Lead tracking and reporting.
Company profiling and insights.
Lead scoring and segmentation.
Pricing:
Free trial available.
Customized packages based on your needs, available on request.
20. FindThatLead
4/5 on G2 ⭐
FindThatLead is a lead generation tool that allows you to find potential leads' email addresses and contact information.
It helps you with sales prospecting efforts by providing accurate and up-to-date contact details.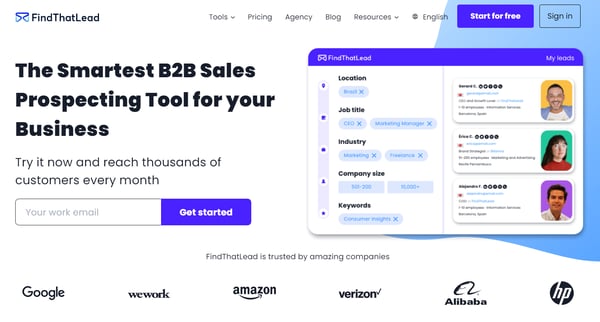 With FindThatLead, you can search for leads based on criteria such as company name, job title, or industry.
Top features:
Email address finder.
Contact information lookup.
Lead search by criteria.
Mail verification tool.
Domain search.
List building and exporting.
Pricing:
Free plan available.
The pricing plans start at $49 per month.
21. Vidyard
4.5 on G2 ⭐
Vidyard lets you record, customize, and share engaging sales videos.
It provides video analytics to track viewer engagement and measure campaign impact.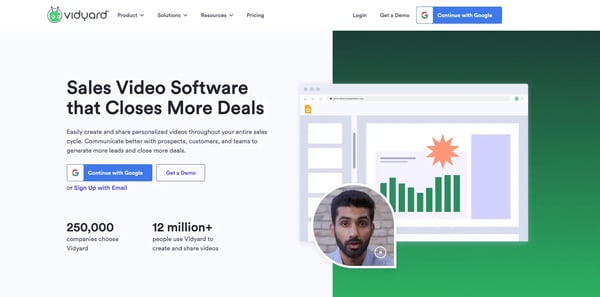 Vidyard is a powerful tool that goes beyond generic marketing tactics and can also be used for sales prospecting.
With its video capabilities, Vidyard can significantly enhance your sales efforts and help you achieve your sales objectives.
Top features:
Video hosting and management.
Video recording and editing.
Video personalization and customization.
Video analytics and performance tracking.
Video sharing and distribution.
Integrations with marketing and sales platforms.
Pricing:
Free plan available.
The pricing plans start at $29 monthly.
FAQ for sales prospecting software
Are there any free sales prospecting software options available?
Kaspr's free plan provides some great features for anyone who does prospecting.
Here's what you can expect:
Unlimited B2B email addresses
Kaspr's free plan offers:
Unlimited B2B email addresses.
5 phone credits.
5 direct email credits.
10 export credits.
Essential features included
Kaspr's free plan provides powerful tools to generate qualified leads and make sales prospecting efforts a quicker process.
Through the LinkedIn Chrome Extension and dashboard, you can:
Save and edit leads.
Export data.
Efficiently manage tasks for timely follow-ups and streamlined workflows.
Emailer and dialer capabilities
Elevate your email outreach with Kaspr's Gmail integration. The free plan offers 10 monthly email credits to engage your prospects with accurate email data. The dialer feature enables calling through Aircall and Ringover to cold call prospects directly from the Kaspr dashboard.
Integrations
Connect with CRM and communication tools using Kaspr's free plan. Enjoy integrations with Salesforce, HubSpot, Pipedrive, Lemlist, Sendinblue, Aircall, and Ringover for a streamlined sales process.
Lead list management and enrichment workflows
Stay organized. Create 3 lead lists for efficient categorization and segmentation of prospects.
B2B email enrichment. You can improve your B2B email outreach with 1 enrichment workflow, enriching contact data and gaining valuable insights.
Enrichment workflows.

Launch up to 3 enrichment workflows monthly, with each search yielding up to 25 contacts: Default LinkedIn Sequences and Public API Access
Level up your LinkedIn engagement with Kaspr's free plan. Enjoy a default LinkedIn sequence for effective outreach on the platform.
Plus, access Kaspr's public API for custom integrations and expanded functionalities.
What are some popular sales prospecting software tools?
Sales prospecting software is essential for sales reps to identify and engage with potential customers. These tools offer a range of features for prospecting activities, gather valuable insights, and boost sales efficiency.
Here are five popular sales prospecting software tools:
Kaspr.
Cognism.
Zoominfo.
LinkedIn Sales Navigator.
HubSpot Sales Hub.
Can prospecting tools help me automate my sales process?
Automation has become a game-changer in the sales industry, allowing sales professionals to streamline and optimize their processes.
Sales prospecting tools offer many automation features that significantly improve efficiency and productivity.
Here are some examples:
Email automation
Email automation is a great feature in prospecting tools. You can create personalized email templates, schedule an email sequence, and automate follow-ups. This means reps can engage with prospects at scale, nurture relationships, and stay top-of-mind with minimal manual effort.
CRM integration
Prospecting tools integrate with CRM systems, automating data synchronization, communication history, and activity tracking. Eliminate manual data entry, maintain accurate prospect information, and streamline workflows.
Task automation
Automate tasks like data entry, lead assignment, and task reminders with sales prospecting tools. Save time and focus on building relationships and closing deals. Prioritize tasks based on lead quality or engagement level to optimize your workflow.
Reporting and analytics
Prospecting tools automate reporting and analytics, offering insights into key metrics like email open rates, click-through rates, and conversion rates. Track the effectiveness of your prospecting efforts and make data-driven decisions to optimize your sales process.
What is the best sales prospecting software for small businesses?
If you're a small business that needs to do prospecting, there's a need for practical tools that fit budget requirements.
Here are some of the top sales prospecting software options, with great free options and low-cost starting price plans.
Kaspr
Kaspr is a powerful sales prospecting tool for small businesses. Affordable pricing options make Kaspr an excellent choice to boost sales prospecting.
Loom
Loom is a unique sales prospecting software for small businesses. Its free plan offers features that help small businesses stand out in their prospecting efforts.
HubSpot
HubSpot is a sales platform with free CRM and prospecting features. The free version is a great starting point for organizing sales and nurturing leads effectively.
What features should I look for in sales prospecting software?
When looking to buy sales prospecting software, there are several key features to consider:

Contact and lead management. Look for software that allows you to manage and organize your potential prospects and leads. This includes contact search, lead tracking, segmentation, and tagging.
Email automation. Capabilities like this can simplify your outreach efforts by enabling personalized email campaigns, scheduling, and automated follow-ups.
Integration with CRMs and other tools. Ensure the software integrates with your existing CRM and sales tools.
Prospect data enrichment. Look for software that provides accurate and up-to-date data about your ideal customers. Data enrichment features can enhance your contact database with additional information like job titles and company info.
Reporting and analytics. These features help you track the effectiveness of your prospecting efforts. Look for software that provides insights into key metrics like open email, response, and conversion rates.
Task and activity management. Efficient task and activity management features allow you to prioritize and track your prospecting activities. This includes features like task reminders, task assignments, and activity tracking.
Integration with social media and online platforms. Consider software that integrates with social media platforms and other online platforms where your prospects may be active. This can help you maximize social selling strategies and access additional prospecting opportunities.
Customization and scalability. Choose software that offers customization options to align with your specific sales processes and workflows.
Try Kaspr for free
Stop wasting time trying to find contact details. Start using Kaspr as your sales prospecting software today. Get started for free now.
Join the 50K+ Kaspr users:
✅ No credit card is required to sign up.
✅ GDPR and CCPA aligned.
✅ 500M+ Phone numbers and email addresses.
✅ 200M+ Business profiles.
✅ All-in-one prospecting tool.
✅ Fully self-service.
✅ Customizable plans.
INBOX INSIGHTS
Quick-to-read tactical advice and tool suggestions straight to your inbox.
Kaspr offers you the best way
to reach your customers