Outbound sales calling (also known as  cold calling) is a tactic used by sales development representatives (SDRs). In outbound sales, the idea is to speak with prospects who haven't directly expressed the intention to buy yet.
A cold call aims to book meetings and kickstart a relationship 🤝
Outbound sales calling isn't easy. It can sometimes feel like a mountain of rejection and objections. But it's all in the technique, and SDRs can learn techniques.
Let's run through some of the best practices for outbound sales calls. Plus, how to overcome any blockers.
Jump ahead to: 
Why you should do outbound sales calling
Cold calling is a crucial channel for outbound sales teams. You can make sure you're delivering the right message.  
Here are some of the key advantages 👇
Target your ideal customer profile (ICP)  
Cold calling gives you more control over who you target, making it a powerful tool for B2B sales consulting. SDRs only speak with prospects who fit your ICP.
Questions asked on the call, help to understand pain points and challenges. This means SDRs can pitch how the product or service will overcome these.
It's measurable and testable 
There's no guessing how you're performing when you look at calls vs conversions. Sales cadence nurtures prospects and keeps touchpoints consistent.
With this, you can look at how many touchpoints it takes on average before conversion and test the messages you're taking out into the market.    
Real human connections 
Outbound sales calling builds real human connections.  
Ryan Reisert, a Subject Matter Expert at Cognism, says cold calling is different from other forms of cold outreach. He explains:  
"The main factor is that cold call creates actual human interaction. With it, I can reach 20-40% of my list very efficiently. And when I do reach them, I can have the most impactful, personalized, 1-2-1 and human conversation." 
Best practices for outbound sales calls 
It's easy to feel overwhelmed by cold calling 🤯
But there are some best practices for outbound sales calls that help. Let's talk through the prep work SDRs can do before the call and advice for steering the call in the right direction.
Know your ICP and buyer persona (inside out) 
Success in outbound sales calling starts with knowing who to target. This is where your ICP and buyer persona comes in.
An ICP is the type of company that is the most appropriate for the problem your product or service solves. 
A buyer persona, by contrast, is all about the individual within the ICP. 
Knowing your ICP and buyer persona inside out means you're targeting prospects that are the best fit for your solution. Rather than wasting time on companies that just won't be interested.
Looking to build out your ICP? Consider the below 💡
Company size 
Industry  
Demographics 
Legality 
Service level agreements (SLAs)  
Then, it's time to consider your sales cadence. Which brings us to our next point... 
Find your flow with cold calls in a sales cadence  
Sales cadence is a cornerstone of sales best practices. How you create a sales cadence can sometimes depend on your strengths as an SDR.
If outbound sales calling is, well your calling, then a dialer heavy cadence is probably for you.
But every sales cadence will have cold calls on the bill. And a lot of the key to outbound sales calling success is consistency.
Josh McGovern, now Account Executive at SourceWhale says:
"Eat the frog. By committing to cold calling first thing every morning, get the hardest part of your day done. I blocked out 2 hours every morning first thing and turned all notifications off."

"Just be consistent, set the number of calls you're going to do every day and get them done. Don't rollercoaster and do 100 one day and 10 the next, this isn't sustainable".
Do your research 
Think of all the other SDRs in touch with your prospect.
Taking the time to do some research will make you stand out. You don't need to go as far as knowing their favorite color, but at least know if they recently changed jobs.
According to Gong, the chance of booking a meeting goes up to 70% when a rep opens a cold call with "I understand we share a common LinkedIn group."
Just like any relationship, people appreciate the extra effort.
Make your prospect feel valued
The goal of your outbound sales calling isn't to try to sell immediately. A lot of it is about active listening and taking in what your prospect has to say.
That's why it's vital to focus on the prospect and their needs, not what you're offering.
Trent Dressel, Senior Account Executive at Qualtrics has 5 key tips for nailing a cold call and showing your prospect they are valued.
Always make the ask for their time
How you say things is more important than what you say
Consistency trumps ability
Always come prepared with context
Your script doesn't need to be perfect
Use a script as a structure
Cold calling scripts can provide structure to outbound sales calling.
Ryan Reisert, a Subject Matter Expert at Cognism has a winning script structure. It goes like this 👇
Introduction: "Hi this is YOUR NAME, with YOUR COMPANY."
Permission: "Do you mind if I take 30 seconds to tell you why I've called?"
Purpose: "The purpose of this call is…"
Value pitch: "To find time in your calendar to introduce my company."
CTA: "How does next Monday or Wednesday around this time of the day work for you?"
Watch the full clip below to learn more about this cold calling framework 🎬
Overcoming outbound sales call blockers 
A lot of cold calling dread stems from potential blockers 🙅
That's why as an SDR it's important to be equipped with how best to deal with them. Here are some top tips (underpinned by sales best practices).
Getting past gatekeepers 
Gatekeepers can be a common blocker when you're targeting c-suite prospects.   
Some SDRs rate "getting past the gatekeeper" as one of their strongest skills as we found out in our recent LinkedIn poll 🙋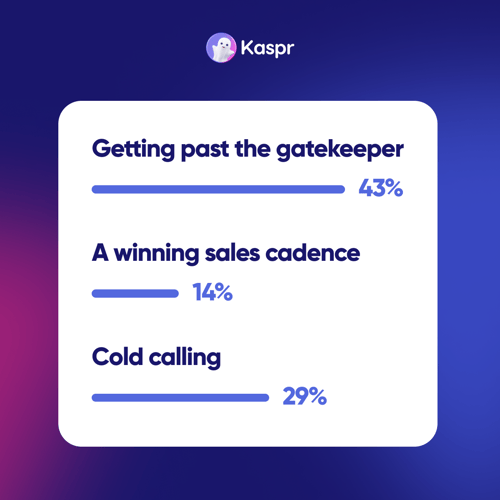 Clearly it's something that gives you clout. Getting past a gatekeeper takes the ability to build rapport. You need to make them an ally.
Here are some tips:
Do your research 
Always be polite 
Call your prospect by their first name 
Ask to leave a voicemail 
Pick your timing
Role play and practice can really help too. Watch Morgan J Ingram, Director of Sales Execution and Evolution at JB Sales Training go through some tactics on a live cold call here 🎬
Objection handling 
"I can't talk right now" ... "we're happy with the solution we've got". 
These are all common objections for SDRs.
There's no way to avoid them, but you can learn how to overcome them effectively.  
Let's take the "I don't have the budget" objection as an example and see how you can overcome it using the sales best practices below. 
Feel, felt, found (FFF) 
This technique leads with empathy to help you move the conversation forwards.


Feel: I understand that you feel like you don't have the budget right now
Felt: Competitor XYZ felt the same way initially before they tried it out
Found: What they found was that they were saving money in the long run due to ABC
Listen, acknowledge, isolate, reverse (LAIR) 
Our next technique aims to reverse the objection and find out if this is the only reason the prospect doesn't want to move forwards.


Listen: Listen for what the objection REALLY is 
Acknowledge: Thank you, I appreciate your honesty
Isolate: Is this the only reason you don't want to find out more? 
Reverse: Turn the objection on its head, and explain how you'll save them money
Ollie Pleasants, Account Executive at Harness goes over how to overcome a similar objection "we're happy with the solution we've got" in the clip below 🎬
Staying motivated 
Developing resilience is a crucial aspect of outbound sales calling. 
Lots of sales leaders say it's important to detach from the outcome to stay motivated.
Morgan J Ingram, Director of Sales Execution and Evolution at JB Sales Training says:
"Attach yourself to the process of asking the right questions. Be thoughtful and actively listen. You won't do this if you're attached to the outcome of booking a meeting." 
Some days you'll feel on top of the world, and on other days things just won't go your way.
It's important to keep your energy balanced. To get the best results in your outbound sales calling, be persistent and trust the process.
Time to boss those cold calls 
It's not nearly as scary when you know the best practices for outbound sales calls. Plus, how to overcome key blockers like gatekeepers and objections.
Let's recap them… the best practices for outbound sales calls are:
Know your ICP and buyer persona (inside out) 
Find your flow with cold calls in a sales cadence   
Do your research
Make your prospect feel valued
Use a script as a structure  
💡Bonus tip: How's your tech stack? For SDRs, having the right sales cadence software can really make a difference.
INBOX INSIGHTS
Quick-to-read tactical advice and tool suggestions straight to your inbox.
Kaspr offers you the best way
to reach your customers