There are lots of subjects that end up being hot topics.
While some people think summer is the best season, others swear by autumn. And let's not even get started on the chicken and the egg 🐣
When it comes to business, there's always the debate over which is more important to a company's success: inbound vs outbound sales.
It's hard to know where the most budget should go.
No matter which side of the argument you're on, don't worry! Let's break down everything there is to know about inbound and outbound sales. Including when to use which strategy, with advice from marketing and sales leaders.
Jump to:
What is inbound sales?
Inbound sales is a lead generation strategy used where the prospects seek out the sales rep. The prospects have engaged with your content and are likely to convert into customers.
The lead generation associated with inbound sales comes from various marketing campaigns that create demand. In most inbound sales cases, the prospect is searching for a solution to a pain point.
There are two different types of inbound lead:
A marketing qualified lead (MQL) who has engaged with a piece of your content, but they are undecided and not ready to talk to your sales team.
A sales qualified lead (SQL) who has explicitly said that they're interested in buying your product and is ready to talk to your sales team.
There are various strategies to do inbound. The most popular include:
Content marketing
SEO
Social media
Using these, there are various mediums used to create demand depending on the channel.
Liam Bartholemew, Global Head of Demand Generation at Cognism outlines how to create demand without gated content in the clip below 🎬
Pros and cons of inbound sales
Before you and your team start with an inbound sales strategy, consider these important pros and cons 🤔
Pro: Sometimes it's an easier sell
When a prospect reaches out to your sales rep, the need for your product or service might have been identified. This makes the job of your sales development representatives (SDRs) a bit easier since the time and energy to pinpoint this need is done on the prospect's side.
Pro: Educate your prospects before they buy
It gives the SDR a chance to help educate your prospects about your products (or services). You can also show why your products are the best way of fixing their pain points.
Con: Hard to know the lead quality
The quality of incoming leads can be hard to know from low-intent actions. A sales rep will always need to qualify these leads to find the best way forward.
Con: Remember, it's not a done deal
Inbound sales don't automatically mean the deal is done. Even if a prospect connects with a rep for more information, they could still pick a competitor. Don't be lured into a false sense of security.
Con: A lot of resources are required
Inbound sales will only be a success if you can create great content. And lots of it. This takes a great B2B marketing media engine. It's also important to remember that quality content doesn't rank overnight. Building inbound sales out takes time.
What is outbound sales?
Where inbound sales is the prospect seeking out the SDR, outbound sales is the reverse ⏮️
Outbound sales is the process of the SDR actively seeking and reaching out to prospects. The sales rep initiates the engagement with a prospect with the end goal being getting a meeting booked.
This approach takes persistence. Follow-up is needed, which is where sales cadences come in.
The best outbound sales cadence includes a variety of channels. SDRs use tactics like cold calls, cold emails, and LinkedIn to reach out to prospects.
Cold calls really help to start forming a relationship with the prospect. The information gathered through these direct conversations is useful for discovery later down the line.
Ryan Reisert, Subject Matter Expert for Cognism, and David Bentham, Director of Sales Development at Cognism go through a cold calling framework in the role play clip below 🎬
Pros and cons of outbound sales
If you're building an outbound sales team, it's important to consider the pros and cons of this type of strategy too.
Pro: More control
Outbound sales give your SDRs more control over leads since they are the ones reaching out. You can make sure you only speak to leads that match your ideal customer profile (ICP).
Justin Stephenson, Partner at the global sales management leadership organization, Sandler Training explains the importance of a methodology for outbound sales:
"We recommend trying to build a sales methodology that helps the salesperson to control and manage the sale. If they're unable to do this they'll default to 'the buyer system', where the buyer dictates the process. This can be less helpful for both parties, and is particularly common when cold calling."
Pro: Great for longer sales cycles
It's also great for longer sales cycles since reps follow up through sales cadences to book a meeting.
Pro: Close large deals
Outbound sales aren't easy and can take a lot of time and effort. But, they present the opportunity to close large deals. As well as maintaining relationships with customers, and building a sales pipeline for the long game.
Con: You need top SDRs
An outbound sales strategy is only as successful as your top-performing SDR. Hiring the best SDRs can be challenging and it costs commission.
Con: Can be difficult for startups
Outbound sales can be harder for startups to execute. A startup might not have the resources, technology, or a large sales team to make the kind of impact that will prove successful.
Considering the sales cycle
Another way these two differ is in the sales cycle. Outbound sales are better in the long term for businesses with longer sales cycles. But leaning into inbound sales is excellent for short sales cycles.
If your product or service requires a longer sales cycle, your sales rep and prospect will need more time. This puts more emphasis on following up and why it's so important.
Sales cycles will always be longer when dealing with enterprise customers. Deals with large businesses take more time to go through the sales funnel 🤑
Inbound sales is the best approach when selling something that doesn't take much time to decide on or doesn't have a lot of red tape.
Inbound vs outbound sales: Why both is best
It's time to lay the great debate between inbound and outbound sales to rest 🪦
A mixture of both is best.
Your team shouldn't have to be set on one, as both have their own pros and cons. Granted, one will have more budget than the other, but when combined sales goals are more achievable.
We've summarized the indicators for which one you should spend more time in the infographic below 👇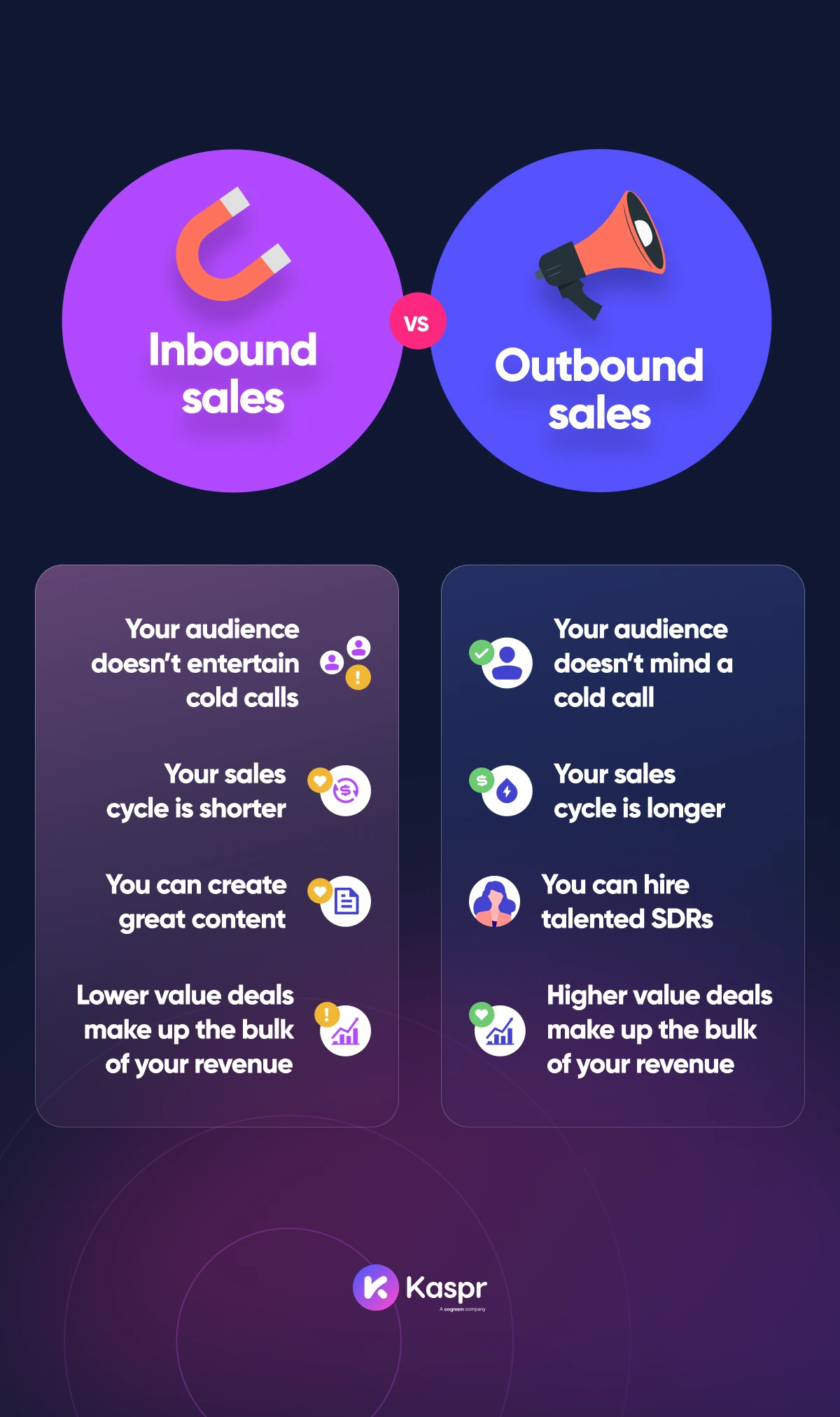 Here are the key takeaways from this article:
Inbound sales are when the prospect seeks out the sales SDR
Outbound sales are when the sales SDR seeks out prospects
Inbound sales focus on channels like content marketing, SEO, and social media
Outbound sales focus on cold calling, cold emailing, and LinkedIn
Inbound is best for short sales cycles, while outbound is best for longer cycles
💡 You might also like: Outbound Sales in SaaS: The Secrets to Winning
INBOX INSIGHTS
Quick-to-read tactical advice and tool suggestions straight to your inbox.
Kaspr offers you the best way
to reach your customers