To be successful in sales you need a great team behind you 💅
Sales development representatives (SDRs) are the backbone of an outbound sales strategy.
Starting from scratch and scaling can seem daunting, especially for startups (bigger businesses too).
Here we'll look at how to build an outbound sales team that will scale as you grow. With top advice from sales leaders across different industries.
Jump ahead to:
Ways to build an outbound sales team
Unlike your inbound sales, outbound is about approaching and warming up new prospects. Inbound works like a magnet, closely aligned with marketing strategies. Your prospects come to you through lead generation tactics.
It's important to separate the two teams. Outbound sales is a very different approach.
You can build your outbound B2B sales team:
Internally through hiring
Or, by outsourcing


There are plus points and minuses to each.
Plus points and minuses of internal outbound sales teams
Having an in-house outbound sales team is a long-term investment. You need to recruit, onboard, and continually train SDRs.
But they'll know your product or service inside out. This is a pretty big deal, they'll be able to communicate the true value proposition. Arguably closely linked with booking in more meetings. And more meetings = more closed won.
What's more, they'll know your ideal customer profile (ICP) better. They won't be trying to sell to just anyone.
There are a few more key plus points:
You'll have more control
Complete transparency over metrics
It's a predictable monthly cost
Potential minuses to consider:
Healthy commissions needed to attract the top talent
You'll need to dedicate resources to training
Fixed cost each month so harder to scale back (if required)
Plus points and minuses of outsourcing outbound sales teams
Outsourcing can be a great option to consider for lean startups. You can build a sales team overnight and scale it up very quickly. This means you can start selling your products or services faster.
An approach like this also allows more flexibility in terms of costs. You can quickly scale back whereas an in-house team is a fixed cost each month.
But one big minus is that you won't have as much control over the sales process. An outsourced agency is unlikely to understand your ICP as much as you do. As a result, there might be leads generated that are a waste of time or are more likely to churn as customers.
It's also arguably more of a short-term solution to get you started. Outsourcing can be great, but companies that want to grow need to build in-house teams. Especially if you've already proved yourself in the market, it makes sense to start building a fully functioning B2B sales team.
Key pros for outsourcing your outbound sales team:
Tap into external expertise
Scale up and down very quickly
Cost flexibility
Some of the minuses to consider:
Lack of control over the sales processes
They won't understand your ICP as much as you do
Arguably not a long-term solution
Before you build, you need a sales culture
Building an outbound sales team that's going to thrive requires a specific culture. A sales culture 🤑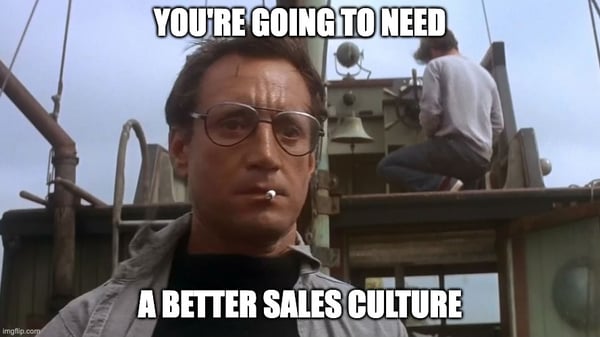 Anders Holmberg, now VP of Sales & Customer Success at Depict says:
"It starts with the founder and the company's culture. It's hard to create an outbound team if there's no sales culture in the company from the get-go."

"What you have to do is create an atmosphere where you're working with a proactive mindset, rather than a reactive mindset. If the company's strategy up to that point is to sit and wait for inbounds, then changing that mindset requires more work than many sales leaders realize."
There's no blueprint for success on this one. And sales culture can differ from business to business. But it's vital to have one in place to bring out the best in your salespeople.
Generally, a good sales culture has this 💯
Friendly competition
Shared common vision
Great training and development
Acknowledgment and rewards
Open communication
How to build an outbound sales team
Other than a sales culture, there are a few more other things you need to build your superstar outbound sales team.
1. An outbound sales strategy
Big revenue sales teams need a clear focus. Building out an ICP is the first step in creating your outbound sales strategy.
An ICP is a perfect type of company for what your product or service solves. It means your SDRs can go after the right people. You can also easily segment the market and tailor messaging based on the unique personas you want to target within your ICP.
In the below clip, Ryan Reisert Subject Matter Expert at Cognism talks through the Chet Holmes buyer's pyramid for outbound sales 🎬
2. A-class SDRs
If you're wondering how to build an outbound sales team, who to hire is one of the big questions. Top performing SDRs are worth their weight in gold. So if you're building your team in-house, you need to know the key personality traits to look for.
Though sales reps can all have different personality types, there are some traits that make successful SDRs 👇
Inquisitive nature
A good listener
Eager to learn and take on feedback
Consistent work ethic
Competitive
Sales is a psychologically demanding job, and it's hard to detach from the outcome you need to achieve.
Ben Ward-Cochrane, Head of Sales at Huq Industries explains why being inquisitive is such an important quality for SDRs in this clip 🎬
3. The right tech stack
SDRs need a great tech stack to manage their pipeline, build a sales cadence, and improve their approaches.
With so much on the market now it's crucial to consider your tech stack wisely. It's easy to end up with the incorrect tools (or just too many).
Many sales leaders agree that the minimum tech stack you need for outbound sales is:
A CRM
Online demonstration and collaboration platform
A sales cadence tool
Sales enablement tools
Data intelligence and enrichment software (try our

LinkedIn Chrome Extension

😘)
Any tools that are going to save your SDRs time are essential to consider. Sales tasks like prospecting can be made faster with the help of the right tools.
4. Recruitment, onboarding, and sales enablement processes
As well as sales tools, you need to be able to equip your SDRs with the right knowledge. Plus hire the right people in the first place!
Fast-growing Chili Piper has a team of fully remote SDRs. Matthew Roberts, who was previously Director of Sales Development has some specific SDR hiring best practices.
They look like this 👇
You get to decide how high you set the bar, make it difficult
Be picky, quick and dirty processes can decide who doesn't make the cut
Assessments help to determine grind or grit from afar
Select the ones who put in the extra effort as they'll do the same in the role
Onboarding and training plans need to be put in place for your newbie SDRs.
Rachel Goldstone, Commercial SDR Manager at Coginism has onboarded literally dozens of SDRs. She likes to get SDRs ready to start making cold calls as quickly as possible so that they can get comfortable doing it.

Rachel says: "We ask our SDRs to listen to as many recorded calls as they can, and then by the Friday of their first week, they're hopefully ready to get on the phones and start making their own calls."
5. A flexible plan for growth
As most startups already know, things change as you grow. That's why having a (flexible) plan, particularly for scaling your outbound sales team helps with easing the transition.
Get Accept originally had a 'squad' model in place for their outbound sales. This was very good for go-to-market strategies as SDRs and customer success were together in one team.
But when it came to scaling up their SDR team they found that this wasn't as suitable for new recruits. Junior SDRs were able to learn more when they were in a team with other experienced SDRs.
Scaling your outbound sales team
You've got your amazing sales culture and your outbound sales team, now it's time to scale it. So, where do you start?
Revisit your ICP
Before you scale, revisit your ICP. Your target market doesn't stay still and the ICP you define within your organization might stagnate if you don't revisit it. It's important to reaffirm or make adjustments, particularly before you scale.
This way, you can be sure that you are coming to your ICP and personas with the right messaging. If the products or services you sell have grown, this process can be further segmented. So your SDRs know exactly what to pitch to each vertical or organization size.
Know which sales cadence works
Before you begin to rapidly scale your SDR team you need to understand what's been working. Sales cadences should always be revisited and improved to account for new shifts. Besides, what you currently have might not work for your newly revisited ICP.
Ryan Reisert, Subject Matter Expert at Cogism explains some of the key outbound sales trends for this year in the clip below 🎬
Using an iterated sales cadence, you can take components of what originally worked and account for any new trends. Then use this for when you scale.
Don't forget inbound sales
Particularly if you're scaling into new markets, it's very hard to create demand with only outbound. Anders Holmberg talks about this subject:
"You can't crack new sectors or territories with outbound sales alone. If you work in tandem with marketing, then outbound will work. Marketing creates awareness among the customers in that space and then outbound brings them in."
An outbound sales powerhouse
It's not easy to start from scratch with building a B2B sales team. But when you get it right, you really can build an outbound sales powerhouse that will grow as you do 🚀
So here are the key takeaways for how to build an outbound sales team:
Know exactly how you're going to build one (ie internal, external, or both?)
Establish your sales culture before you even think about hiring that first SDR
Understand what you need to build a successful sales team
Make sure to have a process for scaling it effectively
INBOX INSIGHTS
Quick-to-read tactical advice and tool suggestions straight to your inbox.
Kaspr offers you the best way
to reach your customers