It's time to bulk up that tech stack with some free sales tools. 👇
1. Kaspr
4.4/5 on G2 🌟
The free version of Kaspr uses a LinkedIn Chrome Extension to give you instant access to phone numbers and emails. Paired with the Kaspr web app, you can quickly find, store, and use accurate data. This helps sales professionals reach more prospects faster and focus on optimizing their sales process.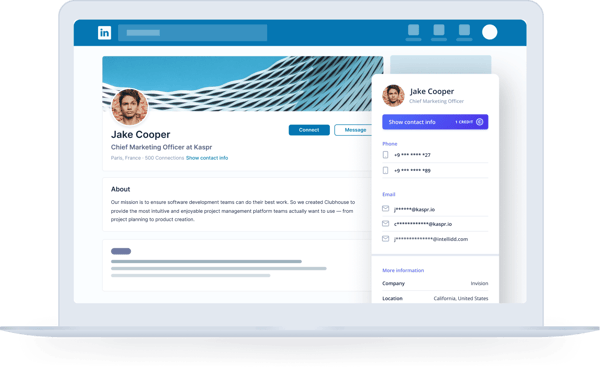 The free version of Kaspr means you can simplify your prospect-to-qualified leads pipeline.
With Kaspr's free sales tool, you can:
Search for and access contact details.
Leverage insights and analytics.
Manage and share contacts with your team.
Access 24×7 customer support.
Effectively organize your contacts within the platform.
In the free plan, you receive 50 credits. Each credit corresponds to one prospect's contact information (unless you use an advanced search). Kaspr provides a huge database of over 120 million emails and 90 million phone numbers. But you won't be able to export this data on the free version automatically.
To top it off? Kaspr is fully aligned with data privacy regulations such as GDPR and CCPA. 🙌
2. Magical
4.8/5 on G2 🌟
Magical is a free Chrome Extension that sales teams can use to automate repetitive tasks like, well, magic. It helps you autofill contact details into your CRM with a single click and makes it easy to instantly personalize your outreach templates using text expansion and AI features.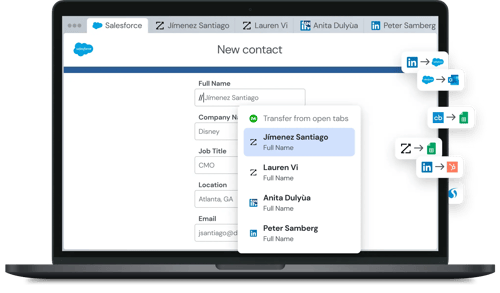 Key features of Magical include:
Text expander for sending faster emails.
Instant personalization for outreach messages.
AI writing buttons for drafting quick replies.
One-click autofill for updating your CRM.
Template sharing for teams.
The average user saves 7 hours a week.
The free version gives you 3500 basic actions (text expansion and messaging using Templates) and 150 advanced actions, which is great for getting started.
The core version gives you unlimited basic actions and 400 advanced actions for only $6.50 per month, which should be enough for most individuals. Team pricing hasn't been announced yet, but will be coming soon.
3. HubSpot CRM
4.5/5 on G2 🌟
HubSpot CRM helps businesses grow their sales and services with interconnected marketing tools. It brings your data, teams, and customers together on a single customer relationship management (CRM) platform that can scale your business.
Key features of HubSpot's free version include:
Contact management.
Blogging functionality.
CRM management system.
Email tracking.
One automated email action.
Email templates.
Document sharing.
The free version offers up to 3 dashboards with 10 reports per dashboard. You can also send 2,000 emails per month and get basic SEO recommendations. But you'll find a lot of HubSpot branding all over your emails and blogs.
You also won't be able to use advanced features like A/B testing or lead scoring without paying for a higher tier. Paid versions of HubSpot start at as little as £17 per month for individuals or a small marketing team.
4. Vidyard
4.5/5 on G2 🌟
Vidyard helps reps share personalized videos at every stage of the sales process. The free version empowers sales reps to personalize their communication with prospects.
The result? Increased lead generation and improved deal closure rates.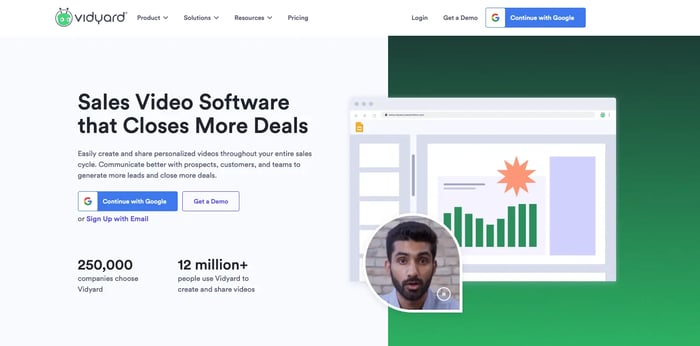 Vidyard includes features in the free version of their sales tool like:
Video recording.
Video sharing.
Integration of Vidyard videos into current sales tools.
The free version of Vidyard allows sales professionals to store up to 25 videos and provides basic video editing.
Advanced features like video insights and customizable CTAs are only available on paid plans. To get unlimited video storage and enhanced analytics, Vidyard paid plans start from $19 per month.
5. Owler
4.3/5 on G2 🌟
Owler is a sales intelligence programme that uses news alerts and data to share insights that inform sales strategies. It empowers businesses to understand what's going on in their prospects' lives. This gives SDRs a competitive edge when going into negotiations or sales pitches.
Some brilliant features of this free sales tool are:
The ability to follow specific companies.
Company and industry insights.
Competitor graphs demonstrating direct and indirect competitors.
Owler's extensive database and filtering system.
The free version of Owler allows users to follow up to five companies and receive real-time news alerts on them.
But it doesn't include access to the full dataset and advanced features like trigger alerts, advanced search capabilities, and customizable news feeds. These sales intelligence capabilities are available with Owler Pro from $35 per month.
6. PandaDoc
4.7/5 on G2 🌟
PandaDoc helps users create and personalize business documents and integrate them into workflows. Sales reps can automatically generate proposals and get deals e-signed in seconds. You can manage this all from the PandaDoc app on mobile.
All that time saved is an opportunity for SDRs to focus on building relationships instead of admin.
Other features included in the free version of PandaDoc:
Unlimited document creation and sending.
Basic document editor.
Basic analytics.
Basic e-Signature Capabilities.
The free version does limit access to templates and integrations. And restricts an account to just one user.
You'll also have to upgrade to a paid plan to access real-time document customer interactions reporting. This feature lets you see how prospects behave and adjust your sales funnel in response.
Their paid monthly plans start at $19 to unlock these features and more.
7. LeadIQ
4.2/5 on G2 🌟
LeadIQ helps sales teams find data, approach prospects, and track the results. Information like this helps SDRs book more meetings while using less valuable time.
With LeadIQ's free version, users can access features that help streamline prospecting and turn potential customers into qualified leads.
Key features of LeadIQ'a free version include:
Prospect data.
Tracking sales triggers.
But these are limited to:
Up to 15 verified emails per week.
Up to 5 mobile phone numbers per month.
Up to 40 email generations per month.
Up to 10 accounts tracked.
Those numbers increase if you move up to their Starter programme for $75 a month. And go even higher at their Pro or Enterprise tiers. These plans cater for larger sales teams, more account-based marketing and extensive outbound sales activities.
8. Canva
4.7/5 on G2 🌟
Canva is a design platform that empowers users to create stunning, original designs. There's a wide range of templates to choose from.

With Canva, SDRs can create content that warms up prospects and improves conversion, whether a LinkedIn post template or a mini case study infographic.
The free basic plan of Canva has a host of features including:
Over 250,000 design templates.
5GB of cloud storage.
Easy-to-use drag-and-drop interface.
A huge library of design elements.
Ability to upload and personalize photos and assets.
Some things are off-limits if you use the free version, like the Magic Eraser and Magic Write tools or their wider collection of stock photos, videos, and graphics. You'll also have to pay for Canva Pro or Enterprise to increase your storage space.
9. Calendly
4.7/5 on G2 🌟
Calendly streamlines the process of meeting scheduling, and arranging events. With Calendly, you can share a selection of specific dates and times you're available and let your prospect choose what works best for them. This avoids awkward back-and-forth emails.
For sales teams, Calendly means speeding up your sales cycle. Meetings move forward rather than getting stuck in the limbo of availability.
This free sales tool includes:
Unlimited event scheduling.
Personalized scheduling links.
Calendar integrations with Google, Office365, iCloud, and more.
Automatic time zone detection.
Upgrading to one of Calendly's paid plans also allows you to:
Connect two calendars.
Create more event types.
Customize your link so there's less Calendly branding.
These features may be useful for larger teams or teams needing more customizable branding.
10. Lavender AI
4.9/5 on G2 🌟
​​Lavender is a sales outreach coach that uses data-powered AI to improve your emails as you write them.
The result? A boost in response rates while halving the time spent writing sales emails. Its powerful combination of data insights and sales productivity tools may change how you write forever.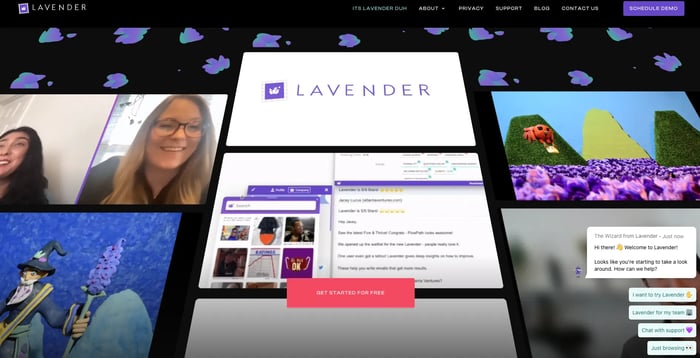 Free sales tools like Lavender AI include:
The ability to analyze 5 emails per month.
The ability to personalize 5 emails per month.
The ability to integrate with Gmail and Outlook365.
You'll have to go for a paid version to access their AI email writer and recommendations. These start at $29 per month.
Paid versions also offer advanced features like:
Team collaboration.
Analytics on sales performance.
Custom templates.
Lavender's Team's tier, starting from $49 per month, also offers an insights dashboard. This can help managers coach new sales reps to adopt in-house tactics faster.
11. Zoom
4.5/5 on G2 🌟
Zoom is a video communication platform where you can host webinars, virtual meetings, and video conferences. Zoom is so popular because it is easy to arrange and join meetings. It uses email invites and automatic calendar integrations to make a meeting only ever a click away.
Zoom is a go-to free sales tool for SDRs to hold virtual sales meetings, demos, and presentations.
The free version of Zoom offers essential features like:
Hosting meetings with up to 100 participants.
Sharing screen capabilities for effective presentations.
Virtual backgrounds.
Chat feature for interactive discussions.
Breakout rooms.
The free version of Zoom does have a 40-minute time limit on meetings with more than two participants. Zoom's paid tiers include benefits like longer meetings and up to 300 participants.
12. LinkedIn
Not rated on G2 🚫
LinkedIn is a social network for connecting with peers and career development. Users can share their work experience, search for jobs, post updates, and interact with other professionals. This allows individuals to build their reputation and expand their network.
💡 Need some tips to build your personal brand?
It is one of the free sales tools SDRs couldn't live without! LinkedIn makes it easy to perform cold outreach and stay updated on your industry.
Key features of the free version of LinkedIn include:
Creating a profile.
Searching for people and companies.
Viewing and applying for jobs.
Joining groups and participating in discussions.
Posting content, articles and carousels.
With the free version of LinkedIn, you can only see limited information about people outside your network. For someone to become part of your network, they must agree to a connection request. You also can't send messages to people outside of your network.
Unless you pay roughly $30 monthly for premium or LinkedIn Sales Navigator.
13. Notion
4.7/5 on G2 🌟
Notion is an online workspace that helps people collaborate, manage tasks, and organize work. The level of personalization that Notion offers is what makes it so special. With templates for everything from budgets to note-taking to address books.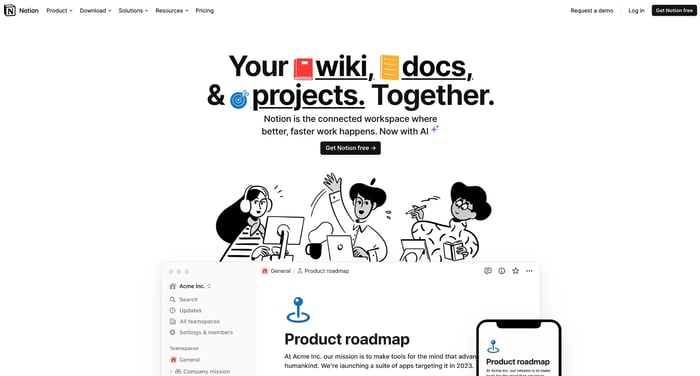 SDRs can use it to manage their sales pipeline, track leads, and collaborate with team members.
The free version of Notion offers a range of features, including:
Unlimited pages and blocks (a section of a page).
Sharing with up to 10 guests.
Task management templates.
Note-taking and database creation.
Seven-day page history.
Paid versions of Notion start from $8 per month and offer more advanced features.
These include features like:
Unlimited users.
30 to 90-day page history.
Advanced analytics.
Notion is a great tool for sales representatives to streamline and share their sales processes. Over time this will enhance team collaboration and boost productivity.
14. Warmly Nametags
3.7/5 on G2 🌟
Warmly offers a host of AI-enabled tools to help you warm up and capture prospects. Their selection of AI nametag services helps professionalize and personalize your appearance on video sales calls. And they're all available as free versions.
💡 Be aware that their flagship product, a platform that captures how prospects interact with your website, is not.
AI name tags appear as graphic overlays on your video screen, creating brand confidence. At the same time, their live meeting agendas can float in the background of your Zoom call.
The complete list of free features includes:
AI nametags.
Meeting boosting tools.
Video widgets.
Calendar signatures.
SDR Slack community.
SDR playbooks.
The free version of Warmly offers 10 users customizable name tags. This comes with 25 adjustments each month.
It also includes unlimited:
Live meeting agendas.
Personalized messages.
Custom ice breaker on screen.
The paying tiers for Warmly start from $7 per month and include up to 25 users. It also opens up more features such as slides, gifs and company logos floating on your video screen.
15. Airtable
4.6/5 on G2 🌟
Airtable is a project management tool that combines the functionalities of Google Sheets and a database. Over time this allows teams to create customized applications and streamline their sales cycle.
On their website, they claim that 80% of the Fortune 100, use Airtable to achieve their goals. 🙌
SDRs can use Airtable as one of their sales prospecting tools to keep track of accounts and share their progress in real-time with colleagues.
Key features of the free version of Airtable include:
Unlimited base databases.
Up to 1,200 records per base.
2GB of attachment space.
Customizable fields and views.


Users who need more records, attachment space, and collaboration capabilities may need to upgrade. Paid tiers of Airtable start from $10 a month, dependent on your organization's needs and size.
Kaspr is a game-changing free sales tool
Try Kaspr for free today. Sign up now.
Join 40K+ Kaspr users without paying a penny:
✅ No credit card is required to sign up.
✅ GDPR and CCPA aligned.
✅ 120M+ email addresses.
✅ 90M+ phone numbers.
✅ All-in-one prospecting tool.
✅ Fully self-service.
✅ Customizable plans.
INBOX INSIGHTS
Quick-to-read tactical advice and tool suggestions straight to your inbox.
Kaspr offers you the best way
to reach your customers