Heard you were looking for the top 10 B2B contact databases?
Here they are. 👇
Best B2B contact databases for qualified leads
1. Kaspr
⭐ 4.4/5 on G2
Kaspr is a B2B prospecting tool with GDPR and CCPA-aligned contact data. It is a LinkedIn Chrome Extension and a dashboard for managing leads.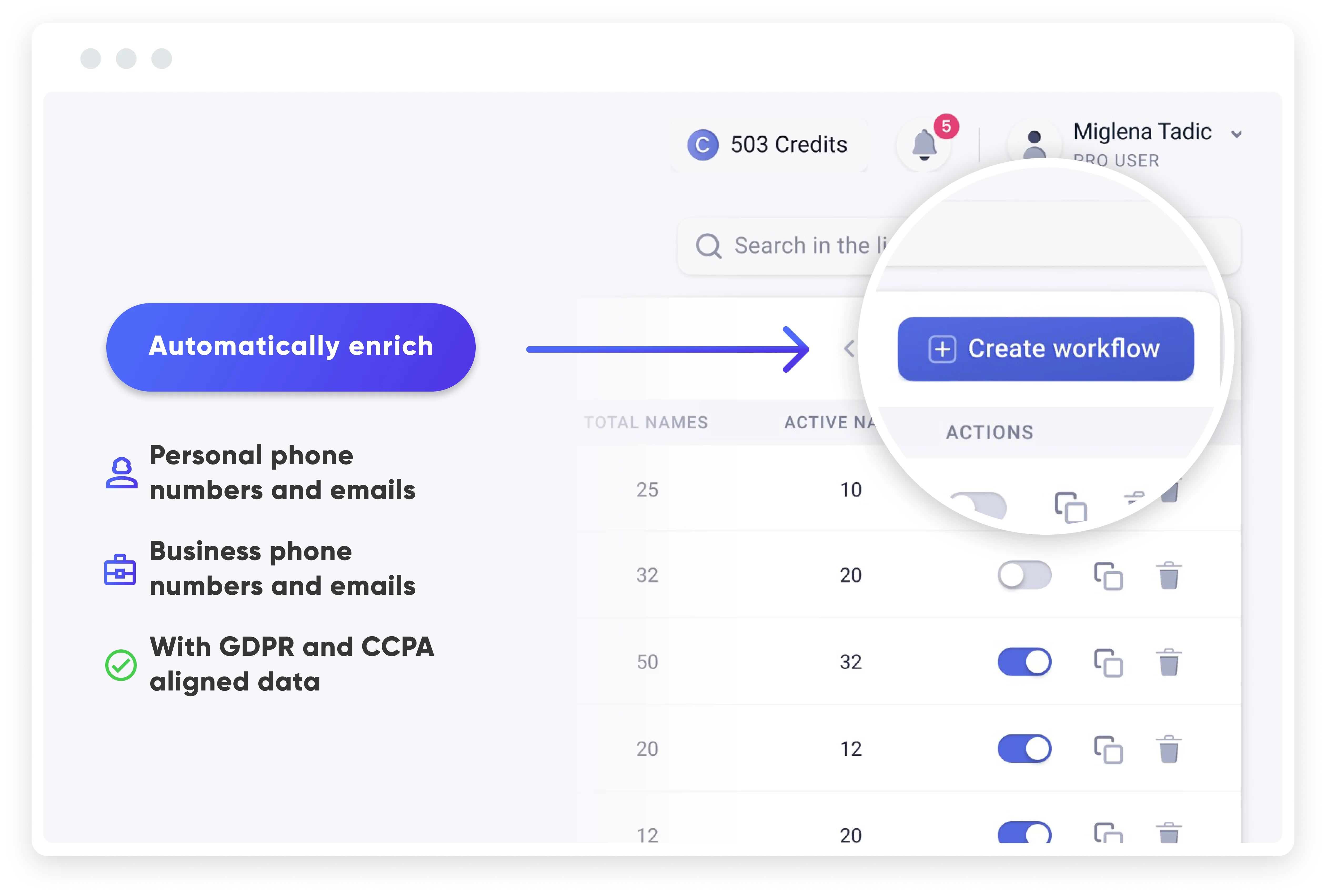 The Chrome Extension gives you instant access to accurate phone numbers and emails. You can use Kaspr on LinkedIn, Sales Navigator, and Recruiter Lite to extract contact and company data.
Kaspr also has automation features that are great for B2B data enrichment or automating parts of your outreach. You can enrich your contacts straight from the widget or by creating workflows in the dashboard.
Top features:
Free version.
LinkedIn Chrome Extension.
Contact enrichment from a LinkedIn profile, group, event, post, or list.
LinkedIn outreach sequences.
Lead organization using lists, notes, and tasks.
Integrations with HubSpot, Pipedrive, Lemlist, Salesforce, and more.
Team analytics.
Pricing:
Free version available.
Paid plans start at €30 per user per month.
Custom plans with more admins and support options.
2. Cognism
⭐ 4.7/5 on G2
Cognism is a sales intelligence platform. It has contact and contextual data, including intent data powered by Bombora. You can use Cognism to build lead and account lists.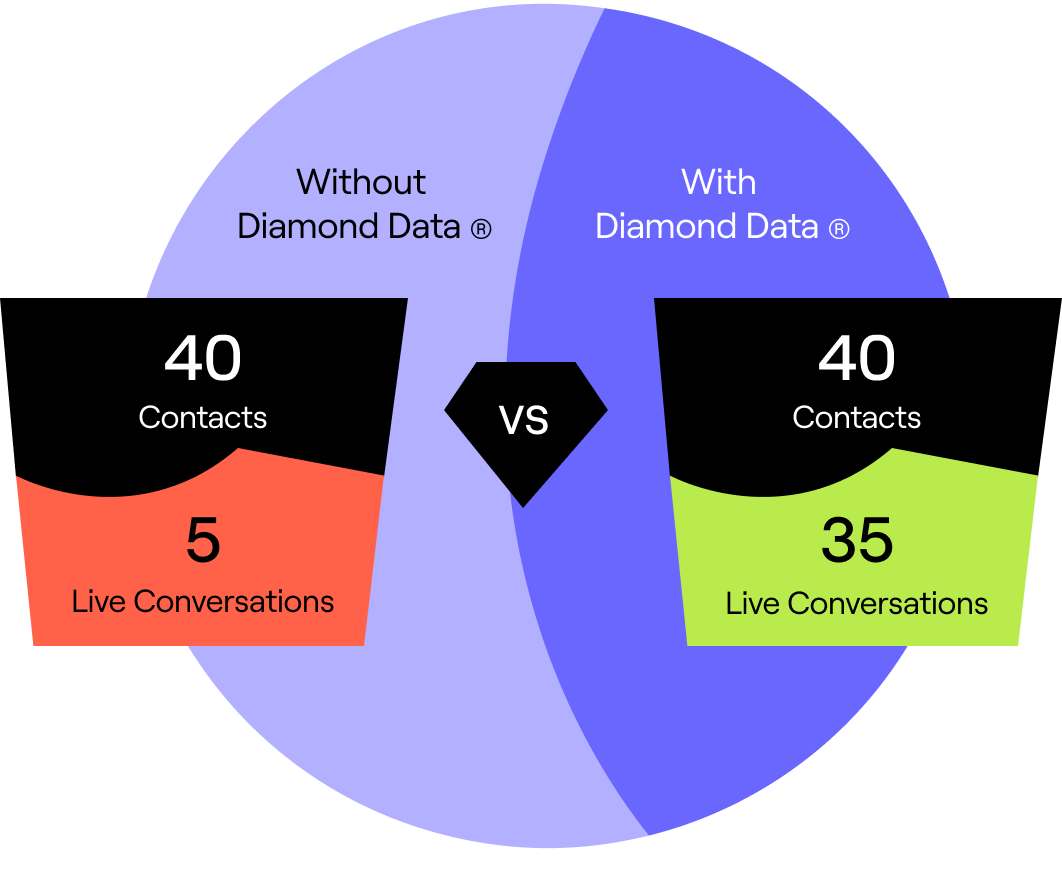 Cognism also has Diamond Data®. These are manually verified mobile numbers, which give 98% mobile phone data accuracy.
The Cognism platform consists of a web app and browser extension. The extension works not only with LinkedIn but also Sales Navigator, Salesforce, HubSpot, Outreach, and company websites.
The additional contextual data and lead list-building capabilities makes Cognism a great fit for revenue teams.
Top features:
Diamond Data® with 98% mobile phone accuracy.
Intent data, firmographics, technographics, and sales triggers.
Global do-not-call lists.
Seamless integrations with many sales apps.
GDPR and CCPA compliant.
EMEA, NAM, and APAC coverage..
Pricing:
Customized packages based on your needs, available on request.


💡 Unsure who to pick? Kaspr vs. Cognism.
3. Lusha
⭐ 4.3/5 on G2
Lusha is a B2B marketing database for small teams.
With the Chrome Extension, sales development reps can find contact details of prospects on LinkedIn and any other website.
Plus, you can get fully compliant data for decision-makers thanks to Lusha's 7-step data verification process.
Top features:
Filter-based prospecting lists.
Intent data.
Credits management and analytics.
GDPR and CCPA compliant.
Works with popular CRMs (HubSpot, Zoho, Pipedrive, Bullhorn).
Pricing:
Free trial with 5 free credits.
Starting price $29 per user per month.
Custom plans.💡 See how Kaspr compares - Kaspr vs. Lusha.
4. LinkedIn Sales Navigator
⭐ 4.3/5 on G2
Sales Navigator helps sales teams generate leads and build relationships on LinkedIn.
You can get valuable insights into prospects, from their activity, company profile, and mutual connections.
It also offers tools for social selling, lead recommendations, and team collaboration.
💡 Here are some Sales Navigator tips.
Top features:
Lead recommendations based on search history.
InMail messages.
Advances search filters.
Capability to create buyer alerts, notes, and tags.
Integrations with B2B sales tools.
Pricing:
1-month free trial available.
Sales Navigator Core starts at $79.99 per user per month.
Custom plans.
5. ZoomInfo
⭐ 4.4/5 on G2
ZoomInfo is a B2B database that has contact and company data for sales, marketing, and recruiting teams.
The platform uses AI and machine learning to regularly update and verify its data.
It also has software solutions for conversation intelligence, website chat, email and phone automation, and data management.
Top features:
Buyer intent insights.
Website visitor tracking.
Data enrichment API.
Website chat.
Integration with popular CRM and marketing automation tools.
Pricing:
14-day free trial available.
No pricing information is available on their website.
Customs plans and packages.
6. RocketReach
⭐ 4.5/5 on G2
RocketReach is another outbound lead generation tool you can use to gather B2B data, such as email addresses and phone numbers.
It has a Chrome Extension that you can use to discover potential customers on LinkedIn, Google, and Crunchbase.
Top features:
Advanced search filters.
Bulk lookups and exports.
Email verification and deliverability score.
CRM integrations.
Pricing:
Free version available (3 searches per month).
Basic plans start at $63 per month.
Custom plans.
7. Apollo
⭐ 4.8/5 on G2
Apollo is a sales intelligence platform that gives you access to over 265 million contacts and 60 million companies.
It offers advanced search capabilities and integrations with other sales tools.
You can use Apollo to create targeted lists, update your CRM, or automate your outreach with multi-channel sequences.
Top features:
AI-powered analytics.
Sales engagement tools.
Job change alerts.
Automated data enrichment and real-time updates.
Pricing:
Free version with 60 mobile credits.
Starting price $39 per user per month.
Custom plans available.
8. DemandScience Intelligence
⭐ 4.4/5 on G2
DemandScience is a B2B data provider that combines contact details with intent data to speed up the sales process.
Their database is enriched with firmographic, demographic, and technographic across many different industries.
The CRMs DemandScience integrates with are Salesforce, HubSpot, and Marketo.
Top features:
Intent data.
15 sources of data enrichment.
Technology insights.
Engagement tracking.
Pricing:
No free trial.
No available pricing information on their website.
9. Ampliz Salesbuddy
⭐ 4.3/5 on G2
Ampliz Salesbuddy is a prospecting tool with Chrome Extension. It helps sales and research teams get B2B contact data directly from the prospect's website.
You can extract information such as email addresses, direct dials, and LinkedIn profile data. All of their data goes through a 3-step verification process, so you can trust that it's accurate.
Top features:
Chrome Extension.
Prospect fit-score.
Similar matches to your Ideal Customer Profile (ICP).
Contextual intelligence.
Bulk exports.
Pricing:
Free trial with 10 credits.
Starting price for Global B2B is $50 per user per month or $480 annually.
Custom plans available.
10. Adapt
⭐ 4.6/5 on G2
Adapt is a prospecting tool that helps sales and marketing teams connect with decision-makers through accurate contact numbers.
Their Chrome Extension lets you get business emails and phone numbers directly from LinkedIn or company websites. It's best suited for individual contributors or smaller companies.
Top features:
Chrome Extension.
Advanced search filters.
Custom workflows.
Data enrichment.
Integrates across many CRMs.
Pricing:
You need to request a quote based on your business needs.
Free trial available for 3 days.
Comparison matrix
Company name
Top 3 features
Price
Free version or trial
Kaspr

Enrichment automations.
LinkedIn outreach sequences.
Lead organization.

€30
Yes
Cognism

Diamond Data®.
Intent data.
Do-not-call lists.

Custom
No - but 25 free leads.
Lusha

Filter-based prospecting lists.
Intent data.
Credits management.

$29
Yes
LinkedIn Sales Navigator

Lead recommendations.
InMail messages.
Advances search filters.

$79.99
Yes
ZoomInfo

Buyer intent insights.
Website visitor tracking.
Many integrations.

Custom
Yes
RocketReach

Advances search filters.
Bulk lookups and exports.
Email deliverability score.

$63
Yes
Apollo

AI-powered analytics.
Sales engagement.
Job change alerts.

$39
Yes
DemandScience Intelligence

Intent data.
Data enrichment.
Technology insights.

Custom
No
Ampliz Salesbuddy

Prospect fit-score.
Similar matches.
Contextual intelligence.

$50
Yes
Adapt

Custom workflows.
Advances search filters.
Data enrichment.

Custom
Yes
How to choose a B2B contact database?
Finding the right B2B database can be tricky. 🤔.
You've got to look out for features like:
The number of B2B contacts. A fairly obvious first consideration. You need to find out just how much data is going to be available to you and weigh up the cost per lead.
The data quality. Make sure that the data is accurate, verified, and up-to-date. Low data quality can lead to wasted time and poor results.
Country coverage. The database should cover the specific regions you're targeting. Some databases may have a global reach, while others focus on specific countries or regions. You should choose a database that aligns with your target audience and goals.
Filtering and lead management. Look for a database that allows you to filter contacts based on specific criteria. Such as industry, company size, job title, technology stack, and more. Consider the database's lead management features to ensure you can easily track and prioritize your leads.
Direct dials availability. Access to direct dials can be a valuable asset for reaching the right people quickly and efficiently. You need to find a database that can provide direct dials for your target contacts or at least give you an option to request them on demand.
Compliance. Make sure the database complies with all relevant data protection laws and regulations, such as GDPR or CCPA. This will help you avoid any legal issues and protect the privacy of your leads.
Intent data. This can help you identify the most qualified and ready-to-buy leads in your market. As well as personalize your outreach and messaging based on their pain points and needs.
Integrations with other tools. Consider whether the database can integrate with other tools you use, such as CRM. Integration with your existing tools can make it easier to manage your leads and streamline your sales process.
Ease of use. The database should be easy to navigate, with simple search and filter functions. You should be able to quickly find the information you need and efficiently manage your leads.
Customer support. A good provider should have a helpful and responsive customer support team. You might have some issues or questions when you use the data or the platform. So, you want a provider that can support you quickly and effectively.
Sales intelligence solutions vs. buying a list
If you want to grow in outbound sales, buying a list of contacts can be another tempting route.
But if we're honest, it should remain a no-go. ⛔

Buying data lists can impact your business negatively.
Here's why 👇
Poor data quality
You have no idea how accurate or reliable the list is. Plus, the contacts are not qualified or exclusive to your company.
Sure, maybe they're in the right industry or the right size, but a lot of the filtering factors from outsourced lists don't include key buying signals, like if the prospect has just started a new job.
You could end up contacting people who just don't fit your ICP, and there's no clear indicators of their intent to buy.
Damaged reputation
Chances are, many other companies have bought the same list of contacts.
When you contact the prospects on them, you're likely to come across as spammy. It could be one cold call too far…
Wasted resources
Buying a list of contacts might seem like a quick way to fill your pipeline. But it can cost you more time (and money) in the long run.
Think of it like this.
Hours spent cleaning and verifying the data.
Plus, low reply rates and people asking to be taken off your list.
Compliance regulations violation
Privacy laws like GDPR require consent from the data subjects.
If your contact list doesn't follow these regulations, you're setting yourself and your company up for legal trouble.
Unpredictable revenue
When contact data isn't consistent, it's challenging to predict the outcome.
You have no way of knowing if these contacts are ready to buy, have the budget, or have the authority to make a decision.
It's also very hard to improve your sales processes when you can't rely on your data.
Why B2B databases are great for prospecting
You can't just send generic messages to hundreds of contacts and expect them to reply.
The old "spray and pray" approach doesn't do the trick anymore. 🙅
Sales reps need to be value-based.
And this is where B2B databases come in.
They let you cut time on prospecting so you can focus on creating conversations and personalizing your outreach.
But that doesn't mean you can slack off on prospecting completely. You still need to do it daily.
As Morgan J Ingram, Creative Advisor at Cognism explains in the clip below. 🎬
So, what else makes B2B databases great for prospecting?
Easier account mapping. You can get a complete view of your target companies. You'll be able to see the internal structure and relationships between people. This makes it easier to reach the decision-makers and pitch to the right person at the right level.
Quick outreach. With Kaspr's email feature, you can send personalized emails to key decision-makers. Or hit the phone without leaving the dashboard with Aircall or Ringover integration.
Organized data. A great database keeps your contact details clean and organized. You can segment your prospects by different criteria and track your interactions with them. And sync your data with your CRM or other tools.
High-quality data. B2B databases are regularly updated and verified by data experts and algorithms. You can avoid bounced emails, wrong numbers, and outdated information. You'll also make sure that you follow the best practices for data privacy and security.
Try Kaspr for free
Time is money. 🤑
So, why wait? Speed up your sales processes with Kaspr. Sign up for free today.
Join the 40K+ Kaspr users:
✅ No credit card required to sign up.
✅ GDPR and CCPA aligned.
✅ 120m+ email addresses.
✅ 90m+ phone numbers.
✅ All-in-one prospecting tool.
✅ Fully self-service.
✅ Customizable plans.
INBOX INSIGHTS
Quick-to-read tactical advice and tool suggestions straight to your inbox.
Kaspr offers you the best way
to reach your customers