1. Go to the person's LinkedIn profile
The first step is to find your prospect's profile. Do this with LinkedIn's search bar on desktop, there's a whole host of advanced filters you can use to narrow down your list of leads.
Once you're on their profile, the Kaspr widget will pop up. The notifications let you know we've got data for this contact.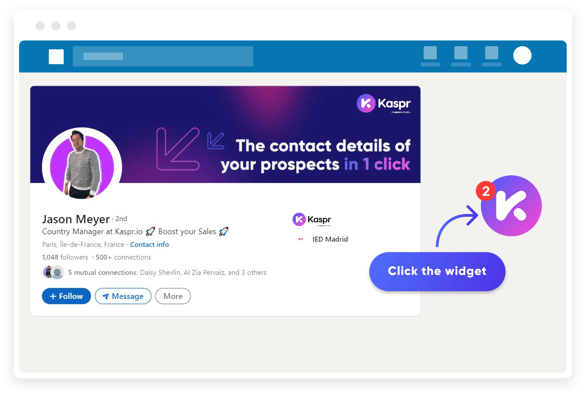 All you need to do now is click on it, and the contact information will appear without even sending a connection request!
👻 Want to give the Kaspr LinkedIn Extension a go? It's free!
2. Access their contact info
Just like that, you're ready to get the contact details you came for. 😲
All the contact information you need will appear for one credit.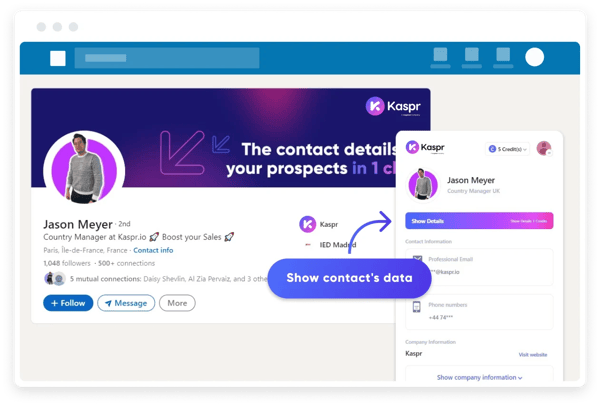 You'll get access to phone numbers, email addresses and company info. Plus, unlimited B2B email addresses too on both the free and paid Kaspr plans.
💡 Check out the pricing page for more information
3. Data enrichment
Now, you can take your prospect's contact information even further.
Using the Kaspr widget and the dashboard, you can do various automation to enrich the data.
With the Kaspr widget, you can get the contact info in bulk from LinkedIn groups, posts, events or lead lists. You can enrich this data with phone numbers, email addresses, or both.
Next, there's the Kaspr dashboard.
In the dashboard's sales automation tab, you can enrich your existing leads in two ways:
✅ At the contact level: by adding professional email addresses and phone numbers.
✅ At the company level: by adding business email addresses and phone numbers.
All data from Kaspr is GDPR and CCPA aligned.
You can also create lists within the dashboard to manage your leads in bulk or keep track of the next actions and tasks. This is just one feature that makes Kaspr a great all-in-one prospecting tool.
More ways to get data without being connected
Now you know how to get contact info from LinkedIn without having to send connection requests.
It really is as simple as one, two, three with Kaspr. 😉
But if you're looking for other ways to get the data, the three most common methods are:
Manually on LinkedIn.
Bulk phone finders.
Email verification tools.
Remember that the data you get from these may be less accurate. And they are also more time-consuming.
Let's explore each in more detail. 👇
Manually using LinkedIn
For this method, you just need a basic LinkedIn account.
To find the contact information, go to your prospect's LinkedIn profile.
Click on the contact info button to access the information they've chosen to share.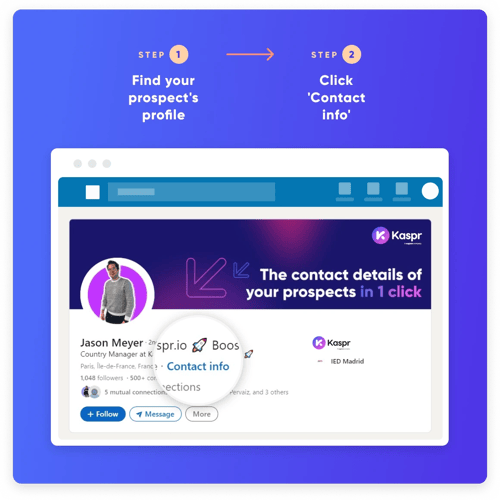 Note that contact details like email addresses or phone numbers might not be visible on their profile. The accuracy will also depend on the last time they updated their contact information.
This method is the most time-consuming because you have to go through each profile to get the data (which may not be correct anyway).
It also lacks the lead management features that other prospecting tools provide.
Even if you use LinkedIn Sales Navigator, where you can create lists; it's not the same as having a tool like Kaspr to arrange your contact data.
To sum up, the pros and cons of manually finding contact info without sending a LinkedIn connection request are. 👇
Pros:
No need for additional tools or special skills.
Free and accessible to all LinkedIn users.
Cons:
Information availability varies, making finding data inconsistent.
Time-consuming, especially if contact data is not directly accessible.
Limited organization and lead management capabilities.
No integration with other platforms.
Bulk phone finders
Bulk phone finders let you export a CSV file from LinkedIn Sales Navigator and enrich the data in a bulk phone finder.
A couple of the platforms that do this are Evaboot and Datagma.
So, how do they work?
First, you find your leads in Sales Navigator. Use the filters to create a target list.
Then, you need to save this list as a CSV file.
Finally, you use one of the bulk finder tools to upload the CSV and hopefully find and add phone numbers to your data.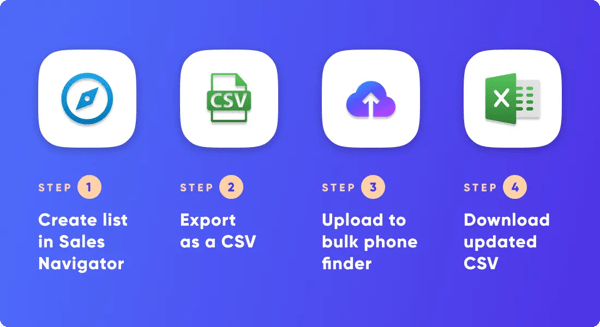 The pros and cons of bulk phone finders are:
Pros:
Efficient for finding large amounts of data.
Reduces manual effort.
Cons:
Data accuracy can vary based on available sources.
Not always GPDR or CCPA aligned.
The data might not be updated in real-time.
No or limited integration.
Lack of automation.
Email verification tools
These tools ensure that your prospect email addresses are valid and accurate.
Both sales and marketing teams benefit from having a clean and up-to-date email list.
It reduces bounce rates, increases email deliverability and improves lead generation efforts.
To use email verification tools, you need a list of email addresses. You can get these in bulk from LinkedIn using the manual method we explained earlier.
Then the tool will identify and remove emails that are invalid, inactive, or fake.
The process goes through several checks, such as:
Syntax check. Verifies if the email address follows the proper format and rules, checking for missing "@" symbols or invalid characters.
Domain verification. Confirms if the domain of the email address has valid DNS records and is active.
Disposable email detection. Identifies temporary or disposable email addresses.
Greylisting support. Anti-span techniques are used to ensure accurate verification results.
Simple Mail Transfer Protocol (SMTP) check. Connects with the email server to check if the mailbox can receive messages.
The time required depends on the size of the email list. The tool's automated verification process can save considerable time compared to manual checks.
But wouldn't it be nice to have verified email addresses (like you get from Kaspr) from the start? 👀
Here are the pros and cons of email verifiers:
Pros:
Integration with CRM, email software, and marketing automation platforms.
Reduces the chances of bouncing.
Improves email deliverability.
Cons:
Legitimate emails may be wrongly flagged as invalid.
Limited information.
Initial cost investment for premium services.
The verification process is dependent on the tool's accuracy and reliability.
FAQs about contact info from LinkedIn
What are 2nd and 3rd-degree connections?
LinkedIn has different levels of connections between users.
The people you already have in your network are your 1st-degree connections. This includes those who accepted your connection request or users whose requests you accepted.
2nd-degree connections are people connected to your 1st-degree connections. They are not in your network, but you have at least one mutual connection. You can connect with them by sending a request, or if you have a premium account, you can send an InMail. The acceptance rate is usually high.
3rd-degree connections are people who share a mutual connection with your 2nd-degree connections. You can still send them a direct connection request or an InMail if you have a premium account. The acceptance rate for messages can be lower.
How to find connections?
To make more sales, finding the right people on LinkedIn is crucial.
This is where LinkedIn Sales Navigator comes in. It can help you set up a strategy to find new leads that match your ideal customer profile (ICP). But how does this work?
Here are some tips from Morgan J Ingram, Content Advisor at Cognism:
First, create three types of saved searches. 👇
Changed job in the last 90 days.
Previous role.
Viewed your profile in the last 90 days.
To refine your search results, you can use filters such as past company, current job role, seniority level, spotlights, industry, and connections of.
By setting up these saved searches, you'll be notified whenever new contacts matching your ICP appear since the last time you checked.
It will look like this:

If you don't have access to Sales Navigator, there are other ways to find connections on LinkedIn:
Use Advanced Search. LinkedIn's Advanced Search feature will help you narrow down results based on location, industry, job title, and more, which helps you find potential connections that align with your ICP.
Attend events and webinars. Take part in virtual events and webinars hosted on LinkedIn. This will allow you to network with other attendees and potentially connect with people who share your interests.
Be active. Engage with your connections' content by liking, commenting, and sharing posts. Also, post your own valuable content regularly. Being active on the platform increases your visibility and may attract new connections.
Personalize connection requests. When sending connection requests, avoid generic messages. Personalize your request by mentioning a common interest or the reason you'd like to connect.
What tool can be used to extract contacts from LinkedIn?
Kaspr is an all-in-one prospecting tool. It extracts phones, emails and company information directly from LinkedIn without needing to be a first-degree connection.
Using the Kaspr widget, you can get contact data from individual profiles or in bulk.
There's also a dashboard where you can enrich your data, send emails, automate outreach and organize your saved leads.
It also works with your favourite CRMs to send your prospective clients' data straight to your other sales apps.
Try Kaspr for free
Get contact info from LinkedIn without being a connection in a few clicks using Kaspr.
No need to send connection requests or do any manual work. Kaspr will handle everything for you.
Sign up for free today.
Join the 50K+ Kaspr users:
✅ No credit card is required to sign up.
✅ GDPR and CCPA aligned.
✅ Unlimited B2B email credits.
✅ 500M+ Phone numbers and email addresses.
✅ 200M+ Business profiles.
✅ All-in-one prospecting tool.
✅ Fully self-service.
✅ Customizable plans.
INBOX INSIGHTS
Quick-to-read tactical advice and tool suggestions straight to your inbox.
Kaspr offers you the best way
to reach your customers