Outbound calling (also known as a cold call) is the staple tactic for many successful B2B businesses 🤑
But what really makes a difference is how you approach it.
Here we'll provide you with helpful tips on how to increase outbound sales calls. From motivating your sales team to understanding the metrics.
Jump ahead to:
Why is outbound calling important?
Outbound calling is all about reaching out to prospects without prior engagement or communication. It's a technique used by sales development representatives (SDRs).
What makes the cold call an essential part of your B2B outbound sales strategy is one key element. Human interaction 👋
It's used with other channels, such as cold emails and social selling on LinkedIn. All as part of a good multi-touch sales cadence.
Outreach like this is all about building a valuable relationship with your prospects.
Ayo Akinduryo, Manager, Business Development EMEA at Envoy says:
"People will always yearn for that opportunity to mix with other humans. So as much as technology is advancing, there will always need to be that human touch."

"We can automate processes, to make things run smoother for the human, but it will not replace the human."
Other reasons why cold calling is important for your sales success are:
Find out immediately if a prospect is interested

It is the start of a relationship

Put out a consistent message

There's an opportunity to learn

Get an edge over your competitors

It's measurable

It's a cost-effective outbound sales channel
How to increase outbound sales calls
Developing an effective outbound calling strategy requires planning and iteration.
It's likely your strategy will look different in a few years' time from when you just started.
Below are some ways to increase your outbound sales calls. Let's dive in 👇
Show your sales team what success looks like
SDRs become successful when they know what success looks like.
Make sure that at every step of the way, your sales team knows what is expected. Set clear goals and overall metrics to guide them.
Don't forget, these goals need to be attainable. That way it's easier for SDRs to improve their performance and stay motivated.
Ask questions like
How many calls are they making per day?
How much time does an SDR spend on the phone?
What is the answer rate?
What is the conversion rate for booking meetings?
Here are some of the KPI metrics for sales leaders to consider.
Number of dials
You can track the average number of calls made by your team and how it evolves over time.
If you notice weekly drops, there might be underlying problems. Take a closer look at these metrics and the reasons why and adjust your management.
Cold call duration
This is the average duration of the entire call. From the time the SDR initiates the call, to hang up.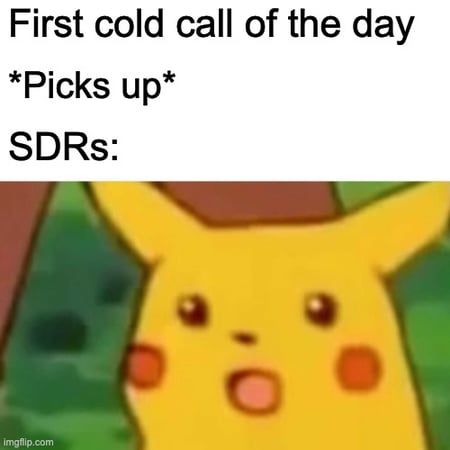 Longer calls are a goldmine for looking back and reviewing what the prospect has said. It's likely that an SDR has uncovered a pain point that's often experienced by your ideal customer profile (ICP).
Good cold calls are great to share internally.
Meetings booked
This is often the metric used to evaluate the success of SDRs. It is after all their end goal.
But sometimes it's important to consider how meetings booked can kill SDRs' mojo.
Sales enablement and incentives
A winning sales enablement program is all part of building an outbound sales team.
According to Gong, peer-to-peer learning is the way to go.
Knowledge sharing is key, particularly if your team consists of both newbies and more experienced SDRs.
Here's Gong's suggestion:
"Call libraries. Sort your calls into various folders - vertical, company size, persona, pipeline stage. Once you get organized, you'll be running a well-oiled, peer-to-peer learning culture."
Incentives don't always have to mean cash 💰
You could give away tickets to a big game, concert, or free subscription boxes. The world is your oyster.
Access to the right data
Good prospect data is an important part of increasing your outbound calling success.
Without it, your cold calls will fall flat. Or even worse, you'll be dialing the wrong people!
Having a prospecting tool as part of your outbound sales tech stack really helps. You'll have instant access to emails, phone numbers, and all the relevant data.
Which will mean you're able to spend less time prospecting and speaking to the right people.
Listen to calls and feedback
Record all your outbound sales calls using software like Gong. You and your sales team will be able to go back and look at what's working and what isn't. This could lead you to tweak messaging, trial different cold calling techniques, and really understand what sticks.
Morgan J Ingram, Director of Sales Execution and Evolution at JB Sales Training highlights the key things sales teams should be focusing on. He says:
"Make sure you record your calls and review them to identify your prospects' common pain points. Reverse engineer the problem your prospect has and craft your questions based on the problem."

"Once you have your questions, focus on how you ask them. Instead of starting with 'what', say 'tell me'… This simple swap will help you have a real conversation. "
Keeping your sales team motivated
Being an SDR is a high-pressure role.
Experiencing rejection, handling objections from prospects, and not hitting quota, can make staying motivated a challenge.
As a B2B sales leader, you need to understand what's causing it. Owen Richards, Founder & CEO of Air Marketing spoke about his SDR team, he says:
"Let's say their activity has dropped by 20% compared to last month - present them with a graph showing this and ask them what's causing it."

"Usually, you'll get a straight answer. If they've been distracted, then it's normally something like they've been asked by marketing to contribute to a project or spent two days at an expo. Sometimes they might not even realize there's a problem."

"Then you ask them a simple question: what can they do to improve this month? Get the SDR to suggest their own solutions. People are more likely to adopt change if it's their own idea, rather than you telling them what to do."
Ryan Reisert explains how to detach from the outcome when cold calling to increase sales motivation in the clip below 🎬
James Ogilvy, SDR Manager EMEA at SalesScreen advises his sales team to always celebrate small wins.
"If you're not having a good week or month, it's about trying to find those small wins where you can say that you've done something faster or better than before."

"I really care about recognition. When people tell me I'm doing a good job I'll go a hundred miles more."
Negative slumps are hard to bounce back from. But according to Morgan J Ingram, there are 6 ways to overcome them:
Step away from work
Keep a steady mindset to be successful
Remember you are great, look back at previous wins
Listen back to your calls
Look at your KPI metrics
Look back at your goals when you feel you've lost motivation
Just keep dialing
There's definitely an art to the cold call.
You're thrown right in at the deep end as an SDR, but the key is to just keep dialing ☎️
As a sales leader, you need to know how to increase outbound sales calls too.
Here's a summary of the key points:
Lay out your end goals and KPIs to show your sales team what success looks like
Invest heavily in sales enablement, it will pay off in the long run
Data can be a blessing and a curse, so invest in good prospecting tools
Review your teams' cold calls and give them feedback
Know how to motivate each and every SDR in your team
INBOX INSIGHTS
Quick-to-read tactical advice and tool suggestions straight to your inbox.
Kaspr offers you the best way
to reach your customers