Ready to deep-dive into lead generation techniques?
Here's what you came for. 👇
TL;DR
Sales intelligence and prospecting tools. Access to a contact database and company information that will help determine sales strategies and make better decisions.
Prospecting. The act of finding potential customers who are a good fit for your product or service.
Cold emailing. Email outreach used with other channels helps start conversations with the prospective customer. But it's got to be personal.
Cold calling. Sometimes seen as a nuisance by potential clients but used well, it helps to create demand and kickstart conversations.
Social media. Helps generate leads by allowing sales reps to connect with ideal B2B leads and position themselves as thought leaders by sharing valuable content.
Pay-per-click advertising. An inbound marketing strategy that helps to drive traffic to your website for specific target keywords.
B2B influencer marketing. A fairly new concept for B2B. Influencer marketing is all about teaming up with industry experts to help gain credibility and create demand for your company.
Content marketing. Create value-led content to attract and engage your target audience.
Landing pages. Web pages that are designed to convert visitors into leads by capturing their contact info.
Chatbots. AI chat assistants that help guide leads through the sales process and provide customer support.
Search engine optimization (SEO). Improve your website's visibility on search engines to get more visitors.
Product trials. Popular with SaaS companies that are PLG. Free trials let customers try your product or service before buying it.
Social proof. Using testimonials, reviews, or referrals from happy customers in your content to create demand.
The 13 lead generation techniques
1. Sales intelligence and prospecting tools
The results: Immediate access to contact details and other data for target accounts.
One of the best ways to generate more leads is using B2B data providers.
Tools like Kaspr help reps connect directly with the people they prospect with immediate access to contact info. This included GPDR and CCPA-aligned phone numbers, email addresses and company info.
Some sales intelligence solutions include other key datasets like intent data to identify when someone is likely ready to buy.
The data is scraped from public sources, including social media platforms like LinkedIn or company websites.
👻 Try the Kaspr LinkedIn Chrome Extension for free!
So, what are the benefits of sales intelligence?
Up-to-date data. The data sales intelligence tools provide is fresh and accurate. It can be used for lead generation campaigns and updating CRMs and other apps in your tech stack.
Easier discovery. Identify people with purchase intent and qualify leads more quickly.
Quicker, more consistent prospecting. Spend less time on prospecting with immediate access to contact details..
Lead management. Organize your leads in lists and update them with notes and tasks.
Analytics. Measure the success of the data. Some tools like Kaspr provide insights into how many contact details you've been able to access.
2. Prospecting
The results: A pipeline of qualified leads that match your ideal customer profile (ICP).
In outbound lead generation, sales development representatives (SDRs) reach out to potential customers for the first time.
Part of the technique for this is prospecting. It's where sales teams find potential customers that match the ICP of their business.
These leads may not know about you yet or could have some awareness through other lead generation channels (e.g. A PPC ad). But the goal is to spark their interest and move them through the sales funnel.
Some effective prospecting tactics are:
Cold calling
Cold emailing
Social selling
Remember, to see results, you need to be prospecting daily. Here's some advice from Morgan J Ingram, Creative Advisor at Cognism on how to do this. 🎬
3. Cold emailing
The result: Create awareness for your company and get replies from prospects.
Cold emails reach out to potential customers without any prior connection.
It may seem daunting, but email campaigns can be an effective way to generate leads.
The subject line can make or break a cold email. 64% of recipients decide whether to open or delete an email based on the subject line alone (Finances Online).
So, how can you craft an effective one? Here's some advice from Lavender:
Boring is good. It's quick to read and sets the correct expectations.
Stay neutral. Avoid overly positive or negative language. This is because neutral = short + descriptive.
Opt for title case. Begin each word with a capital letter in your subject line.
Keep it short. Aim for 1-3 words, with 2 being the optimal length.
Create an internal email vibe. Make your subject line sound like internal communication.
It's important to get straight to the point. There's no room for fluff in cold outreach.
🎺 Here are some personalization tips from Rory Sadler, Co-founder and CEO at trumpet.
And don't forget to optimize for mobile.
Most people view their emails on their phones, so it is important to ensure your emails are mobile-friendly.
Here's how your email could look. 👇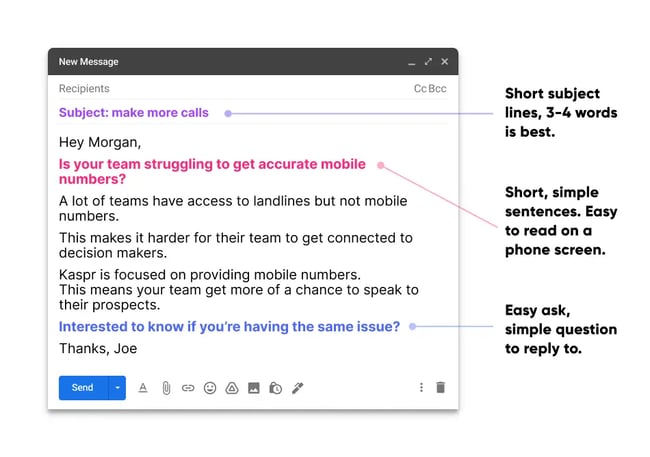 4. Cold calling
The result: Real-time conversations with prospects that are nearly as good as face-to-face.
One tried-and-true lead generation technique remains strong, even today: cold calling. 🤙
Yes, calling people who have never heard of you can be intimidating. But it doesn't have to be. The secret lies in mastering the right approach.
So what are the best practices for cold calls?
Preparation is key
Before picking up the phone, take the time to research your prospects thoroughly. Understand their needs, pain points, and challenges. This way, you can tailor your pitch and address their concerns.
Keep it short and sweet
Make a clear and concise introduction, and get straight to the point. Grab their attention within the first few seconds by highlighting the value you bring to the table.
Be a subject matter expert
Today, it's all about value-based selling. Product knowledge is really important here. You must educate and guide your prospects through the buying journey.
Invite the elephant into the room
Don't shy away from talking about your competitors. Acknowledge that there are other options, but highlight why your solution is different. By addressing the competition head-on, you show transparency and build trust with your potential customers.
Timing can help
Cognism suggests the best time to cold call is between 10am -11am and 3pm - 5pm. And Gong reports that Wednesday and Thursday are the most effective days for cold calling. By aligning your outreach with these times, you increase the chances of catching your prospects when they're most receptive to your call.
5. Social media
The result: Positions SDRs as thought leaders in their industry and builds credibility.
Social media channels aren't just for memes and selfies. 🤳
They can also be powerful tools for generating sales-qualified leads and closing deals.
According to Cience, 66% of marketers use social media as one of their lead generation techniques.
But what's the best approach?
You need a strategy that positions you as a thought leader.
First, you need to know your audience. Ask yourself:
What kind of information are they looking for?
Which social media platform do they prefer?
What are their pain points?
What are their goals?
Use this knowledge to create content that is value-based and resonates with them. Content that solves their problems answers their questions and entertains them.
But content alone isn't enough.
You also need to engage. Reply to their comments, ask them questions and provide feedback. This helps build relationships and gain trust.
6. PPC
The results: Quick conversions from leads that match specific searches.
Pay-per-click (PPC) advertising allows you to place your ads on search engines and websites. You pay only when someone clicks on your ad.
You have complete control over your budget and can tailor your campaigns to target keywords.
But how do you make PPC work for you?
Here are some tips to help:
Do your keyword research. Find out what words and phrases your potential customers search for and bid on them.
Write catchy headlines and compelling copy. Your ad should stand out and entice people to click on it.
Optimize your landing page. Make sure your landing page matches your ad and provides a clear call to action. You want to convert those clicks into leads, right?
Try a different approach. At Cognism, paid advertising is split into demand generation and demand capture. The first one uses social sites to increase brand awareness. For demand capture, the focus is on Google search ads. The goal is to capture the demand you're creating.
Track and test your results. Use analytics tools to measure your performance and see what works and what doesn't. Experiment with keywords, ads, and landing pages to improve ROI.
PPC can help you generate leads faster than other methods.
But it's not all about the quantity. As Canberk Beker, Global Head of Paid at Cognism, explains:
"At a high level, 50% of the marketing pipeline is organic. The other 50% comes from paid ads from either Google or Bing."

"Our PPC strategy is not geared towards generating leads for the sake of generating leads. We focus only on high-intent keywords and base our PPC strategy on generating leads that can bring pipeline."

"Therefore, we measure PPC success by pipeline generated rather than the number of leads."
Here's what a Kaspr ad looks like in action. 👇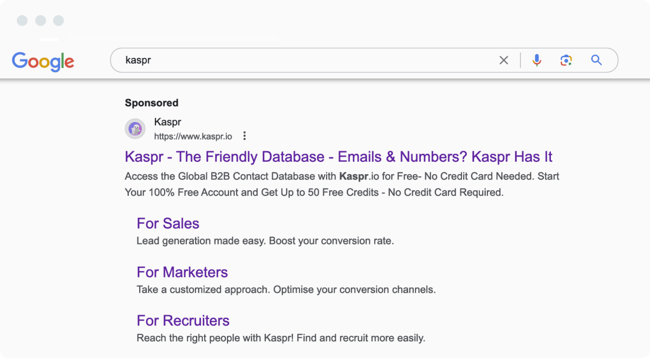 7. B2B influencer marketing
The result: Builds credibility with prospects within your industry.
B2B influencers play a key role in driving successful marketing campaigns.
74% of B2B marketers agree that influencer marketing improves customer experience with the brand (TopRankBlog).
These influencers have a following on social media such as LinkedIn, YouTube, or TikTok.
And are considered experts in their niche. So, naturally, their audience values and trusts their opinion.
By teaming up with them, you can create valuable content that creates demand for your product or service.
But how to find the right influencers for your business?
Here are a few considerations:
Alignment. Look for influencers in your niche who align with your brand values and target audience.
Reach and engagement. Find influencers with a significant following and active engagement on social media platforms related to your industry.
Content quality and authenticity. Consider the quality of their content, authenticity, and the trust they have built with their audience.
Past collaborations. Check their previous collaborations and the results they achieved.
Remember, you must be careful when choosing an influencer. Take your time and test things out first before making a long-term commitment. Try having them as a guest on a webinar.
Liam Bartholomew, Cognism's VP of Marketing, says that's a good way to see how engaged the audience is. He says:
"If you host a webinar and loads of people join the call because they're excited to hear what this person has to say. But then you get mixed feedback after. Then you might not want to start a paid relationship with them."

"There's a balance between knowledge and likability; you need to strike it in the middle."
8. Content marketing
The result: Attracts, engages and converts prospective customers.
You've probably heard the saying: Content is king. 👑
But why does it get a crown?
For starters, it's a great organic lead generation strategy.
Value-based and relevant content acts like a magnet. Drawing in potential customers who are genuinely interested in what you offer.
The beauty of content lies in its versatility. You have a wide array of formats at your disposal.
Take blog posts, for example. They allow you to dive deep into industry insights, provide useful information and answer your prospect's questions.
There are many different content mediums, including:
Social media channels.
Video.
Websites.
And let's not forget about podcasts. You can feature discussions, interviews and expert insights. They're a great way for your audience to consume content on the go.
💡 Check out the Kaspr podcast, everything is sales
9. Landing pages
The results: Easy lead capture.
This inbound marketing method converts visitors into leads by capturing their information.
It's a must-have in your box of lead generation techniques.
Here's how it works:
First, a visitor finds your landing page. PPC or other paid campaigns typically drive this traffic.
They click the call-to-action that offers them something valuable.
This could be gated content like:
An eBook download.
A webinar.
A checklist.
Or equally, it could be a special discount or offer that's valid for a limited time.
This takes them to your landing page, where they fill out a form and submit their contact info. And just like that, they're in the marketing funnel.
Following up with leads and nurturing them with SDR outreach is crucial.
Consider these best practices for your landing pages:
Clearly explain the benefits and value of your offer.
Create an attention-grabbing headline that makes visitors want to stay.
Keep the form short and sweet, only asking for the most important info.
Use a strong call-to-action that motivates visitors to take action.
Make your landing page visually appealing with images or videos.
Ensure your landing page is mobile-friendly.
A/B test different versions of your landing page to optimize its performance and improve conversion rates.
Use landing page tools to help you.
10. Chatbots
The result: Engagement with website visitors.
Imagine having your very own 24/7 sales rep right on your website.
Sounds pretty cool, huh? 😉
That's exactly what chatbots are - AI-powered virtual assistants that pop up to engage with your customers.
Instant engagement is crucial. 62% of consumers prefer a customer service bot rather than wait for human agents to answer their requests (Tido).
But here's the kicker: Chatbots can qualify leads for you. Here's how that works:
The chatbot asks qualifying questions to collect information about your prospect. Such as their needs, preferences and specific requirements. These questions can be tailored based on your business and target audience.
Then, it analyzes the responses and scores the leads. This helps you determine which potential customers will most likely become buyers.
Once the chatbot has qualified a lead, it can connect them with a human sales representative to continue the conversation.
Chatbots can also integrate with your CRM and email marketing tools. This means you can easily follow up with leads and nurture them until they're ready to purchase.
As you can probably tell, using chatbots is a great way to convert your website traffic into targeted leads. Use them to promote playbooks and messages around your site. And don't forget to get creative.
Ever considered using a cat as a chatbot?🐱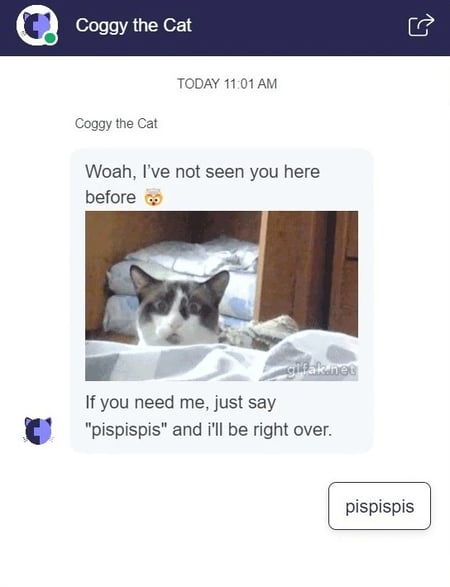 11. Search engine optimization (SEO)
Results: Match the intent of your users.
Getting targeted traffic to your website is crucial. 💯
Ahrefs reports that 53.3% of website traffic comes from organic search, making SEO an essential lead generation technique.
Your goal is to rank higher than your competitors on the first page of search engine results. And ideally, in the top three!
Achieving this requires optimizing your website and content.
Start with keyword research. This lies at the heart of SEO.
You need to identify the keywords and phrases your target audience uses when searching for products or services similar to yours.
But SEO isn't just about keywords. It also involves optimizing website structure and improving user experience.
This means:
Fast-loading pages.
Mobile-friendly designs.
Easy navigation.
Internal linking.
Backlinks.
Appropriate CTAs.
Search engines value speedy websites with content that provides relevant and useful information to users.

Regularly publishing engaging and informative content can attract organic traffic. When coupled with best practices and an optimized hosting platform, you will establish your website as an authority in your industry.
12. Product trials
The result: Trying before you buy.
Product trials let potential leads experience your product first-hand.
They see the value and benefits, increasing the chances of closing the deal later.
Including product trials as one of your lead generation techniques is great because you can:
Increase engagement. Product trials provide an interactive experience that grabs the attention of potential customers, encouraging them to explore your product and learn more about its features.
Build trust. You show that you have confidence in your product's quality and effectiveness. This builds trust with potential customers, making them more likely to consider buying from you.
Generate qualified leads. Product trials attract prospects who are genuinely interested in what you offer. These individuals have already shown interest by signing up for the trial, making them highly qualified leads.
Let your product shine. Trials allow potential leads to see the real value of your product. They can experience its effectiveness, usability, and unique features that set it apart from competitors.
Spread the word. Satisfied trial users are more likely to share their positive experiences with others, creating valuable word-of-mouth marketing for your product.
13. Social proof
The result: Builds trust and influences decisions.
Social proof uses customer reviews to show others that your product or service is worth their investment.
Think about it. You're more likely to trust the brand when you see a positive review or testimonial.
Social proof helps build trust and credibility.
Here are some examples:
Customer testimonials. Display positive feedback and testimonials from happy customers who have used your product or service.
Case studies. Share detailed success stories of how your product or service has helped specific clients achieve their goals.
User-generated content. Get your customers involved! Encourage them to share their experiences and reviews on social media platforms.
Influencer endorsement. Collaborate with influential people in your industry who can support and promote your product or service.
Awards and certifications. Showcase any awards, certifications, or industry recognition your business has received.
Don't forget to share social proof and referrals on your company's LinkedIn profile.
This lets potential customers see which brands you already work within their network. Further strengthening your reputation and credibility.
FAQs about lead generation tactics
Now you know all about lead generation techniques. But maybe there are still a few loose ends you need to tie up.
Here are some common lead generation FAQs. 👇
What is lead generation?
Lead generation is identifying and reaching out to people within your ICP.
It can involve capturing their contact details, such as email addresses or phone numbers. But if you used prospecting or sales intelligence tools this step is already done so you can get straight into other outbound or inbound tactics.
Sales and marketing teams often align closely on lead generation with the company goal of pushing leads down the sales funnel.
What are the top lead generation tools?
Here are some of the best tools to help you generate high-quality leads:
Kaspr. Get accurate phone numbers, and emails with just one click using the LinkedIn Chrome Extension. There's also a dashboard with capabilities like LinkedIn connection request workflows and data enrichment.
Cognism. Lead generation tool that provides manually verified mobile numbers, also known as Diamond Data®, with 98% accuracy.

LinkedIn Sales Navigator.

This sales tool offers advanced search options within LinkedIn, filters, lead recommendations based on your website visitors, and real-time sales insights. Here are some Sales Nav tips.
Lusha. Here's another lead generation tool for getting compliant data about decision-makers. Lusha has a 7-step data verification process for reliable and up-to-date information.
ZoomInfo. There's a huge database of company and contact information. You can easily identify and connect with the most relevant leads for your business.
What are the differences between inbound and outbound lead generation?
Inbound and outbound strategies are two different approaches to generating leads for your business.
The difference is… 👇
Inbound generates leads organically. B2B marketers create quality content, optimize for SEO, and engage customers through social media.
Outbound involves contacting leads through cold calling, emailing, and social selling. Sales teams initiate contact and generate interest in your products or services.
What are the latest trends in lead generation?
B2B lead generation strategies evolve constantly.
Here are some of the latest trends to keep an eye on. 👀
Personalization. Customize your marketing messages and content based on individual preferences and behaviours.
Interactive content. Use quizzes, polls, infographics, and other interactive formats to engage leads and collect valuable data.
Video marketing. Leverage the power of video for storytelling and presenting content in a visually appealing way.
Chatbots and AI. Use AI-powered chatbots to provide instant support and capture leads' information.
Influencer marketing. Collaborate with influential individuals in your industry to expand your reach and generate leads.
How do I measure the success of my lead generation efforts?
Measuring the success of your lead generation efforts is key to understanding the effectiveness of your strategies.
The key metrics you should consider are:
Conversion rate. The percentage of leads that take action, such as purchasing or filling out a contact form.
Cost per lead. The average cost of acquiring a single lead.
Return on investment (ROI). The financial return generated from your lead generation activities compared to the investment made.
Lead-to-customer conversion rate. The percentage of leads that convert into paying customers.
Website traffic and engagement. Monitoring the number of visitors to your website and their interactions with your content.
Lead quality. Evaluating the lead quality based on demographics, interests, and level of engagement.
Try Kaspr for free
There are many lead generation techniques out there.
But what really makes a difference is having an all-in-one prospecting tool like Kaspr. Sign up for free.
Join the 40K+ Kaspr users:
✅ No credit card is required to sign up.
✅ GDPR and CCPA aligned.
✅ 120m+ email addresses.
✅ 90m+ phone numbers.
✅ All-in-one prospecting tool.
✅ Fully self-service.
✅ Customizable plans.
INBOX INSIGHTS
Quick-to-read tactical advice and tool suggestions straight to your inbox.
Kaspr offers you the best way
to reach your customers