Inaccurate data getting you down? Here are the generation companies who can help. 👇
Buy B2B leads from these companies
1. Kaspr
4.4/ 5 on G2 🌟
Kaspr's database and Chrome Extension retrieves accurate phone numbers and emails in real-time. You can then manage relevant leads within the Kaspr dashboard, on LinkedIn or export contacts to your platform of choice.
👻 It's completely free to get started with Kaspr. Sign up now.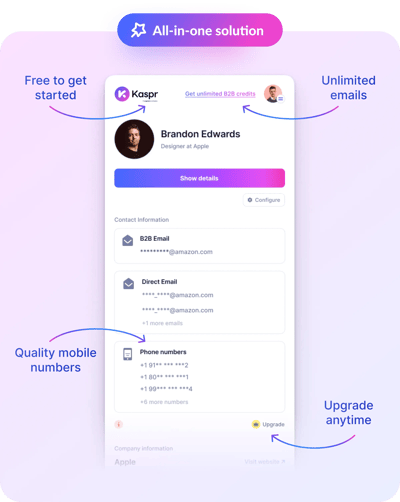 What users love about Kaspr is:
The option of a free plan.
How easy it is to set up and use.
GDPR and CCPA aligned and accurate data.
Huge B2B contact database (500M+ phone numbers and email addresses).
Unlimited B2B email addresses.
With the freemium version of Kaspr, you get credits to spend on:
Revealing prospect contact details.
Leveraging insights and analytics on potential leads.
Sharing fresh leads' contact info with your team.
Organizing qualified leads within the platform.
Exporting contact information for further use.
Paid plans start from €45 a month, roughly $49, for access to unlimited B2B email addresses and a host of more helpful features.
2. Cognism
4.7/5 on G2 🌟
Cognism promises high-quality, international sales intelligence for tech companies. Their 98% accurate human-verified mobile data generates 7x more conversations compared to alternatives.
Other benefits include:
Unrestricted access to person and company-level data (subject to fair use policy).
GDPR & CCPA compliant data.
Insight into prospects that are ready to buy with intent data powered by Bombora.
Cognism doesn't offer pricing tiers on their website. They customize their packages based on your company's needs. The good news is any data set in your package doesn't have the usual credit restrictions.
3. Apollo.io
4.8/5 on G2 🌟
Apollo is an intelligence platform that covers the whole buyer's journey. You can discover potential customers, connect with them and build a relationship all in one place.
Apollo's selling points include:
A B2B database of 260M contacts and 60M companies.
The ability to automate outbound outreach.
A simple set-up and easy-to-use interface.
AI-powered workflows.
The free version includes features like sequence automation and up to 250 emails per day. Their paid plans start from $39 per month, with more credits for email sending.
4. Uplead
4.7/5 on G2 🌟
Uplead have a diligent vetting process. They work with customers like Google, Dropbox, and Amazon and offer various data enrichment as well as email addresses.
Some of their biggest selling points are:
135M B2B contacts and 16M company profiles.
Intent data from customers who're searching for solutions.
Over 50 search criteria so you can find the right prospect for you.
Uplead offers a free test drive that includes 5 credits to spend on things like:
User data.
Verified emails and numbers.
Data enhancement.
Competitor intelligence.
Their paid plans start at $74 per month and offer 2,040 credits annually. (That's 170 credits a month.) Extra credits cost $0.60 a pop.
5. ZoomInfo
4.4/5 on G2 🌟
ZoomInfo has a global network of over 220 million contacts where you can buy all the leads you need. Their software can also help you scale and automate other aspects of your outbound marketing.
More benefits of ZoomInfo include:
Real-time insights with 1.5 billion new data points processed daily.
Connect sales and marketing teams in one channel, enhancing lead engagement and conversion rates.
Key lead information like sales engagement data, data orchestration, and conversation intelligence.
As Zoominfo is a tool aimed at larger businesses with multiple SDRs, they keep most of their pricing information under wraps. There is a free trial for ZoomInfo for 14 days.
6. BuiltWith
4.3/5 on G2 🌟
BuiltWith can help you profile the tech stack of a prospect, or find prospects based on their past and present tech usage. Understanding your prospect in this intimate way gives you a competitive advantage and can help you buy more qualified leads than ever before.
Key features of BuiltWith include:
Access to data from website-based leads.
Predict future leads based on technology usage history going back 23 years.
Insight into your existing leads' technology usage and spending.
The ability to determine websites with low, medium, and high-tech budgets.
BuiltWith is only free to use for individual site lookups. If you want to use it more frequently for prospecting, prices start at $295 per month.
That will include features like:
Unlimited report downloads.
Excel and CSV exports.
Trends and technology history of specific companies.
Contact names, emails, and titles of individuals associated with the business.
Multiple integration features.
7. SalesIntel
4.4/5 on G2 🌟
SalesIntel helps you find high-intent companies and get in contact with key decision-makers. They fuel their business intelligence through a combination of automation and a huge global team of researchers.
Some plus points of SaleIntel include:
Account intelligence that gives you access to decision-makers.
Search filters like company size, revenue, employee count, location, funding, and more.
Intent data that help you pinpoint the right person, company, and time.
SalesIntel promises a no credits system. Instead, it has unlimited leads. There is also a free trial so that you can go with the product.
All pricing information is bespoke to the individual or company' needs. So you'll need to schedule a call with a sales representative to discover what's on offer.
8. Lusha
4.3/5 on G2 🌟
Lusha helps sales, marketing, and recruitment teams identify likelihood to buy signals. They promise an easy set-up and a frequently refreshed database of contact information.
With Lusha, you can:
Identify a company's "likelihood to buy" based on behavioral signals.
Job change filter and alerts for your contacts.
Tech filters let you target companies based on their current tech stack.
You can test drive the free version of Lusha with 5 credits and gain access to:
Direct phone numbers.
Landline phone numbers.
Email addresses.
Their basic prospecting platform.
Their basic Chrome Extension.
You can upgrade to their paid pro plan for as little as $29 per user per month. This adds features like list export and team management.
9. Lead 411
4.5/5 on G2 🌟
Lead411 pledges that their verified emails are 96% accurate. They also claim to offer the industry's most B2B direct phone numbers.
Lead411 benefits include:
20M business profiles worldwide.
Targeted filters and growth intent data.
Bombora intent data can help find warm prospects.
They recommend their Basic package at $99 per month for individuals. If you want access to their Bombara intent data you'll have to sign on for a bespoke annual package.
For a single user, they also offer a free trial package that offers 50 "unlocks" for you to spend.
As well as:
100% verified emails.
Mobile direct dials.
Data enhancement.
Competitor intelligence.
CRM integration.
10. EasyLeadz
4.6/5 on G2 🌟
EasyLeadz focuses on phone numbers to help you connect with key decision-makers. Their flagship product Mr. E is a straightforward generation tool that extracts contact numbers. Meanwhile, their Easy Prospect goes beyond LinkedIn to help you prospect SMEs in India that don't have online profiles.
The plus points of EasyLeadz include:
More than 170,000+ businesses trust EasyLeadz.
Instant finding of direct contact numbers of professionals.
Delivers quality SME & MSME leads from sources other than LinkedIn.
Their free plan gives you five credits to play around with features like:
Email addresses.
Direct and landline phone numbers.
Basic prospecting platform.
Basic Chrome Extension.
Their paid plans start from $32 per month. It gives you 40 credits and access to handy features like bulk upload and easy prospect.
11. Dealfront
4.3/5 on G2 🌟
When Germany's Echobot and Finland's Leadfeeder merged, Dealfront was born. A combination of algorithms and application data helps you prospect companies who visit your website.
Some huge plus points of Dealfront include:
Compliance with Europe's strict GDPR laws.
Exact behavior of companies that visit your website.
Huge unique database of static and dynamic IPs.
A limited free version of Dealfront exists but only has data from the last 7 days. The basic version of Dealfront starts at $199 per month and includes 2,500 credits annually.
12. LeadIQ
4.3/5 on G2 🌟
LeadIQ helps you find accurate prospect data as well as track what triggers a sale. It can help you personalize your approach to a prospect by understanding exactly what they're looking for.
Other key features include:
GPDR and CCPA alignment.
Patented AI technology.
Elimination of manual parts of prospecting.
The ability to scale personalized outreach.
Their free version includes:
15 verified emails per week.
10 email generations per week.
10 accounts tracked.
Those numbers jump up into the hundreds and share phone numbers on their paid plans. The lowest cost option comes in at $75 per month.
13. Seamless.AI
4.2/5 on G2 🌟
Seamless.AI uses an AI-powered search engine to find verified phone numbers and email addresses.
Other benefits include:
Buyer intent data so you can discover who's currently in the market.
Job change notifications so you know when to reach out to contacts.
Free browser extension.
Their free trial comes with 50 credits for you to try out features like:
Their paid options start at a basic tier for $147 per month, which gives you 250 credits per month and pitch intelligence data.
14. Crunchbase
4.5/5 on G2 🌟
Crunchbase thrives when it comes to accurate funding and founder information. Their brilliant data is a result of strong relationships with various investor firms.
Other Crunchbase strengths include:
Over 6 billion data contributors every year.
The ability to connect with individuals via Crunchbase.
Funding data filters.
Crunchbase operates on a freemium model, so anyone can access some of their data. You can also arrange a 7-day free trial of their starter subscription, which usually costs $29 per month. This gives you access to more data, the ability to 'watch' up to 1,000 companies, and import company lists.
15. Snov.io
4.5/5 on G2 🌟
Snov.io is Customer Relationship Management (CRM) software that helps you find, contact, and manage leads. Their automated outreach software can save you time whilst integrating with your current tech stack.
Selling points of Snov.io include:
Just how many integration options there are - over 2000!
How it streamlines your tech stack by offering multiple functionalities.
Email validation software stops you from searching for dead-end leads.
They offer a forever-free, renewable plan that has 50 monthly credits. Their paid plans start at $39 per month, which ups your spending limit to 1000 credits.
FAQs about buying leads
Still have questions about how to find leads? Let's answer them. 👇
Where can I buy leads for my business?
To buy leads for your business, you can use:
Lead generation software (

like Kaspr

).
Mailing list providers.
Online advertising platforms (like Google Ads).
Freelance lead generation experts.
When buying leads, remember you're still the expert on your company. Only high-quality, relevant, and legally sourced leads are useful. So make sure you do your due diligence about a company before you buy any leads.
How much do leads cost to buy?
The cost of buying leads will depend on:
The industry in question.
The quality of a lead.
The source of the lead.
The number of leads needed.
Lead prices can range from a few cents to several dollars per lead. High-quality and exclusive leads tend to be more expensive. Particularly in industries with high competition or specialized niches.
It's important to note that while buying leads can be an effective way to get customers, the quality and conversion rates of leads vary. Check the cost-effectiveness and potential return on investment of other marketing costs before purchasing leads. You can also keep track of how well they perform over time.
What are the legal considerations when buying leads?
When buying leads, it's important to think about legal considerations like:
Data protection and privacy laws.
Consent and opt-in processes.
Anti-spam laws.
Do-not-call lists.
When it comes to data protection, in the EU there's GDPR, and in California there's CCPA. In the US, there's also the CAN-SPAM Act, a law that gives recipients the right to have you stop emailing them. Be aware that it doesn't just apply to bulk emails, but to individual emails as well.
You may want to consult with legal professionals to understand how these laws can impact your outbound marketing tactics.
How to evaluate the quality of leads before purchasing?
To evaluate lead quality, first define your ideal customer profile so you know what you're looking for. Choose a lead provider that verifies their data. It's also worth considering a platform with business intelligence data that will help you identify warm leads.
Try a lead scoring system on a small sample of leads before committing to a larger purchase.
Consider factors like:
Leads per month.
Target market relevance.
High-quality leads.
Low-quality leads.
Kaspr's free version would be a great way of starting this process and finding the leads of your dreams!
Kaspr means you can buy leads for free
Try Kaspr for free today. Sign up now.
Join 50K+ companies that use Kaspr without paying a penny.
✅ No credit card is required to sign up.
✅ GDPR and CCPA aligned.
✅ 500M+ Phone numbers and email addresses.
✅ 200M+ Business profiles.
✅ All-in-one prospecting tool.
✅ Fully self-service.
✅ Customizable plans.
INBOX INSIGHTS
Quick-to-read tactical advice and tool suggestions straight to your inbox.
Kaspr offers you the best way
to reach your customers