Sales reps keeping up with buyer behavior are using new strategies to generate leads. 💡
LinkedIn is one of the ways reps can create unique value to offer the client something they can't get anywhere else. This is all part of a value-based approach, which is crucial for selling today!
So, let's explore how to generate leads on LinkedIn.
5 LinkedIn lead generation strategies
Consider trying these five strategies to start using LinkedIn to get high-quality leads.
1. Leverage automation
You can save time by using automation on LinkedIn to generate qualified leads.
And not just with accessing contact details. Ever thought about automating your LinkedIn outreach?
Some sales prospecting tools (like Kaspr 😉) have workflows built in. This means that you can build out a cadence for sending connection requests.
After the connection request step, you can use data enrichment if the request isn't accepted. This means you can continue to outreach your potential prospects through other channels.
👻 Top tip: If you need help getting access to contact details, why not try Kaspr for free?
2. Individual LinkedIn profile optimization
Another must-do is to optimize your profile. No surprises here. 😎
You need to update six key areas of your LinkedIn profile; let's look at each.
Your LinkedIn profile picture: This should be a clear, high-quality, and professional photo.
Your header image: Talk to the brand, design, or social team to see if there are social banners.
The headline section: Since this is one of the first things people see, keep it short.
The summary section: This is where you should write a quick bio, written in first-person.
The featured section: Highlight your highest-performing LinkedIn posts and company page content.
The experience section: Include achievements, responsibilities, duties, and projects you're proud of.
All this good stuff feeds back into your LinkedIn social selling index, so keep your profile up to date!
3. Engage with your target audience
Next, let's look at how to increase the engagement level with your target audience. This should be your ideal customer profile (ICP).
On LinkedIn, you can filter and find them using:
Lists.
LinkedIn posts.
LinkedIn Events.
A relevant LinkedIn Group.
🔥 Use Sales Nav? Try these to make the best use of it: LinkedIn Sales Navigator tips
Once you've identified who you'd like to target on LinkedIn, start with a connection request. Always with a message attached. You could reference one of your key signals, like if the prospect has started a new job.
Remember, it's got to be about making genuine connections, you could try something like the example below. 👇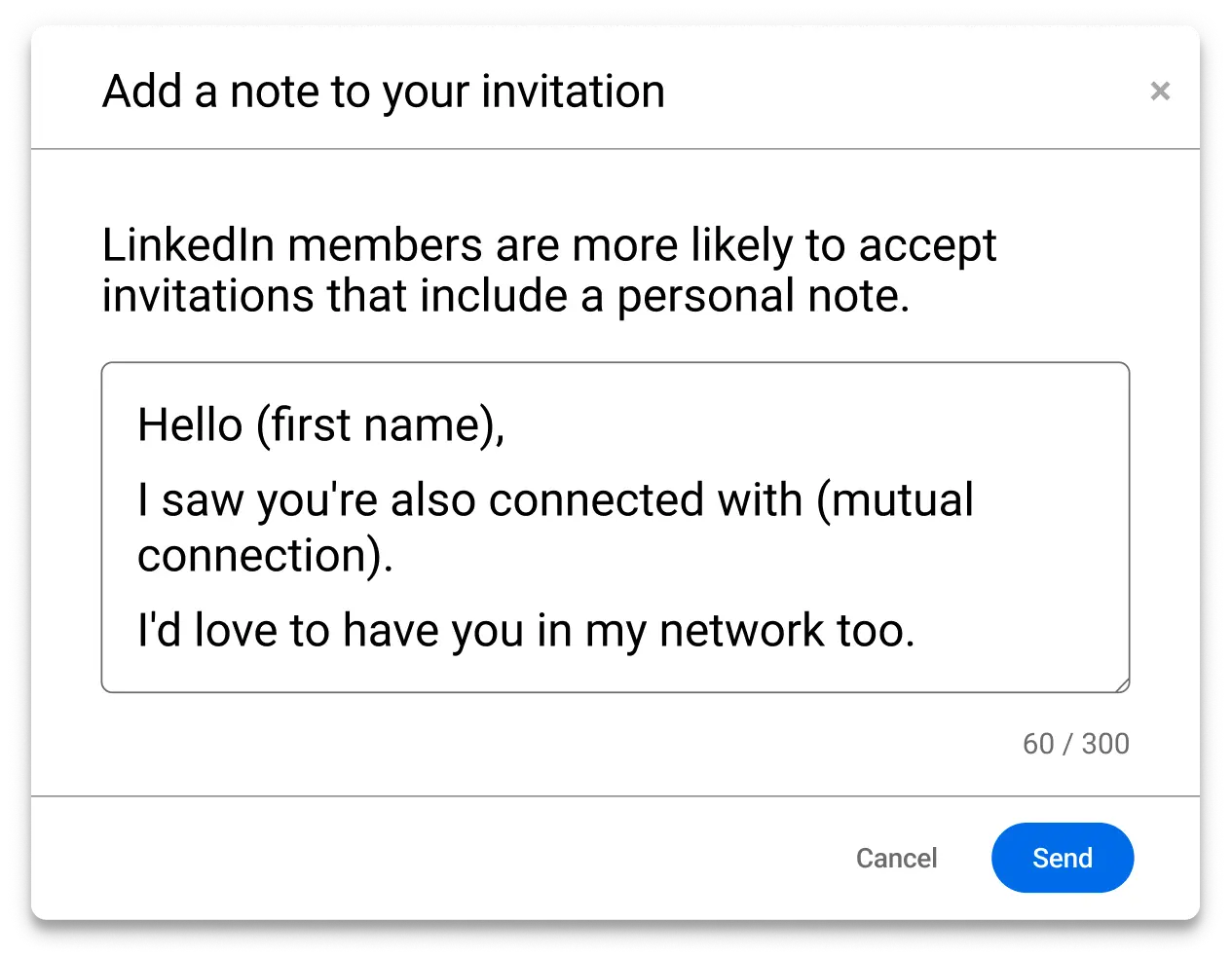 Focus on personalized engagement by liking and supporting posts on the prospect's LinkedIn profile. Ask an insight question, give authentic feedback, or provide support where appropriate.
Here are some ideas for what to do in different content post situations:
💡 Provide a genuine compliment: Acknowledge something positive about the post or the content. It shows you're interested in what they've posted.
Example: "Great insights! I like how you break down X concept into easy-to-understand points."
💡 Ask a thoughtful question: Engage the prospect by asking a question related to their post. This shows your interest in their current approaches.
Example: "I found your perspective on [topic] interesting. How do you think [recent development] will impact [industry]?"
💡 Share relevant experiences or insights: If you have relevant experiences or insights related to the post, share them. This helps show your credibility and builds trust.
Example: "I faced a similar challenge in my previous role and found that implementing [strategy] overcame it. Have you considered exploring that approach?"
💡 Offer more resources or suggestions: If you have resources or suggestions that complement the prospect's post, share them. This provides value that they might not get anywhere else.
Example: "Thanks for sharing these tips! I recently came across an article that expands on [point mentioned]. It might be of interest to you: [link]."
4. Create your own content
It's time to start creating your own quality content!
Building a personal brand on LinkedIn makes you stand out from a list of connection requests.
So what should you talk about? Well, here are a few ideas. 👇
Topics that align with your expertise. Focus on topics that align with your professional expertise, skills, and industry knowledge. This means you're always posting high-value content that speaks to your ICP.
Solve common challenges. As a rep, you're out speaking with potential customers all day, every day. There are likely to be pain points and common challenges you can use to talk about in your LinkedIn content.
Show yourself as a thought leader. You can share industry trends and take opportunities like going on podcasts.
Starting out can feel daunting, but consistency is always king. It's important to get into a routine. Play around with different posting times and see when you get the most engagement.
Here are a few post ideas:
An introductory post of who you are.
An honest and authentic "this is my first post" post.
Asking thoughtful questions.
Sharing a method you tried and what you learned at the end.
An "unpopular opinion" post.
5. Set KPIs and a daily game plan
Finally, set specific KPIs and make a game plan to use daily.
For example, aim to send several connection requests daily or leave five meaningful comments on your prospects' posts. A KPI you may have is how many comments or reactions you'd like to receive on your next post.
Here's an example of what your game plan might look like. 👇
Morning Routine:
Review notifications. Start your day by checking your LinkedIn notifications. Respond to messages, connection requests, and comments on your posts.
Engage with connections. Spend a few minutes engaging with your connections' posts. Comment on their content if it's relevant.
Explore relevant content. Look for industry-related content, articles, or news shared by others. It might spark some ideas to add to your content schedule.
Midday routine:
Share valuable content. Time to pick out a post idea from your deck. Try posting at different times to see what works best for you.
Respond to comments. Check the comments on your posts and respond to all of them.
Explore and connect. Spend time expanding your professional network. Don't forget to personalize your connection request!
Afternoon Routine:
Reach out to prospects already on your radar. These could be from your digital inventory of people you've done business with.
Review and respond to messages. Get into the routine of replying to your messages so everything gets noticed.
Reflect and plan. Reflect on your LinkedIn activities for the day. Assess what worked well and what to improve.
Prospecting on LinkedIn (step-by-step)
Time to roll up your sleeves. Follow this step-by-step guide to prospect on LinkedIn. 🤙
Know how to filter your lists
First, you'll want to filter your ideal target audience.
Here are the key filters you should use:
Past company.
Current job title.
Seniority level.
Industry.
Mutual connections.
A free individual LinkedIn profile has a monthly search limit of 1,000 profiles. That's 100 pages of 10 results.
Upgrading to one of LinkedIn's premium plans is the only way to overcome this limitation. But, if you can refine your searches using filtering, you can ensure that only relevant people appear.
If you're using Sales Navigator, you get unlimited searches. Plus, you can save your searches, up to 10,000 leads and 50 free InMail messages per month.
Consider saving these three types of searches:
People who have changed jobs in the last 90 days.
Previous company name.
Viewed your profile within the last 90 days.
LinkedIn will notify you of anyone who has entered this saved search since you checked.

Key signals to look out for
Still trying to figure out what signals to look out for? 👀
You need to look out for intent signals as part of your lead generation efforts. This data helps indicate potential interest or readiness to buy.
Important signals include:
Profile activity. Look for recent profile updates, like new skills, experiences, or accomplishments.
Someone starting a new role. This is a big one. If someone's started a new job, they'll be looking to make an impact once they get their feet under the table. Stay in contact with people you've closed deals with before.
Viewing your profile and engaging with your content. This shows that what you're posting is resonating.
Previous companies. When buying software, people are likely to suggest what they used at previous companies.
If the company has got funding.

A clear indicator that they might be open to buying a new solution.
Knowing what signals to keep an eye out for will help organize your approach and take ownership of your pipeline.
Building LinkedIn into your cadence
Adding LinkedIn to your cadence is what takes it to the next level. 📈
Try a connection request before making a phone call or sending an email. If it's still crickets, head to LinkedIn and use the voice notes and video capabilities.
This forms part of your multi-touch approach and helps you understand which channel the prospect is most receptive to. It also keeps you top-of-mind.
Here are some tips from Morgan J Ingram, Content Creator at Cognism. 🎬
LinkedIn messaging templates
For LinkedIn outreach, generic messages are a no-go. Let's look at what not to do and what you should do instead.
What not to include in a LinkedIn message
For starters, here's an example of what not to do in your InMail content. 👇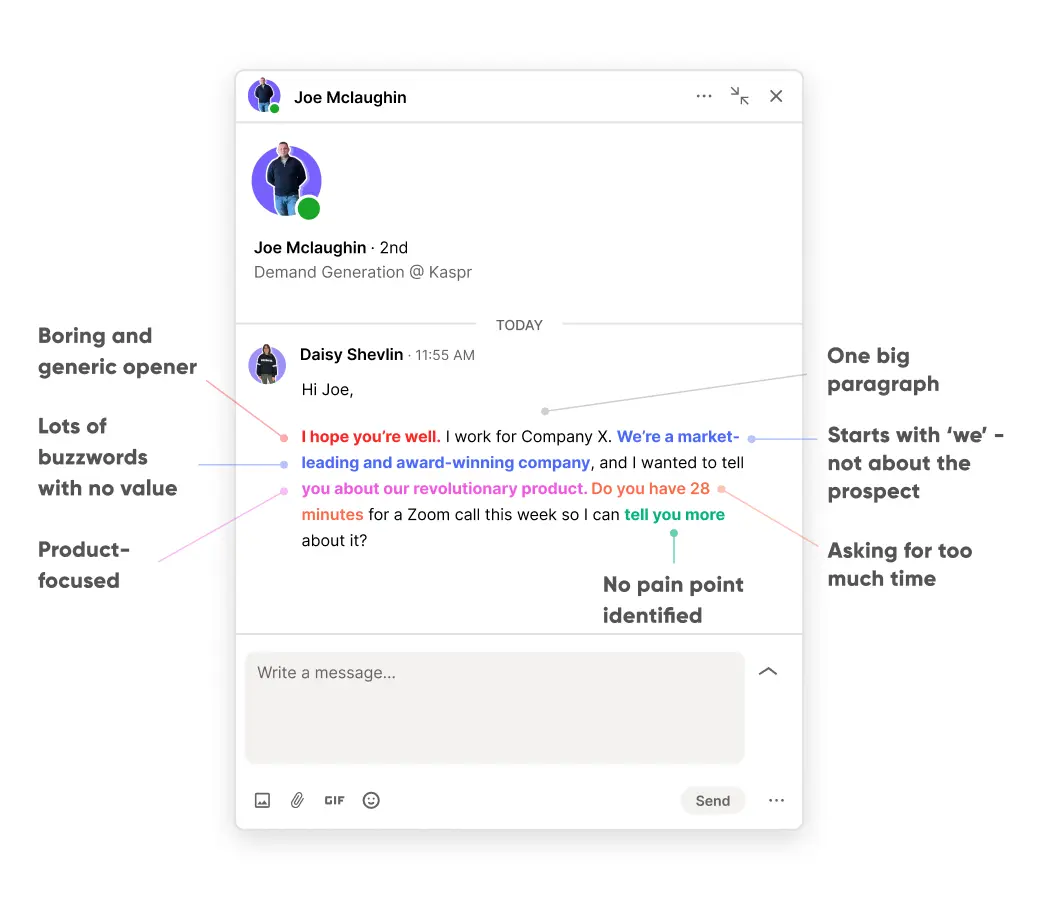 This message has some tried-and-true elements you'll want to avoid:
A boring opener that doesn't stand out.
The message is written in one big, clunky paragraph.
It's filled with buzzwords with no value or information.
It starts off with 'we', meaning the prospect isn't the focus.
It's product-focused and doesn't foster a relationship.
It's asking for a long time commitment.
It doesn't tell the prospect what pain point they can solve.
Started a new role message
Now that you know what to avoid, let's look at a personalized message that could be a great opener when someone has just started a new role. 👇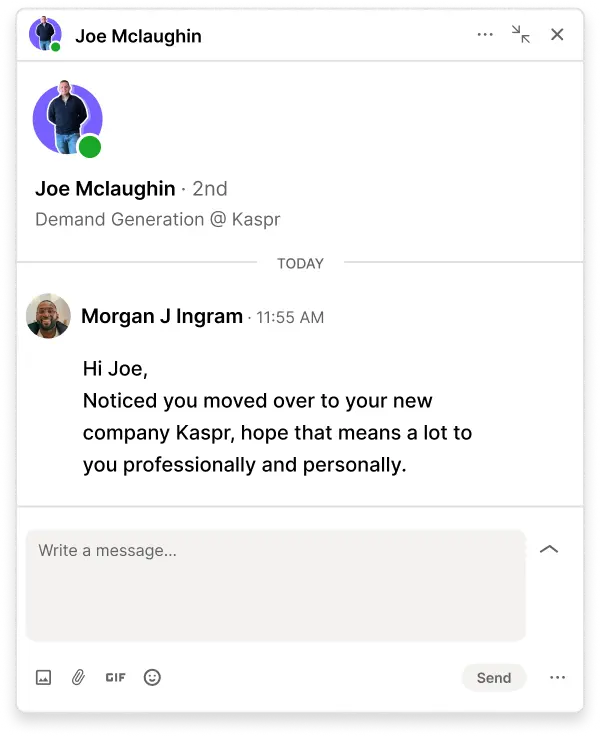 You'll see here that the message is short, light, and genuine. It's not asking for anything. A great way to get your name in front of the prospect at a pivotal moment.
Digging for info message
Another great message to consider digs for some information. 👇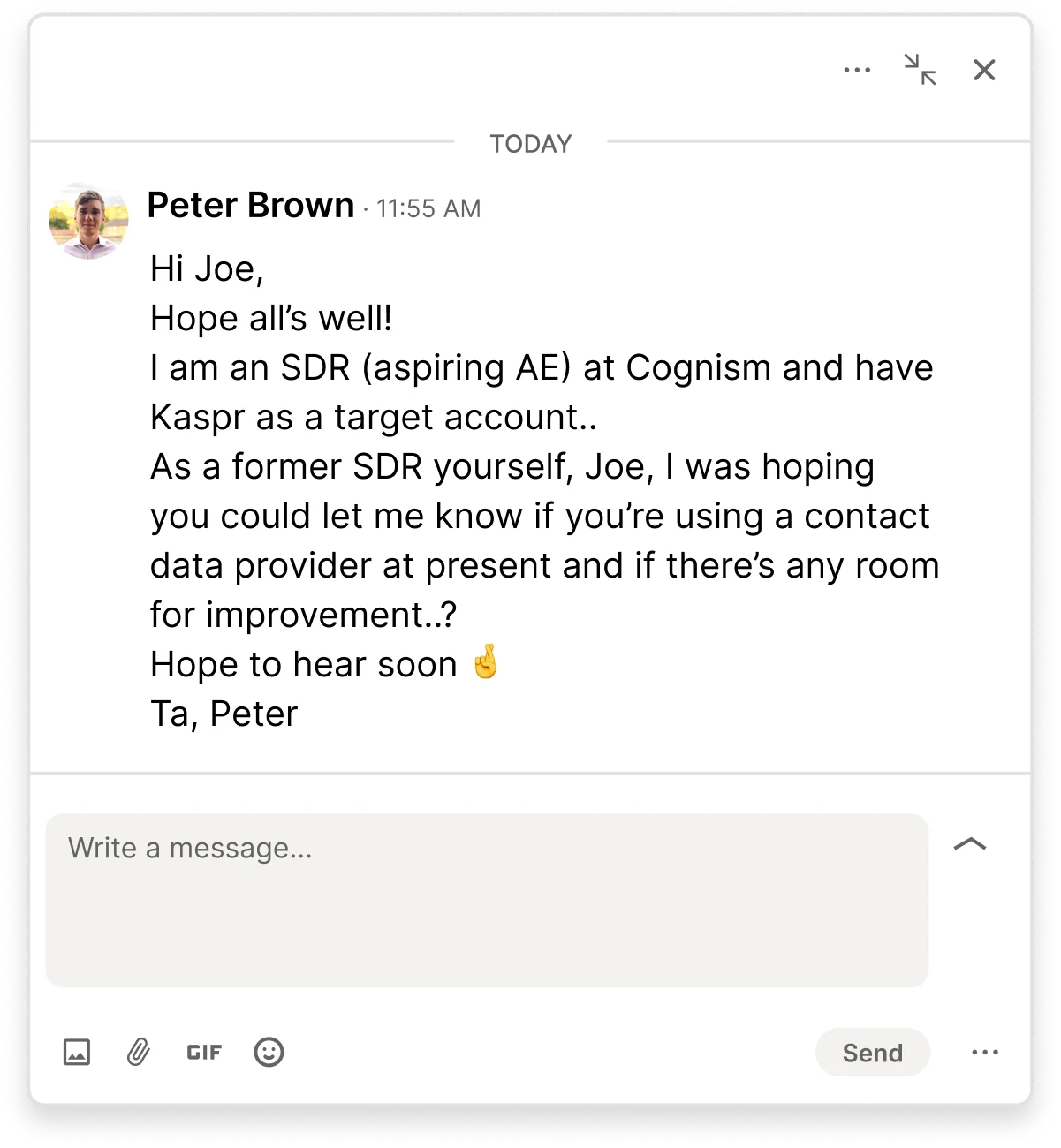 Here, the rep introduces themselves and points out a similarity between them. Then they ask a simple question to get the conversation started.
Lead generation tools on LinkedIn
The good news about lead generation on LinkedIn is that you don't have to do all the heavy lifting yourself. These tools all help make the life of a rep easier.
Kaspr:

With a LinkedIn Chrome Extension and dashboard, Kaspr accesses contact data. And has outreach automation capabilities to send connection requests and messages. It also works on LinkedIn Sales Navigator and LinkedIn Recruiter Lite. Plus, there's the ability to get data from a LinkedIn Group, post, event or search.
Cognism: A sales intelligence tool that helps reps connects prospects most likely to buy. This tool has Diamond Data® mobile phone number accuracy and GDPR compliance.
Lusha: This go-to-market intelligence platform is for sales, recruiting, and marketing teams. Lusha uses advanced filters to build contact lists and enrich your entire CRM.
Apollo: From enriching current leads to finding new ones, Apollo's contact database has sales reps covered.
ZoomInfo: This database offers B2B leads, intelligence and purchasing intent data about companies and contacts.
Closing thoughts
LinkedIn is a must-use tool to generate leads. It's also crucial for value-based selling and positions sales as a channel offering something others don't.
Key takeaways for how to generate leads on LinkedIn:
Use automation tools. Like Kaspr's Chrome Extension on your profile and LinkedIn Sales Navigator.
Optimize your LinkedIn profile. It helps make a good first impression and builds towards your social selling index score.
Engage with your ICP. But keep it natural and never forced. Remember, your LinkedIn outreach should pique interest.
Create your own quality content. Stick to topics that interest your target audience, solve common challenges and position yourself as a thought leader.
Set KPIs and establish a daily plan for your own content. You'll be able to see what's working.
Never send a generic, cookie-cutter message.

Remember, spray and pray is dead, so always personalize messages.
Try Kaspr for free
Generating leads on LinkedIn becomes straightforward and simple with Kaspr.
Get access to accurate contact information in one click, sign up free today!
Join the 40K+ Kaspr users:
✅ GDPR and CCPA aligned.
✅ 120m+ email addresses.
✅ 90m+ phone numbers.
✅ All-in-one prospecting tool.
✅ Fully self-service.
✅ Customizable plans.
INBOX INSIGHTS
Quick-to-read tactical advice and tool suggestions straight to your inbox.
Kaspr offers you the best way
to reach your customers