Here's a list of the top lead generation software out there! Plus, tools that support lead gen next steps or add creativity into prospecting to help you generate leads. 👇
Now let's look at each one in more detail.
20 of the best lead generation software for SDRs
1. Kaspr
4.4/5 on G2 ⭐
Kaspr is an outbound lead generation tool for SDRs and recruiters. Users can reveal contact details in just one click by browsing for prospects on LinkedIn, Sales Navigator or Recruiter Lite.
As an all-in-one prospecting tool, Kaspr helps to generate leads by giving you access to mobile numbers and email addresses. In the dashboard, you can enrich your data, send emails, automate outreach and organize your saved leads.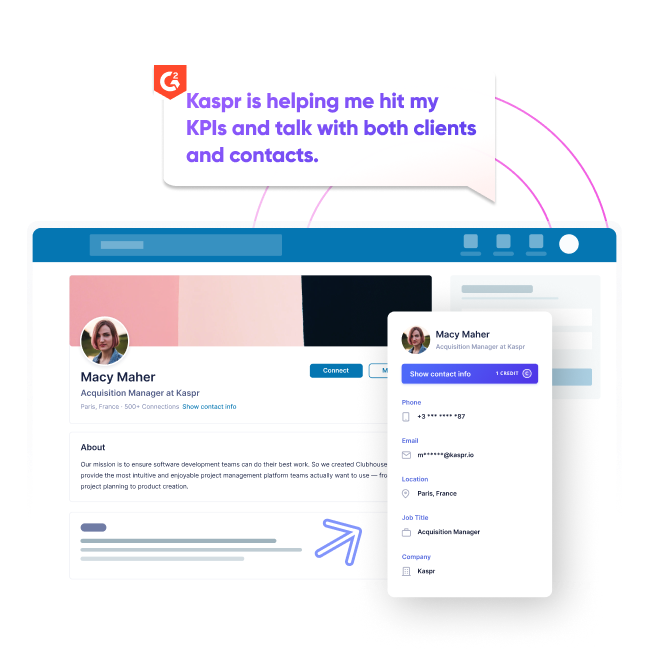 Companies like Visibly HQ have used Kaspr to access accurate and reliable contact data.
"All we care about is getting phone numbers,
so I also love that Kaspr previews what information I will get when I press reveal."
"That's amazing because it means your credits are actually valuable. Our BDR also hasn't complained about the number of leads once since using Kaspr, which used to happen daily!"
Andy Earnshaw
Chief Customer Officer at
Visibly HQ
Top 3 features:
Web scrape data

from the public domain.
Enrich data with Kaspr's database of contacts.
Automate outreach and bulk export with workflows.
Free trial:
Yes, with access to unlimited B2B email addresses forever!
Pricing:
Pricing for Kaspr starts from €45 per month.
2. Cognism
4.7/5 on G2 ⭐
As a leading sales intelligence solution, Cognism provides contact details that are GDPR compliant.
Unlike many B2B data providers, Cognism can provide 98% mobile phone number accuracy with their Diamond Data® functionality. There's great international coverage to break into markets like EMEA, NAM and APAC.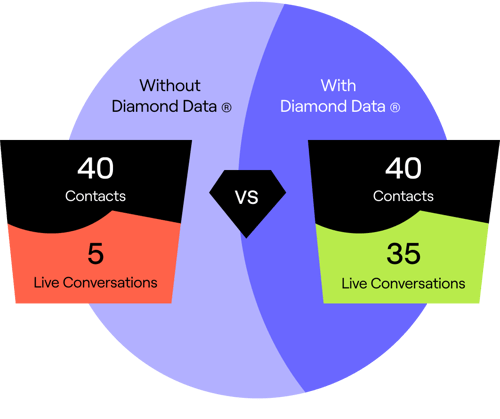 Top 3 features:
Diamond Data®, manually verified mobile numbers.
Intent data signals to identify who is ready to buy.
GDPR compliance by checking Do Not Call (DNC) lists in multiple countries.
Free trial:
Pricing:
Tailored packages, so pricing is available on request.
3. Pipedrive
4.2/5 on G2 ⭐
Pipedrive is a CRM and sales pipeline management software. With it, you can set up the stages of your sales funnel, track progress with alerts and review analytics to help identify more opportunities.
There's a range of features, and you can add more to the list if you get the right add-ons for your plan.
Top 3 features:
A total visual of your sales pipeline.
Activity reminders to stay on top of closing deals.
A detailed reporting dashboard where you can track goals.
Free trial:
Pricing:
Starts from £14.90 per user per month.
4. HubSpot Sales Hub
4.4/5 on G2 ⭐
The HubSpot Sales Hub provides SDRs with a CRM platform and engagement tools. With it, you can manage your pipeline, send emails, and track where leads are in the sales process.
There are core features like a meeting scheduler, secure payments and live chat to support both sales and marketing teams.
Top 3 features:
Advanced CRM platform and sales engagement tools.
Integration with over 1,400 tools.
Reporting and analytics.
Free trial:
Yes, free forever with a limited number of features.
Pricing:
Starts from $45 per month.
5. Mailchimp
4.3/5 on G2 ⭐
Mailchimp is one of the top email marketing and automation platforms out there. It helps users align with the buyer's journey by setting up email triggers based on customer behavior.
Pre-built journeys help to cross-sell more, re-engage existing customers and discover new ones.
Top 3 features:
Automation in line with the customer journey.
AI and analytics to help review performance.
Integration with core tools, including Zapier, Eventbrite and Canva.
Free trial:
Yes, with pre-built email templates.
Pricing:
Starts from £10.30 per month.
6. Brevo
4.5/5 on G2 ⭐
Brevo (formerly Sendinblue) is a lead generation software that helps to create opportunities across email, SMS and chat.
It has deal tracking, pipeline management, automation, and customer insights for sales. This means you can keep track of everything in one place.
Top 3 features:
Automate repetitive tasks like meeting reminders and follow-ups.
Track opportunities at every stage with pipeline management.
Book meetings and video conferencing tools.
Free trial:
Yes, free plan with 300 emails/day and more.
Pricing:
Starts from £16 per month.
7. Vidyard
4.5/5 on G2 ⭐
Vidyard helps you create and share personalized videos as part of your B2B prospecting. This helps SDRs to:
Send sales videos that stand out in the prospect's inbox and get replies.
Easily share demos and walkthroughs to guide the buyer to a decision.
Reduce back and forth.
Record video handoffs to introduce qualified accounts to AEs.
There are also many ready-to-record video templates to get the creative juices flowing. You'll be generating more leads in no time!
💡 Want more B2B prospecting ideas?
Top 3 features:
Easily send videos by email, LinkedIn and many more.
See the analytics to know who's watching.
Video CTAs for next steps.
Free trial:
Yes, with up to 25 videos in your library.
Pricing:
8. Chili Piper
4.6/5 on G2 ⭐
Revenue teams use Chili Piper to book meetings with prospects to generate leads faster. It's a booking platform that helps you to route leads from your web form, send leads to the right rep and automate handoff processes.
Top 3 features:
Ability to route leads from your website forms.
One-click meeting scheduling.
Automate handoff processes.
Free trial:
Pricing:
Starts from $15 per user per month.
9. Sales Navigator
4.3/5 on G2 ⭐
LinkedIn Sales Navigator is often a core prospecting platform for any sales rep. It's an excellent B2B lead generation tool with easy browsing and list-building capabilities.
Unlike on the free version of LinkedIn, you can build out saved searches, save lists and create new contact alerts whenever new qualified leads meet your set criteria. There are 40+ advanced search filters to help you prioritize your target accounts.
💡 Need some tips for using Sales Navigator?
Top 3 features:
Teamlink feature, which helps you find prospective customers through your network.
Advanced search filters to find the right people.
New contacts feature to notify when new prospects meet your filters.
Free trial:
Pricing:
Sales Navigator Core starts from $79.99 per month.
10. Adobe Marketo Engage
4.1/5 on G2 ⭐
Adobe Marketo Engage is a marketing software that helps warm up leads with email automation and much more. Revenue teams use it to attract, nurture and segment potential leads.
With Adobe Marketo Engage, you can complete various tasks, including measuring multi-touch attribution, sending highly personalized emails and automating nurture streams.
Top 3 features:
Advanced lead generation with cross-channel experiences.
Highly personalized marketing emails.
Dashboard to measure multi-touch attribution.
Free trial:
Pricing:
11. Unbounce
4.4/5 on G2 ⭐
Landing pages are a key lead generation tactic. Unbounce is an AI-powered landing page builder with features that help marketing teams create them in just a few minutes.
With optimized landing pages, teams can generate more leads from paid channels like Google Ads, sponsored LinkedIn content, and outbound channels like marketing email campaigns.
Unbounce also means users can easily add functionality to their pages without dev work. It's a no-code solution.
Top 3 features:
Use AI to streamline campaign creation.
Drag and drop landing page builder.
Dynamic Text Replacement (DTR) for paid marketing campaigns.
Free trial:
Pricing:
12. ActiveCampaign for sales
4.5/5 on G2 ⭐
ActiveCampaign provides users with different sales automation. This means you can close more deals and save time on manual processes.
The actions you can do in ActiveCampaign include managing your pipeline, automated task assignment and email outreach. There are also 900+ app integrations to keep your other sales tools up-to-date.
Top 3 features:
Automated task assignment for subsequent sales actions.
Send personalized email outreach.
Track interactions and where each lead is in the sales pipeline.
Free trial:
Pricing:
Starts from $19 per month.
13. UpLead
4.7/5 on G2 ⭐
UpLead is another prospecting tool that helps users find quality leads. 50+ search filters help uncover profiles matching your ICP.
There's also intent data to find customers actively looking to buy your solution. This means users can identify and engage buyers who want to purchase before competitors do.
Top 3 features:
Accurate contact database.
Data enrichment.
Integrations with popular CRMs and other sales apps.
Free trial:
Pricing:
14. Lusha
4.3/5 on G2 ⭐
Lusha provides data through its browser extension and web app. Users can quickly and easily find the contact information of the people they'd like to do business with. Lusha also provides details like job titles, company names, and social media profiles.
This can help sales reps gather valuable insights about their prospects and tailor outreach efforts accordingly. Lusha gets its data from various sources, including public records, professional networking sites, and partnerships with data providers.
Top 3 features:
Verify contact details with Lusha's data.
Chrome Extension for extracting contact details.
Integrate with various CRMs and sales tools.
Free trial:
Pricing:
Starts from $29 per user per month.
15. Leadpages
4.3/5 on G2 ⭐
Leadpages is a conversion software for easily creating high-converting landing pages, websites, and pop-ups. It provides various tools and features to help users generate leads, increase conversions, and grow their customer base.
With Leadpages, users can choose from professionally designed templates or create custom landing pages from scratch using a drag-and-drop editor. These landing pages are optimized for lead generation and are typically used to capture email addresses, promote products or services, run webinars, and more.
Top 3 features:
A/B testing to trial different landing page variations.
Create pop-ups.
User-friendly editor and templates to choose from.
Free trial:
Yes, with a 14-day free trial.
Pricing:
Starts from $37 per user per month.
16. Agile CRM
4.0/5 on G2 ⭐
Agile CRM is a customer relationship management software. The platform streamlines customer relationship management by providing tools for contact management, lead scoring, email marketing, social media integration, project management, and more.
It combines marketing, sales, and customer service automation into a single platform for the user.
Top 3 features:
Analytics to track success.
Social media integration for engagement with customers.
Lead scoring and workflow automation.
Free trial:
Pricing:
Starts from $8.99 per user per month for 2 years.
17. Keap
4.2/5 on G2 ⭐
Keap is a CRM and marketing software specifically for small businesses. There are various features to manage customer interactions, automate marketing campaigns, and streamline sales processes.
The platform aims to centralize customer data and help outreach to customers with personalized messages.
Top 3 features:
Lead capture forms and scoring features.
Sales pipeline management.
Email marketing campaigns.
Free trial:
Pricing:
Starts at $159 per month.
18. Zoho CRM
4.0/5 on G2 ⭐
Zoho CRM helps its users manage customer interactions, track leads, automate sales processes, and streamline customer support.
The platform provides a centralized place where businesses can store and organize customer information, including contact details, interactions, and deals.
Top 3 features:
Sales automation for lead assignment and follow-up reminders.
Mobile access for iOS and Android devices.
Pipeline management to track the progress of deals.
Free trial:
Pricing:
Starts at £12 per user per month.
19. OptinMonster
4.3/5 on G2 ⭐
OptinMonster is a lead generation and conversion software that helps businesses convert website visitors into customers. It's a tool suite that captures leads, increases conversions, and grows email lists.
Businesses of all sizes and industries use the tool to increase website conversions and improve their lead generation efforts.
Top 3 features:
Forms optimized for mobile devices.
A/B testing to find out which page performs best.
Exit-Intent® Technology for when a user is about to leave a website.
Free trial:
No, but there is a 14-day money-back guarantee.
Pricing:
Starts from $9.99 per month.
20. Ortto
4.3/5 on G2 ⭐
Ortto is a marketing automation platform that helps users engage leads, manage customer data and map the buyer journey. It's got a suite of tools, including SMS marketing, in-app message creation and live chat.
Top 3 features:
Engage customers with multi-channel touchpoints.
Advanced segmentation options.
Customer journey analytics.
Free trial:
Pricing:
Lead generation tools FAQ
Now that we've been through some of the top lead generation software, let's answer some commonly asked questions.
How to use a CRM to generate leads?
Using a CRM is an effective way to generate leads and manage the process.
Here are some steps to use CRM for lead generation:
Capture leads: Set up lead capture forms on your website, landing pages, and other relevant touchpoints.
Qualify leads: Once leads are captured, it's important to qualify them to determine their level of interest and fit for your offerings. A lead scoring system can help with this.
Nurture leads: A lead nurturing campaign helps to engage buyers throughout the sales cycle.
Track interactions: Track both sales and marketing touchpoints in one place. A CRM means you can see every interaction with a lead.
Monitor and analyze: Leverage your CRM's reporting and analytics capabilities to monitor the performance of your lead generation efforts. Track metrics such as conversion rates and lead sources.
What software is used for lead generation?
There are a lot of tools and platforms used for lead generation. Here are some of the most popular ones to include in your tech stack.
Lead databases and sales intelligence
Software solutions such as Kaspr and Cognism provide access to extensive databases of contact details. These prospecting tools help businesses to find and target relevant accounts based on the user's ICP.
Customer relationship management (CRM) systems
CRM software like Salesforce, HubSpot, and Pipedrive include lead generation features and functionality. They help capture, manage, and nurture leads throughout the sales pipeline.
Marketing automation tools
Marketing automation platforms like Marketo, Eloqua, and Pardot provide lead generation capabilities. To generate and qualify leads, these tools automate marketing tasks, such as email marketing, lead scoring, and landing page creation.
Lead capture and form builders
Tools like OptinMonster and Unbounce help create attractive lead-capture forms and landing pages. They integrate with other marketing and CRM systems to capture and manage leads.
Web analytics tools
Tools like Google Analytics, Adobe Analytics, and Hotjar provide valuable insights into website visitor behavior and help identify potential leads. Businesses can optimize their lead generation strategies by analyzing website traffic and user interactions.
Content marketing platforms
Platforms like CoSchedule, Contently, and BuzzSumo help businesses create and distribute content to attract and engage leads. These tools assist in content planning, creation, optimization, and promotion for lead generation purposes.
Live Chat and chatbot solutions
Live chat tools like Intercom, LiveChat, and Drift allow businesses to engage website visitors in real-time conversations. Chatbots can automate lead qualification and capture information from potential leads.
Which platform is best for B2B leads?
Many platforms can help with generating, nurturing and converting B2B leads. But all-in-one prospecting tools are a great way to look for the whole lead generation process.
Kaspr is an all-in-one prospecting tool that helps users:
Find leads on LinkedIn.
Outreach to prospects with emails and LinkedIn outreach workflows.
Enrich data.
Manage the pipeline with tasks and notes for the next actions.
Sync data back to CRM systems.
Key features of Kaspr include:
Chrome Extension
For finding leads on LinkedIn. The Kaspr Chrome Extension is unique because users can extract contact data from profiles, lists, posts, events, and groups.
LinkedIn connection request workflows
Kaspr provides outreach capabilities too. Once you've found your lead, Kaspr supports multi-channel outreach with automated connection requests and subsequent LinkedIn messages.
API
Enrich your other systems using Kaspr's API. Kaspr will cross-reference your data with its GPDR and CCPA-aligned database.
Unlimited B2B email addresses
In all of Kaspr's pricing packages (including free 😉), there's the chance for the user to get access to unlimited B2B email addresses. All you need to do to get them on the free plan is invite three colleagues to join Kaspr. Once they're registered and onboarded, you'll get your unlimited credits.
Dial from Kaspr
No need to flit between apps. Kaspr provides dialing capabilities with Ringover and Aircall integration. Call your prospect as soon as you've extracted their phone number.
Try this lead generation tool for free
Start finding the contact details you need today. Kaspr is an all-in-one prospecting tool that you can use for free. Sign up now!
Join the 50K+ Kaspr users:
✅ No credit card is required to sign up.
✅ GDPR and CCPA aligned.
✅ Unlimited B2B email credits.
✅ 500M+ Phone numbers and email addresses.
✅ 200M+ Business profiles.
✅ All-in-one prospecting tool.
✅ Fully self-service.
✅ Customizable plans.
INBOX INSIGHTS
Quick-to-read tactical advice and tool suggestions straight to your inbox.
Kaspr offers you the best way
to reach your customers