Sales reps have a lot to balance. ⚖️
Luckily, there's outbound sales software for pretty much everything. From pipeline management to booking meetings.
Let's take a deeper dive. Here are the best tools out there!
Scroll at your own pace or use the menu below to jump ahead. 👇
11 of the best sales tools (rated by G2 and SDRs)
1. Kaspr
G2 score: 4.4 / 5 ⭐
Kaspr (yay that's us 👻) is an all-in-one prospecting tool that helps SDRs and recruiters with their lead generation.
With the use of Kaspr's LinkedIn Extension, you can retrieve GDPR and CCPA aligned phone numbers and emails directly from LinkedIn.
Once you've got your contacts, you can enrich the data and send it to your CRM with neat integrations. Or maybe even drop them into a LinkedIn cadence with invitations and InMails via the Kaspr dashboard to help automate your outreach.
Kaspr is great for:
Individual contributors and smaller teams
Integrations with tools like HubSpot and Lemlist
Looking for accurate contact data mainly on LinkedIn
Prospecting can be made easy, here's what some of our users on G2 say:
"Kaspr is a high-performance tool for retrieving the contact details of your prospects. After several years in sales, and the use of several tools, I wouldn't do without Kaspr."
2. Magical
G2 score: 4.8/5 ⭐
Magical is a free Chrome Extension that can help you automate repetitive tasks like messaging and updating your CRM. You can save your best outreach message templates to Magical and use the app to call them up anywhere in the blink of an eye - in your email, on LinkedIn, or wherever you're used to working.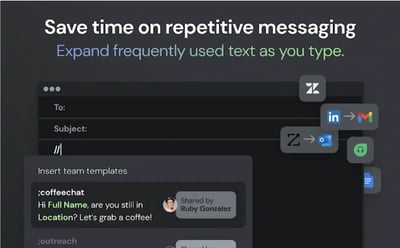 Magical will instantly personalize your templates and autofill placeholders like their name or job title, saving the average outbound sales rep about seven hours per week.
It's a B2B sales strategy that has proven so useful for some account executives that they've been able to boost sales by up to 10% by using the app.
Here's what a reviewer on G2 says:
"Magical will save you hours if you are still typing the entire message or copying and pasting any information. Magical allows you to create a trigger that does the typing for you. I can't imagine how much time this valuable tool has saved me."
3. Cognism
G2 score: 4.7 / 5 ⭐
Cognism is a sales intelligence software that helps revenue teams automate the prospecting process. You can easily pinpoint the best prospects with premium contact, company, and event information, like sales trigger events and intent data.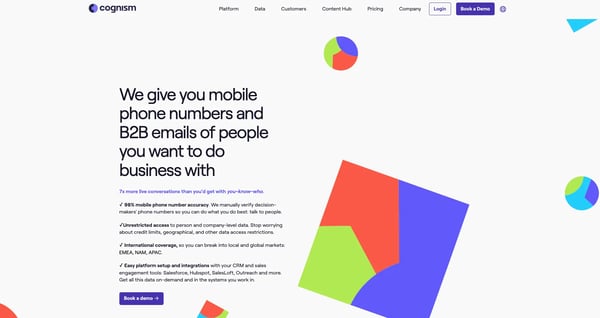 Cognism is great for:
Revenue teams
Supporting individual prospecting and list-building workflows
Prioritizing buyers with intent data (powered by Bombora)
Many sales teams reach quota with the help of Cognism's Diamond Data. One user on G2 says:
"Diamond verification has really improved the quality of my prospecting and that of my teams - pick-up rates are through the roof, as are conversions. The best tool on the market for gathering data on potential customers. Have used ZoomInfo, Lusha, and neither compare. The fact that you can request diamond verification of contacts means you can focus on reaching out to others while Cognism does the hard work of chasing down and verifying your key prospects."
4. Salesforce
G2 score: 4.3 / 5 ⭐
Salesforce is a CRM platform that is designed to be a start-to-end setup for the entire sales process.
It brings all customer information in one place, with plenty of app integrations and customization options.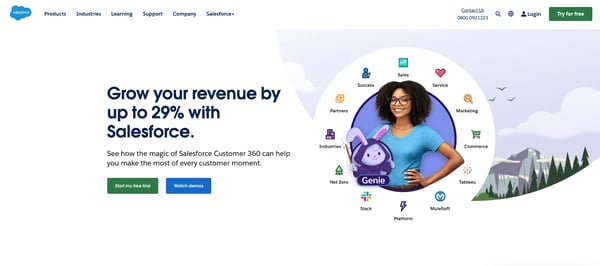 Sales leaders find Salesforce to be a great CRM solution for their teams.
One on G2 says:
"Salesforce is the easiest tool for tracking and updating data, collaboration, access to essential prospecting methods, and reporting! Our team would be lost without it."
5. HubSpot Sales Hub
G2 score: 4.4 / 5 ⭐
HubSpot Sales Hub helps sales teams to manage and keep their pipeline full by focusing on priority leads. Interacting with prospects is made much more efficient with the use of automated email templates and lead nurture sequences.
What's more, SDRs can access top sales content so they're armed with the knowledge they need to succeed.

Besides email automation, what SDRs love the most about Sales Hub is trackability. One sales rep says:
"I can see everything I need to see in the dashboard from through rates, to open rates, etc. I can do A/B testing and see what's hitting home for people. It's also nice to be able to track how much you're working, great for employees and employers to see who is performing well and where improvement is necessary."
You can also do neat stuff, like integrating the CRM part with contract management software.
6. Zoom
G2 score: 4.5 / 5 ⭐
Zoom is a cloud-based collaboration platform that makes setting up video meetings a breeze.
With features like screen sharing and recording, it's a must-have in the SDR toolkit.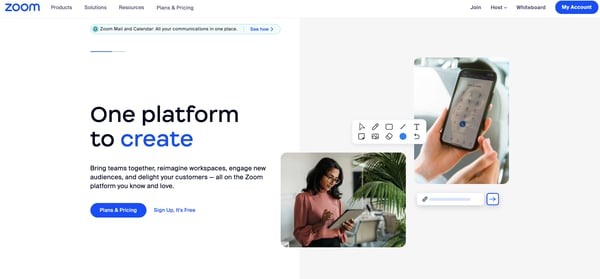 Product demos are made much easier with Zoom. A sales leader on G2 says:
"We are a product company, and the first thing we do is give a product demo. We extensively use Zoom for that. We have connected Zoom with our Calendly and can when a customer comes to our website and book a demo automatically a link is generated and sent to the customer. This has reduced our task considerably as earlier we used to use uber conference and it was a manual process of sending links to customers"
7. Navattic
G2 score: 4.9 / 5 ⭐
Navattic empowers product-led growth (PLG) companies to create and customize interactive demos for their products.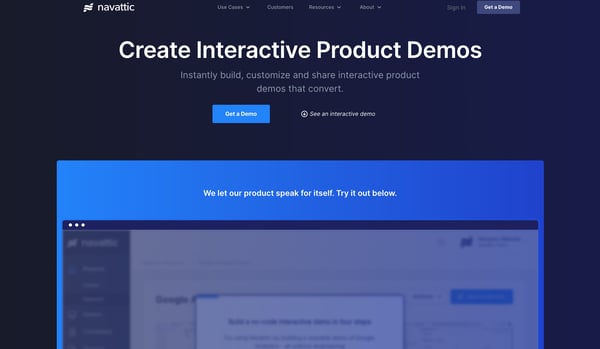 It's excellent for driving both outbound and inbound leads.
"Navattic is great and has helped our prospects experience our product earlier in their buying journey. This makes discovery/demo calls with our sales team much more focused and productive." - Navattic user
8. Salesmate
G2 score: 4.6 / 5 ⭐
Salesmate is a sales cadence software and has exceptional personalization features.
You can tailor each email and text you send out to prospects, as well as automate all your follow-up activities across multiple channels, such as email, texts, and calls.
Salesmate is ideal for emerging and mid-sized businesses.
"It helps businesses close more deals faster. It is an easy-to-use interface and automated workflows and lets the sales team focus on the correct values at the right time" - Salesmate user
9. Salesloft
G2 score: 4.5 / 5 ⭐
With Salesloft, you can plan and schedule each sales activity.
It connects directly to your mail server, making sure that emails don't end up in the spam folder. And has cool features like removing prospects from your follow-up email templates once they've replied.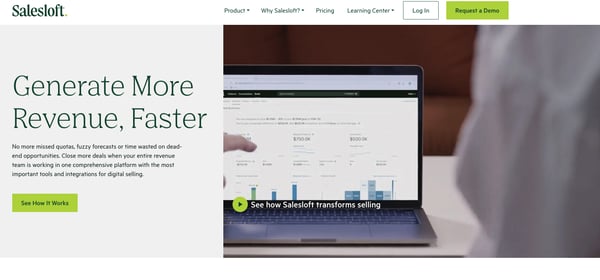 Lisa Guerrero Pawletta, Sales Development Representative at Seismic explains how Salesloft helps her with email outreach.
"I use Salesloft here at Seismic. That means, I see when my prospects opened my email. When I send a personalized email and I see that my prospect opened my email more than one time, I send a GIF pretty often as my follow-up."

"My prospects could laugh. I didn't book 100 meetings with it. But I received an answer. And that's what we want, right? "
10. Gong
G2 score: 4.7 / 5 ⭐
Gong is a conversation intelligence software that uses AI to analyze cold calls and offer real-time data on what makes those calls successful (or not).
There is a full view of the topics discussed and how they influenced the outcome.
Plus, Gong allows managers to review their team's sales behaviors, which then helps with designing personalized training programs.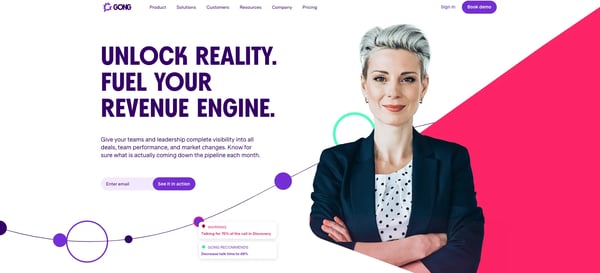 Here's what David Tait, Manager, Digital Sales at Realter says:
"The greatest coaching tool ever is Gong."

"I use it every day and it helps me to take a pulse on how my reps are doing. It's great for reps too in this virtual environment, I learned a ton from listening to my peers who I sat with but only heard one side of the conversation. Gong allows reps to listen in on their teammates, glean best practices and hear both sides of the convo."
11. Seismic
G2 score: 4.7 / 5 ⭐
Lessonly by Seismic is a sales coaching platform that personalizes your training to fit the needs of your company.
It provides individual progress reports, evaluations, and ways for sales reps to provide their own ongoing feedback.
It's a game-changer for onboarding and training.
"Lessonly has fundamentally changed our onboarding process. Now we have the ability to bring on multiple hires at once, set them up for short and long-term success every time, and harness insights into their learning. Lessonly has allowed for a training regimen that simply was not possible for our company until now." - Lessonly user
Why SDRs need these in their tech stack
Using the right outbound tools saves time throughout the buying cycle.
So what do you need if you're building a sales team?
CRM
A customer relationship management (CRM) software is a one-stop shop for the entire team. You can keep track of your prospects' contact information and where they are in the sales pipeline.
Without a CRM, handling a high volume of contacts is a real struggle. 🥹
John Cheney, CEO & Founder at Workbook, explains why organizations need to invest in CRM software:
"There are several positive outcomes: revenue growth by finding new customers and selling more to existing customers, improving the customer experience and reducing operational costs."

"A CRM system streamlines businesses. It leads to better insight and decision-making. Also, with better quality B2B leads, you'll build a stronger pipeline and unlock greater overall growth."
Online demos and collaboration
These are a big deal in the B2B sales tech stack. ✅
Online meetings using platforms like Zoom have replaced a lot of face-to-face communication. They are used by account executives (AEs) to do demos with prospects.
Joel Matthews, Account Executive at Cognism explains how to make a demo more personal in this clip. 🎬
There's also self-guided demo software. This is becoming increasingly important for SaaS sales to give prospects a first-hand look at your product.
Sales cadence tools
A sales cadence is a series of follow-up touchpoints completed by the sales rep.
The process can be hard to track, but it's made a lot easier with sales cadence software.
You'll be able to automate workflows, keep a consistent approach, and encourage prospects further down the sales funnel.
Tim Jones, CEO at Eternal Works talks about why sales cadence is so important:
Focused effort - You know what you are doing with each prospect and when to do it. It's easier to track where you are in your outreach.
Repeatable process - You now have a selling process that can be replicated and is easy to follow.
Trackable process - This makes it easy to see what is working and what's not.
Sales coaching tools
Sales managers need to feedback insights so that reps can improve their performance.
With sales coaching tools, you can record, analyze, and provide insights on audio and video calls. Take a deeper look into KPIs like the average length of each sales rep's conversation and the discussion points.
Coaching tools are important for new SDRs who are being onboarded and current ones looking to progress in their roles.
Raffael Fernandes, Co-Founder and Director at Flow State says:
"I always have empathy for young managers, especially in the first 2 years of their fledgling new career path."

"Having a clearly defined set of management values and competencies along with a supporting training and development curriculum is essential to equip your managers with the skills and tools they need to perform - and crucially to coach others to perform."

"Invest in your managers and create a safe environment for them to learn, make mistakes and develop their own authentic leadership style. It's one of the best things you can do for your team!"
Prospecting tools and sales intelligence
B2 B companies use outbound sales prospecting tools and sales intelligence software to get access to high-quality data and insights. With integrations, you can feed data at a contact and company level directly into your CRM. Helping to make prospecting much easier!
Sales intelligence tools go a step further because they are able to provide additional insights and intent data.
Benefits of using outbound sales tools
Let's talk through the key benefits of having a full B2B tech stack 👇
Save time
You've got the chance to give your team hours back.
Sales cadence software for example, is great at automating mundane tasks.
If you use prospecting tools (like our LinkedIn Chrome Extension 👀), your reps can quickly and easily find the contact details of the people they'd like to speak to.
Clear reporting
Each outbound sales tool can provide better reporting.
Let's look at this from a CRM point of view. With good CRM you get access to… 🔎
Sales pipeline reports: Measure how many deals are included in each stage of your sales pipeline and the effectiveness of moving them through the process.
Lead source reports: Determines which channels are generating quality leads that result in revenue.
Sales activity reports: Help managers and salespeople log, track, and evaluate the effectiveness of sales calls or emails.
Customer service reports: Show sales and customer support teams whether customer expectations are being met.
Campaign performance reports: Help sales and marketing teams develop and fine-tune messaging by showing the success of their campaigns.
Upskill your team
Outbound sales success is driven by performance. Your SDRs will be able to sell better if you implement good sales enablement tools and processes.
Jacobo Sanmartin, Head of Business Development and Sales Operations at BigBuy explains more:
"Sales enablement is not rocket science. With properly planned communication, content creation and distribution, and equipping your team members with the right set of tools, you can easily start a sales enablement journey."
These are the key signs you need a sales enablement strategy:
Lack of a well-maintained content library
Your team's performance is not as expected
Salespeople can't understand the buyer's pain points
Customer retention is low
The sales process is fragmented and unorganized
Wrapping up
Good outbound sales software helps at all stages of the sales funnel. ✅
From coaching for newbie SDRs, to prospecting, and booking meetings.
There's definitely value in each of the tools we discussed.
To recap, outbound sales tools are beneficial for your sales team because they…
Boost your productivity
Let you focus on what's most important
Automate manual tasks
Provide clear reporting
Help you upskill your team with sales enablement
INBOX INSIGHTS
Quick-to-read tactical advice and tool suggestions straight to your inbox.
Kaspr offers you the best way
to reach your customers