Top 8 prospecting strategies
Sales reps have a lot to do daily. And one of the most important tasks on their to-do list is B2B prospecting. 💯
Let's break this subject down.
B2B prospecting is about finding potential buyers (prospects). In outbound sales, you identify, reach out to, and (hopefully) convert these people into customers.
Sales teams use a variety of different outreach strategies, including:
Cold calling.
LinkedIn messages.
Sending cold emails.
It's all part of lead generation, so in-depth research is vital.
Here are some of the best methods. 👇
B2B prospecting methods
There are various methods your sales team can use for successful prospecting.
As a rep, you've got to do some trial and error to find out what works for you.
On the flip side, you've also got to be able to see what your potential customers respond best to. So you can tailor your outreach and create a value-based buying experience.
Here are some common methods:
Cold calling and emailing: This involves sales development representatives (SDRs) reaching out to prospects they've never spoken to. The approach warms up the ideal buyer and kicks off a dialog. During these interactions, it's the rep's job to build a relationship. And to qualify the prospect for any future engagement.
Warm calling: This is when a prospect has expressed interest in your product or service. Unlike cold calling, where a rep approaches a potential client without any previous contact. Warm calling is a great way to move qualified leads through the sales funnel.
Social selling: You can't deny the power of social media. This method is when sales reps engage their prospects on social (usually LinkedIn for B2B). Social selling is a great way for salespeople to get to know the people they want to target better. And learn about their pain points.
Personal branding: SDR personal branding is another great method. By posting on the social platforms that their customers use, reps can build credibility within their industry. It's natural for prospects to be skeptical of salespeople, especially when cold calling.

Sales cadences:

A sales cadence is the combination of several channels put together in a series. SDRs will send various emails, messages on LinkedIn, and cold calls as part of a sequence. This increases the likelihood of a potential buyer responding and showing interest in learning more.
Account mapping: This tactic involves creating a visual representation of the best path to a sale. It's how reps organize and catalog various data points and who the decision-makers are at their target companies.
The top 8 prospecting strategies for 2023
Ready to take your B2B prospecting processes to the next level? Use these eight tips to start seeing success right now. 🤑
1. Know your ICP (inside-out)
Knowing your ideal customer profile (ICP) is crucial. An ICP is a detailed description of an organization you believe will benefit most from your solution.
It's up to your reps to make the target prospect within your ICP aware of your existence.
To find targets that match your ICP, you've gotta:
Spend time cold calling.
Contact potential prospects via outbound email.
Connect with prospects on social media.
A list of targets will serve as a guideline for sales reps on pinpointing leads. It will also help teams close more details and attract more leads in the future.
Not sure how to find targets that match your ICP? 🤔
Look at elements like:
Company size: This plays an important role in their budget and revenue.
Industry: If your product or service is only used by a particular industry or niche, your ICP must reflect this.
Geography: Consider where your company can do business.
Legality: Any legal requirements your company or the companies you work with must meet.
2. Set prospecting goals
Setting goals is key for measuring success. A daily game plan will help you know which B2B prospecting methods to focus on.
You could look at:
Hours per day spent prospecting.
LinkedIn connection request approvals.
How many meetings are being booked
Hitting the target revenue number for that month.
Reducing the churn rate.
What are the new customer gains per specific geographic zone.

Morgan J Ingram, Creative Advisor at Cognism explains why you need to prospect daily in the clip below. 🎬
It's important to make your goals SMART. They must be Specific, Measurable, Actionable, Realistic, and Time-Bound. If this isn't the case, the goals won't be as impactful, and hitting them won't mean as much.
3. Pre-qualifying leads
An ICP is just a guideline, and some people still won't be interested. Even if your solution is perfect for them.
You've still got to qualify out unsuitable prospects.
Pre-qualifying questions like the ones below can help:
Is what I'm selling relevant to their industry?
Do they seem interested in purchasing what I'm selling?
Do they use a similar product by our competitor?
Is what I'm selling going to solve a pain point?
Has a recession affected their company?
The more time a rep spends pre-qualifying a B2B prospect, the more sure AEs are that this individual is worth investing time in. The sooner a rep can answer these questions, the better (for everyone).
4. Take personalization to the next level
It's called cold outreach, but it doesn't mean your approach should be frosty. ❄️
No matter what tactic or strategy your sales reps use, always make it personal! So make that emotional connection stronger by sending specific, relevant, and personalized messaging.
There's no room for the "pray and spray" approach anymore. 👇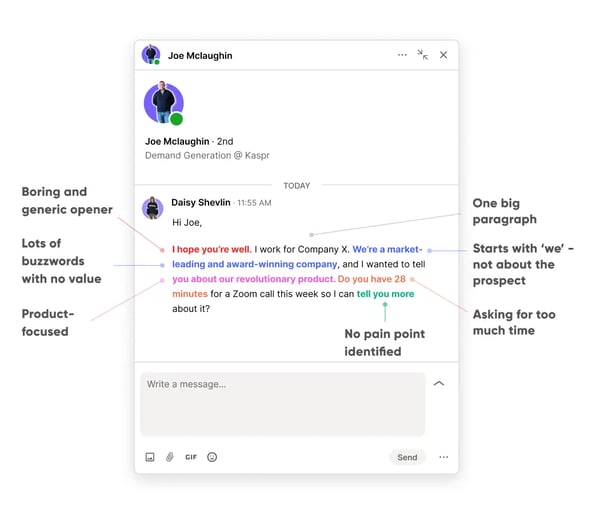 Instead, speak to prospective customers like you're talking to a friend. Personalized pitches take longer to create and need research. Still, the results from it are well worth the time invested.
5. Multi-threading with stakeholders
You've got to try to build relationships with as many stakeholders as possible.
Don't put all your eggs in one basket. 🐣
It's always smart to reach out to more than one decision-maker at a time. This way, you can multi-thread your way into a specific company. This is especially important when selling in a recession or financial hardship.
In tougher climates, the involvement of more stakeholders is inevitable. So sales reps should just embrace it! The more stakeholders you involve, the better the chances of moving the deal through the pipeline.
6. Handle objections like a pro
In a perfect world, reps would always get an answer after the first email or phone call.
Sadly, this isn't a reality. Objections are reasons the prospect gives for not wanting to continue the conversation.
It could be they genuinely think they've already got a great solution, or maybe they're just trying to fob you off…
But as a rep, you've got to learn how to handle these objections like a pro. It's possible to turn these around and still close the deal with the right response.
They're not interested: Ask about the prospect's priorities. Explain how your product or service can help them overcome challenges they may be facing.
They don't have the budget: Respond with the potential financial benefits of using your service. Share real customer stories of how other companies have saved money using your product.
They haven't responded: Follow up with more personalized information and use different outreach channels.
They work with a competitor: Ask how satisfied they are using the competitor's product (rate it out of ten). Pinpoint areas where your product offers a feature or functionality unavailable to the competitor.
Remember, there's a fine line between being professional and too pushy. You don't want to alienate the prospect, just open their eyes to what's available.
7. Start your personal brand
You've thought about it. Now it's time to act.
A personal brand on social media helps build credibility.
Before building out your content, make sure you:
Use a profile picture and banner image.
Optimize your bio with keywords, for example: helping SaaS leaders hire SDRs.
Create a headline that's benefit-led.
Build out your 'about' section.
Switch creator mode on - here's how.
Next, you can look at which posts you write first. See the list below for some inspiration!
The introductory 'this is me' LinkedIn post.
The 'this is my first post' post.
The 'ask a question' post.
The 'I tried X and here is what I learned' post.
The 'unpopular opinion' post.
8. Use a prospecting tool
Sales tools can help with a lot of the heavy lifting.
An all-in-one prospecting tool like Kaspr gives you instant access to contact info which is accurate. You'll also be able to auto-enrich leads and build outreach workflows.
Many prospecting tools offer an email and phone number finder, making it easier to contact the right people.
Having a feature like this makes B2B prospecting faster and hassle-free.
Make B2B prospecting easier
B2B prospecting doesn't have to be a grueling task. Especially with these eight strategies.
And when prospectors have a tool like Kaspr, the sky's the limit! You can also sign up for free. 👀
Join the 40K+ Kaspr users:
✅ GDPR and CCPA aligned.
✅ 120m+ email addresses.
✅ 90m+ phone numbers.
✅ All-in-one prospecting tool.
✅ Fully self-service.
✅ Customizable plans.
INBOX INSIGHTS
Quick-to-read tactical advice and tool suggestions straight to your inbox.
Kaspr offers you the best way
to reach your customers