Find the email addresses you need with our 17 favorite email scraper tools. Let's go. 👇
1. Kaspr
4.4/ 5 on G2 🌟
Kaspr instantly extracts emails, providing you with the most precise data available. You then have the freedom to export this data as a CSV file or manage your leads using either the Kaspr dashboard or by integrating with your sales apps.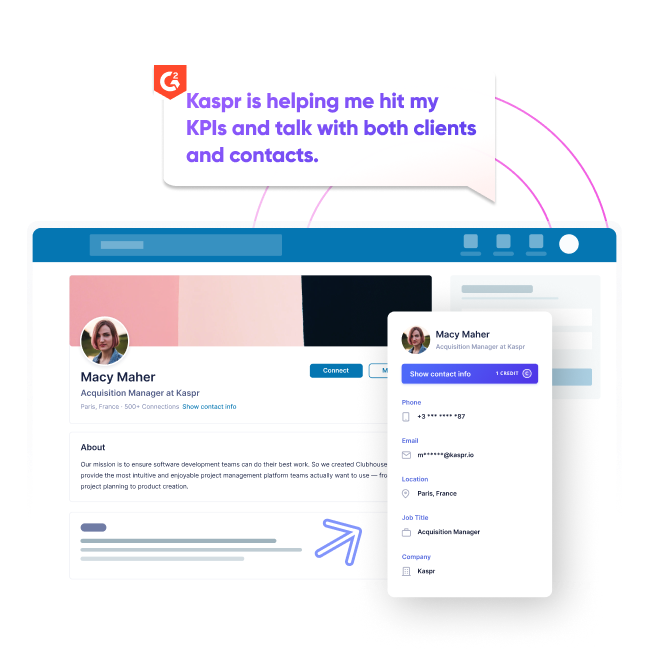 Here's what sales reps like about Kaspr:
A free version of Kaspr, including a LinkedIn Chrome Extension.
Easy to set up and use.
GDPR and CCPA-aligned data.
Vast B2B contact database of email addresses and phone numbers (500M+) to extract.
Unlimited B2B email addresses.
In the freemium version of Kaspr, you'll receive per month:
5 phone credits.
5 direct email credits.
10 export credits.
👻 Plus unlimited B2B emails if you invite three colleagues to join Kaspr! Sign up here.
Try Kaspr
completely free
With Kaspr you use your credits on features like:
Revealing prospect contact details.
Leveraging insights and analytics on potential leads.
Sharing fresh leads' contact info with your team.
Organizing qualified leads within the platform.
Exporting contact information for further use.
If you choose to upgrade to a paid plan, prices start from €45 per month (approximately $49). The paid plans provide you with way more credits, and features to enhance your experience.
2. Cognism
4.7/5 on G2 🌟
Cognism promises high-quality, international sales intelligence for tech companies, including email extraction of validated emails.
Other benefits include:
98% accuracy in mobile phone numbers.
Manually verified Diamond Data®.
Unrestricted person and company-level intent data.
Full GDPR and CCPA compliance.
Valuable insights into ready-to-buy prospects with sales trigger events and intent data powered by Bombora.
Cognism doesn't offer pricing tiers or a standard free trial, but you can get 25 free leads. They customize all their packages based on your company's needs. The good news is that any data set in your package has no data view restrictions.
3. AeroLeads
4.0/5 on G2 🌟
AeroLeads helps you extract emails and discover new prospects whose emails you might want. You can also transfer data from your list or sites like LinkedIn and Crunchbase.
Some more features of AeroLeads to shout about include:
Search over 650 million profiles.
An all-in-one Chrome Extension.
Automate prospecting with their 'Pro Plugin'.
Email finder and verifier.
Integration with various CRM platforms.
There's a free version of AeroLeads that'll give you 50 credits a month to spend on:
Finding emails, names, and company names of a prospect.
Email campaigns.

Finding prospects from LinkedIn

, Crunchbase, Angellist, and Xing.
Import data from CSV and export to CSV.
Paid plans start from $49 per month and up your credits to 2,000 per month.
4. UpLead
4.7/5 on G2 🌟
UpLead offers prospecting lists and emails. They also have an email verification tool that checks against their database.
Some of their biggest selling points are:
135 million B2B contacts and 16 million company profiles.
Intent data from customers who're currently searching for solutions.
Over 50 search criteria filters so you can find the right prospect for you.
UpLead offers a free test drive that includes 5 credits to spend on things like:
User data.
Verified emails and numbers.
Data enhancement.
Competitor intelligence.
Their paid plans start from $74 per month and offer 170 credits per month. Extra credits come in at $0.60 each
5. GetEmail.io
4.6/5 on G2 🌟
GetEmail can extract any email in seconds with a combination of data and artificial intelligence. The AI support means the system can predict emails based on patterns as well as data scraping.
Other benefits include:
Two Chrome Extensions that can integrate with LinkedIn, Gmail, Outlook, and Salesforce.
A seamless user experience.
Ability to export large quantities of emails.
GetEmail also offers a free version of their tool that includes:
10 credits per month.
CSV download.
API access.
Their paid versions start from $49 per month, up your credit allowance to 300 per month, and offer a tech support feature.
6. Clearbit
4.4/5 on G2 🌟
Clearbit offers various marketing and sales enablement features, including email extraction. They have features that enrich captured leads that visit your website.
Some of Clearbits unique selling points include:
Clearbit

data enrichment

to discover 100+ data points on a company.
Integration with Salesforce, Marketo, HubSpot, and more.
Over 400k happy users.
Clearbit does offer a free account that lets you:
De-anonymize your site traffic.
Calculate your total addressable market (TAM).
Determine your ideal customer profile.
200M contacts from 40M companies.
If you want to upgrade to an unlimited paid plan, you'll need to talk to their team, as they can build you a custom plan.
7. 6 Sense
4.4/5 on G2 🌟
6 Sense Revenue AI™ for Sales (formerly known as Slintel) helps users extract emails and buy intelligence fast. As well as email extraction, they help teams identify anonymous buyer intent data.
More key features of 6 Sense include:
Insights into the "Dark Funnel" of people looking at your website.
Direct access to recommended actions, persona map, people, and company pages.
Extract both personal emails and business emails
Features like a Chrome Extension, prioritization dashboards, and alerts.
To move forward with 6 Sense you have to book a demo or get in contact with a member of their team. There is a free version that offers you 50 credits per month to play around with their data.
8. Clearout
4.9/5 on G2 🌟
Clearout's email extractor software helps you optimize your cold marketing efforts. In particular, their bulk email finder tool can help you find a higher volume of leads in one go.
Other benefits that SDRs love include:
98% accurate results that uphold your

email sender reputation

.
Cost-effective transparent pricing.
LinkedIn Chrome Extension.
Search options like domain search, company name search, and name plus domain search.
Clearout offers a one-time 100 credits for free option. Or pay-as-you-go credits starting from 3,000 credits for $21. They also offer a monthly or annual payment option with 5,000 credits for $31.50 per month.
9. ZoomInfo
4.4/5 on G2 🌟
With a global network of over 220 million contacts, ZoomInfo has a lot of intelligence to share when it comes to email extraction. They also offer information like sales engagement data, data orchestration, and conversation intelligence.
Other benefits include:
Real-time insights with over 1.5 billion new data points processed daily.
The ability to connect sales and marketing teams with customers in one channel.
The opportunity to scale and automate outreach.
ZoomInfo is a tool aimed at larger businesses with many SDRs, so they keep their pricing information under wraps because it's bespoke. You can request to view it on their website in exchange for contact details.
There is also a free trial for ZoomInfo for 14 days, if you wanted to try it before looking into pricing.
10. Datanyze
4.2/5 on G2 🌟
Datanyze is an affordable tool that helps professionals connect with prospects. As well as email addresses, they also help you find mobile numbers from LinkedIn profiles.
Datanyze features also include:
An easy-to-use

LinkedIn Chrome Extension

.
A database of over 48 million direct dial numbers, 84 million email addresses, and 120 million contacts.
Accurate data with a refund guarantee for any problems.
To have a go with Datanyze you can use Nyze Lite for a free 90-day trial with ten credits per month to spend. Your credits will reveal contact information through the Google Chrome Extension or directory.
Their paid plans start at $21 per month when billed annually, with 960 credits to spend per year.
11. RevDriver from SalesIntel
4.4/5 on G2 🌟
SalesIntel's RevDriver is a Chrome Extension that helps you extract emails from websites. They specialize in helping you find high-intent companies and key decision-makers. They fuel their business intelligence through automation and a global team of researchers.
Some key features of SaleIntel for SDRs include:
Account intelligence that gives you access to decision-makers.
Search filters like company size, revenue, employee count, location, funding.
Intent data that helps you pinpoint the right person, company, and time.
SalesIntel promises a credit-free system with unlimited leads. There is a free trial, so you can try the product, but further pricing is bespoke to your needs. So you'll need to schedule a call with a sales representative to discover what's on offer.
12. Discover.ly
Not currently rated on G2 🛑
Discover.ly is a Chrome plugin that helps you leverage your personal network for professional opportunities. While Facebook is often ignored in the search for email extraction, Discover.ly focuses on social media profiles to make new business connections.
Benefits of Discover.ly include:
An up-and-coming product referenced in Forbes, Techcrunch, Entrepreneur.com.
The opportunity to make your Gmail, Facebook, Twitter & LinkedIn "play nice" together.
Reveal, and save more complete social contact info.
And the best part? Discover.ly is currently completely free.
13. Finder.io
4.7/5 on G2 🌟
Finder.io is an email extractor tool that finds the addresses of people who matter most to your business. Their database holds over 430 million email addresses, which you can use to find bulk email lists of potential customers.
Other key features of Finder.io include:
Integration with top 25 CRMs like AgileCRM and Salesforce, plus many more.
Scrape leads from LinkedIn, Google, and Domain search.
Find emails on the go with the Chrome Extension.
Prospect more leads using built-in Leadsly.
Finder.io is part of a larger customizable business software suite called 500 Apps. They don't offer a free trial, but their basic plan starts at a reasonable $14.99 per month for up to 50 apps.
14. Snov.io
4.5/5 on G2 🌟
Snov.io is customer relationship management software that helps you find prospects and extract emails. You can then use their automated outreach to reach out to and manage prospects within the platform.
Selling points of Snov.io include:
Just how many integration options there are - over 2000!
How it streamlines your tech stack by offering lots of functionalities in one place.
Email validation software stops you from searching for dead-end leads.
They offer a forever-free, renewable plan that has 50 credits per month. Their paid plans start at $39 per month, which ups your spending limit to 1000 credits.
15. Atomic Email Hunter
3.8/5 on G2 🌟
Atomic Email Hunter is a tool that extracts emails and usernames from web pages. You enter a key phrase related to your business or target audience. It'll then find relevant websites, scan them, and collect email addresses.
Other selling points of the Atomic Email Hunter include:
Ease and simplicity of use.
Variety of filtering rules to find the right emails for you.
Facebook, Mailbox, and Yelp plugins to find emails from websites.
Pricing wise Atomic offer a 7-day free trial that gives you access to all its features. For longer than that, you'll have to pay a one-off $89.95 to be a lifetime user of the software.
16. Findemails.com
3.7/5 on G2 🌟
With Findemails you can search for prospects through their company type and role, or search for the contact details of a specific person. The platform also offers advanced mail server tests so your emails reach real people.
Other benefits of Findemails include:
Sender score protection through mail server tests.
Chrome Extension that helps you source, find and verify emails while you browse.
The ability to buy prospect lists with verified data from other Findemails members.
There's no free version of Findemails, but their basic package comes at a reasonable $29 per month. This package includes:
1,000 credits.
API key and support.
Bulk import and export.
Phone and email support.
17. Swordfish
4.6/5 on G2 🌟
Swordfish brings data together from providers like Hoovers, Dun & Bradstreet, Experian and live feeds. The result? Efficient, accurate & easy to use email extraction.
Key features include:
Easy to use Chrome Extension to find emails whilst you browse.
Bulk enrichment of customer lists.
A deep search engine that can find anyone you need based on various inputs.
Swordfish offers a free trial, but you'll need to talk to someone on their sales team to access it. They don't share their pricing model openly, but user reviews put them as over 10% cheaper than comparative software.
FAQs
Still have questions? Let's take a closer look…
What are email extractors?
Email extractors are scraping tools that find and predict email addresses from various online sources. They are often used in industries where people need to generate leads from a large number of email addresses like:
Marketing.
Research.
Communication.
Sales.
There are different types of email extractors available, including:
Web-based extractors. These extractors allow users to enter a website URL or keywords related to the desired email addresses.
Desktop software. These are standalone applications that you install on your computer.
Plugin or browser extensions. These add-ons integrate with popular web browsers, such as Chrome or Firefox.
Email extractors can be helpful for things like building contact lists, conducting market research, and reaching out to prospects
How do email extractor tools work?
Email extractor tools work by scanning a source and extracting or predicting email addresses. Sources can be online or offline sources like:
Web pages.
Files.
Spreadsheets.
Databases.
Social media profiles or posts.
An email extractor tool often applies email checker tools to remove incorrect addresses.
This may involve:
Removing duplicates.
Checking for syntax errors.
Validating domain names.
Enriching the data.
Sometimes companies may guarantee valid email addresses because they verify email addresses manually. So they can guarantee their product is delivering the highest standard of data. Particularly if their extractor relies on predicting emails based on patterns and scraping data directly off the web.
What are the common techniques used for email extraction?
There are lots of email extraction techniques, but some of the most popular ones include:
Pattern matching
Companies often use repetitive formats like "username@companyname.com". This means you, or an AI-supported software, can predict emails based on these predefined patterns.
Web scraping
Email extractors can navigate web pages, retrieve HTML content, and scrape email addresses from the page source code.
Keyword search
An email extractor tool can scan web pages, search engine results, and more for people's associated email addresses.
Directory crawling
An email extractor tool can look through a directory's listings and profiles for email addresses.
Social media scraping
Email extractors can scrape email addresses from social media platforms. By using APIs, these tools can search through profiles and posts to extract email addresses.
It's worth noting that some of these techniques may have limitations or legal considerations. The legality and ethics of email extraction depend on factors such as:
The source of data.
Permission from users.
Compliance with anti-spam regulations.
Adherence to privacy policies.
Users should always ensure they are using email extraction techniques responsibly and lawfully.
Try Kaspr's email extraction for free
There are plenty of email extractor tools out there.
But Kaspr's easy-to-use software and high-quality data (plus unlimited email addresses) make it stand out. Sign up for free.
Join the 50K+ Kaspr users:
✅ No credit card is required to sign up.
✅ GDPR and CCPA aligned.
✅ 500M+ phone numbers and email addresses.
✅ All-in-one prospecting tool.
✅ Fully self-service.
✅ Custom plans.
INBOX INSIGHTS
Quick-to-read tactical advice and tool suggestions straight to your inbox.
Kaspr offers you the best way
to reach your customers