There are a lot of tools you can use for prospecting. It can be confusing to know which solution has the features your team needs to take selling to the next level.
We break down the top 20 LinkedIn Sales Navigator alternatives.
Right here, right now. 👇
Scroll or jump ahead to an alternative you're already considering:
Best alternatives to Sales Navigator [2023]
1. Kaspr
4.4/5 on G2 ⭐

Kaspr is an all-in-one prospecting tool with a LinkedIn Chrome Extension and dashboard. You can extract contact details from LinkedIn or Sales Navigator. And then enrich them in the dashboard.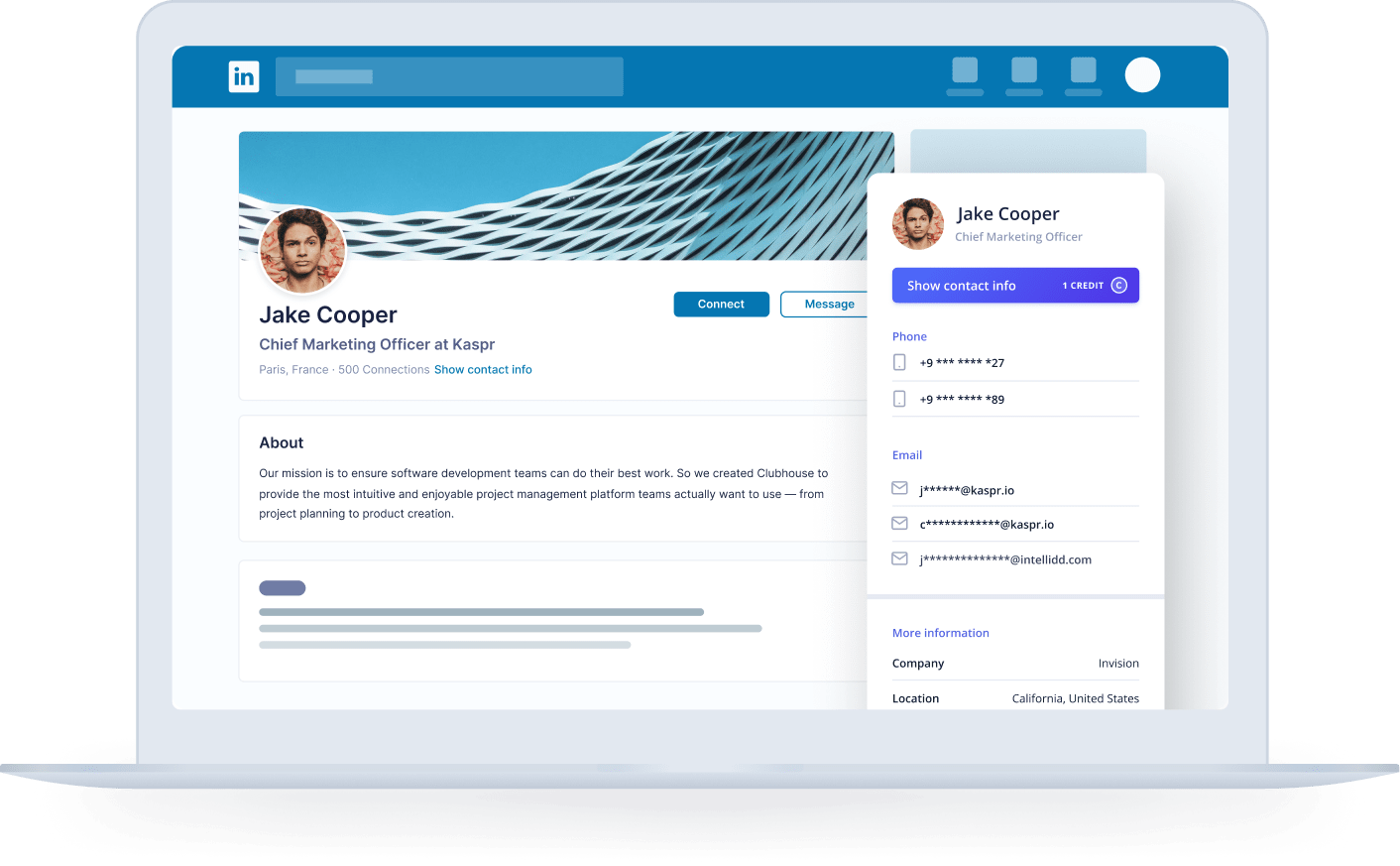 The dashboard has extra capabilities like LinkedIn message workflows and email sending. Kaspr also integrates with your favorite sales apps and CRM so that you can send data straight to them.
Kaspr is ideal for small teams or individual contributors.
Features:
LinkedIn Chrome Extension.
Dashboard.
API.
Data enrichment.
Automation.
GDPR and CCPA aligned.
Price: Try for free.
Recent review:
"The app is straightforward, easy to use and very useful: a couple of clicks and you get the info you need (phone numbers and emails) to reach out to your contacts." - Sales Consultant user on G2
Alternatives:
2. Cognism
4.7/5 on G2 ⭐
Cognism sets a new standard for data quality and compliance. It's a sales intelligence platform trusted by over 1,000 revenue teams worldwide. There's a Chrome Extension and dashboard that helps identify ideal-fit accounts.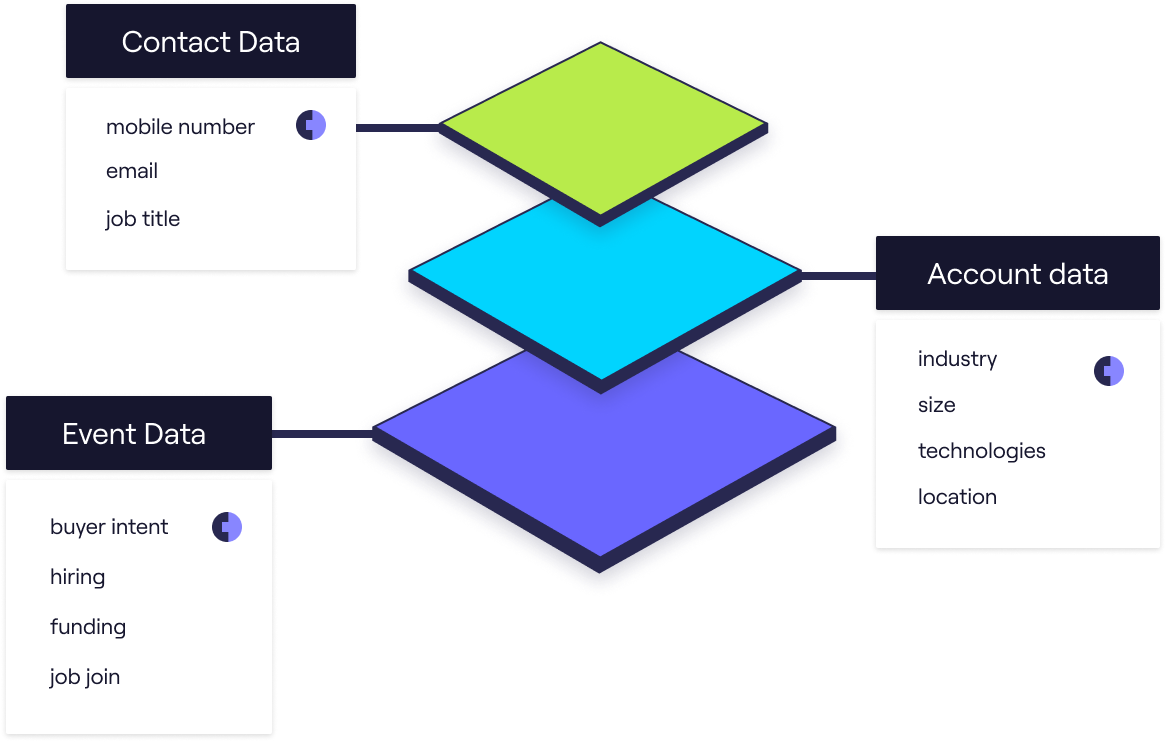 Sales reps can contact the most relevant people and hit their quota faster.
Features:
Intent data.
Sales trigger events.
Technographics.
GDPR and CCPA compliance.
Price: Price packages are customized based on desired workflows. Reach out to a rep for more information.
Recent review:
"The best feature for me is the ability to search for individuals with a selection of job roles across multiple organizations simultaneously. Furthermore, the quality of contact information is outstanding." - Business Development Manager on G2
Alternatives:
3. ZoomInfo
4.4/5 on G2 ⭐
ZoomInfo is a go-to-market platform with data-driven insights and buying signals. These help reps identify and reach their next best customer at the start of their buying journey.
You can also analyze customer calls, meetings, and emails to drive process changes.
Features:
Sales engagement.
Data orchestration.
Intent data.
Website visitor tracking.
Price: Available on request or after signing up for free.
Recent review:
"The ability to track and manage sales activities in one central place and the ability to see real-time data on sales performance are one of the best features of ZoomInfo. The other feature I love is its usability in pipeline and forecast sales. One of the other favorite features I like about it is that we can create custom reports and dashboards, which makes the data accessible readily." - Research Analyst on G2
Alternatives:
4. Seamless.ai
4.2/5 on G2 ⭐
Seamless.ai is a solution that can find verified phone numbers, emails, and direct dials.
It's got a real-time search engine, which helps reps connect with their ideal customers. This helps to build the pipeline, shorten sales cycles, and close deals at scale.
Features:
Real-time data verification.
Pitch intelligence.
Chrome Extension.
Price: Try for free (up to 50 credits) or from $147 per month.
Recent review:
"Seamless.ai has been a great tool for my company to generate new leads with accurate contact information. We have seen a significant increase in accurate emails and response rates to our outreaches. We've gained a lot of new business from using Seamless.ai." - Director of Marketing & Global Account Management on G2
Alternatives:
5. Nimble
4.5/5 on G2 ⭐
Nimble is a relationship-focused CRM. It features data enrichment and contact management.
Sales reps can build relationships, find opportunities, and reach their goals. Plus, see a visual representation of pipelines for added efficiency.
Features:
Relationship management.
Activity tracking.
Contact data enrichment.
Price: Free 14-day trial, starts from $24.90 per user.
Recent review:
"It helps me to be more hands-on and highly competitive around sales targets and helps to be part of the process in terms of campaign distribution, customer follow-ups, and providing marketing services. Nimble has unique support that helps retain the functions' development." - Sales Engineer on G2
Alternatives:
6. Lusha
4.3/5 on G2 ⭐
Lusha is another prospecting tool. Sales teams can find contacts, get data, and target priority accounts.
Lusha ensures everyone performs better at every stage of the sales process.
Features:
Relevant decision-maker data.
GDPR aligned and CCPA compliant.
Dashboard analytics.
Price: 5 free credits to try or starts from $29 per user.
Recent review:
"The most helpful feature of Lusha is its ability to provide up-to-date contact and company information. The platform lets users quickly get accurate, verified contact data to connect with decision-makers at companies and organizations. This is especially helpful for sales and marketing professionals who need to target the right contacts and build relationships with them." - Sales Account Manager on G2
Alternatives:
7. Uplead
4.7/5 on G2 ⭐
Uplead is a B2B prospecting tool with high-quality contact and company details. It helps sales teams avoid incorrect data, bad-fit buyers, and low-qualified leads.
It's got some pretty decent features like search filters, intent data, and mobile numbers.
Features:
Chrome Extension.
Data enrichment.
Technographics.
Price: 5 free credits to try or starts from $74 per month.
Recent review:
"Over the past several years, I have used just about every B2B database on the market and keep coming back to UpLead as my top choice due to the ease of use, the value you get for your money, and the wide variety of data they have." - Managing Partner and Research Manager on G2
Alternatives:
8. Lead411
4.5/5 on G2 ⭐
Lead411 offers companies B2B lead generation with growth intent. It's got information about contacts and companies, filters, and intent data.
Sales reps can view contact data profiles to find the companies most likely to be in a buying cycle.
Buyer intent data can hone in on the decision-makers within each company, giving sales reps a leg up against the competition.
Features:
Intent data.
Advanced search metrics.
Lead scoring.
CRM integration.
Price: Lead411 offers a 7-day free trial, starts from $900 per year.
Recent review:
"Lead411 allows me to build lists and, most importantly, get triggers in my target industries. Competitors don't compare!" - Sales Operation Manager on G2
Alternatives:
9. Apollo.io
4.8/5 on G2 ⭐
Apollo.io is an all-in-one sales intelligence platform that helps sales reps engage, prospect, and drive more revenue. Connect with contacts, and create a modern go-to-market strategy that works.
It's got over 220 million contacts and 30 million companies, so it's easy for teams to leverage Apollo.io to its truest potential.
Features:
Verified email addresses and phone numbers.
Intelligent segmentation.
A/B testing.
Customizable reporting.
Price: Try it for free, starts from $39 per user.
Recent review:
"It's a fast-paced world. No one has time for unwanted emails or connections that do not support their core business. Searching by title on Apollo.ai reveals the right decision-makers for my organization. Additionally, in our global world, filtering by location is invaluable. We appreciate the added feature highlighting a contact's LinkedIn profile allows for one-on-one personalized communication and individuals updating their most current organizations. Finally, the support staff and tools make Apollo.ai a very user-friendly platform." - Team Lead on G2
Alternatives:
10. RocketReach
4.5/5 on G2 ⭐
Companies using RocketReach can build out contact and company lists from an accurate database of emails and direct dials.
You can connect with the right decision-makers and take advantage of the browser extension by discovering leads on Google, AngelList, Crunchbase, and LinkedIn.
Features:
Advanced search.
Bulk lookups.
API for verified contact info.
Price: Team plans for RocketReach start at $83 per user per month.
Recent review:
"This tool is essential for verifying the quality of lead lists you build with LinkedIn. Think of it as LinkedIn Sales Navigator on steroids. What I like the best about RocketReach is you can submit information via the interface to improve the quality of search results. For example, if you know someone who has recently changed roles and employers, there is a simple way to provide updated information for every RocketReach user to benefit." - Digital Editor in Chief on G2
Alternatives:
11. Demandbase Sales Intelligence Cloud
4.3/5 on G2 ⭐
DemandBase Sales Intelligence Cloud, uses account intelligence throughout the entire sales process. This means your reps sell smarter and are more intuitive about their leads.
This tool gives you access to refreshed company, contact, technographic, and intent data in your CRM, browser, and more.
Features:
Social insights.
Intent signals.
Technographic data.
Price: Demandbase Sales Intelligence Cloud doesn't list pricing on its website but encourages those interested to reach out to receive an estimate.
Recent review:
"Demandbase Sales Intelligence has been instrumental in helping my sales team find people they would not otherwise be able to find, using that information to reach out to them and potentially get new sales. It integrates seamlessly with our CRM system, making it even better. The company research and connections are extremely helpful." - Regional Sales Manager on G2
Alternatives:
12. Clearbit Data Activation Platform
4.4/5 on G2 ⭐
With the Clearbit Data Activation Platform, sales reps can harness company intelligence and intent signals.
Set-up can be completed in just a few minutes, and then sales teams can build dynamic audiences that fit their ICP and show buying intent, making it possible to engage the right companies at the right time.
Features:
APIs.
Intent and company data.
Targeted ad campaigns.
Price: Clearbit Data Activation Platform doesn't list pricing on its website but you can reach out to receive an estimate.
Recent review:
"As a fairly young startup, Clearbit has been instrumental in unlocking insight and visibility into our ideal customer profile, which is vital for marketing and sales initiatives. Using Clearbit's enrichment solution, we have not only been able to better understand who is using our platform but have also been modeling that data to continue to grow our user base." - Strategic Account Manager on G2
Alternatives:
13. Salesflow
4.2/5 on G2 ⭐
Salesflow is a powerful lead generation platform that fast-tracks outbound sales and marketing efforts.
Advanced filters simplify how teams find prospects. While campaign messaging allows reps to maximize their response rates and increase appointments.
Features:
Follow-up message sequences.
Advanced filtering.
Data insights on campaigns.
Price: Salesflow has many pricing plans, but its price for teams starts at $64 per month per user.
Recent review:
"The tool is easy to use and to set up. It offers high customization that enables you to run campaigns for almost every niche market and client. With some effort, you can achieve great success using Salesflow." - Managing Partner on G2
Alternatives:
14. Leadfeeder
4.3/5 on G2 ⭐
Leadfeeder is a lead generation software that shows which companies are visiting your site. This includes how they got there, their behavior, and their intent to buy. From here, sales reps can identify high-value leads.
Features:
Custom segmentations.
Behavioral and firmographic filters.
Leadfeeder Contacts™.
Price: Free plan or premium, which starts at €139 per month.
Recent review:
"As an enterprise SaaS company, we always aim to capture enterprise prospects better and pursue them from both marketing and sales ends. Leadfeeder gives us a great idea of which qualified enterprise prospects are checking us out so we can follow these leads." - Marketing Coordinator on G2
Alternatives:
15. PhantomBuster
4.4/5 on G2 ⭐
PhantomBuster offers users over 100 ready-made automations. These include code-free tools, lead extraction, and automated outreach campaigns to shine the spotlight on your business's products and services.
Features:
Lead generation solutions.
Pre-built workflows.
Contact enrichment.
Price: PhantomBuster offers a 14-day free trial, prices start at $48 per month.
Recent review:
"PhantomBuster is my go-to automation tool. There's no need to install anything. I use it on my browser. There's a phantom for most of the frequently used websites. Using the right phantoms and linking them properly is almost as good as hiring a resource at a fraction of the cost." - Operations Manager on G2
Alternatives:
16. LeadDelta
4.8/5 on G2 ⭐
LeadDelta is a social connections manager built for ​CEOs, entrepreneurs, digital creators, and executive recruiters to organize LinkedIn contacts.
It makes it so easy to sort and filter connections. There's also a long list of customized templates, and easy-to-build workflows, LeadDelta is ideal if you just want to organize your connections without accessing contact data.
Features:
Network manager.
Smart inbox.
Data integration.
Price: You can try LeadDelta for free with a 10-day trial. Prices start at $19.33 per month.
Recent review:
"This tool has a clean User Interface (UI), which provides a great User Experience (UX) when using the tool. It collects all my LinkedIn connections into its CRM database, allowing me to see and manage all my LinkedIn connections easily from one single interface. It also allows me to send messages, follow, unfollow, and disconnect from all my connections effortlessly from the tool's dashboard. I can also keep notes associated with each of my connections so that I will be able to refer to them whenever I liaise with the connection again any time in the future." - CEO on G2
Alternatives:
17. Freshsales
4.6/5 on G2 ⭐
Freshsales is a CRM with automations for sales teams of all shapes and sizes. You can understand the intent of your website users, personalize engagement and automate time-consuming tasks.
A 360-degree view of your customer's information makes delivering customized experiences easier.
Features:
Ready-to-use email templates.
Territory management.
Trigger-based outreach campaigns.
Price: Free for 21 days and then prices start from £12 per user per month.
Recent review:
"I like how easy it is to shorten the sales cycle. Freshsales has powerful technology that allows me to figure out the intentions that a prospect has while visiting our website and know how to proceed with our sales marketing tactics. One of the most potent tools that Freshsales offers is its sales sequence automation. It allows me to schedule many emails and SMS in bulk to ensure that the marketing campaigns are sent in a timely manner so we can reach the most clients. This is highly advantageous and it allows me to customize all the campaigns so I can make it more personalized for different prospects that want or are looking for something different from one another." - Assistant Manager on G2
Alternatives:
18. Waalaxy
4.8/5 on G2 ⭐
Waalaxy combines LinkedIn and email outreach. You can import your LinkedIn leads, send automated invitations and use the email finder to get the contact's work email.
Ideal if you're just doing cold emailing.
Features:
Email finder.
GDPR compliant.
LinkedIn prospecting.
Automatic follow-ups.
Price: You can try Waalaxy for free or their packages start from €30 per month.
Recent review:
"I loved how Waalaxy is very easy to set up. The UX and UI are amazing. I have 54% acceptance rate and 46% reply rate using the tool. In less than 5 minutes, you can launch a complex campaign. Even including email. The tool is easy to use and user-centered." - CEO on G2
Alternatives:
19. AeroLeads
4.0/5 on G2 ⭐
As a web-based prospect generation tool, AeroLeads can find relevant prospects for your sales team and get contact details. Sales reps can build an email list in real-time, browse over 650 million profiles, and search prospects using their company, experience, and education.
Features:
Automated prospecting.
Email finder and verifier.
CRM integration.
Price: There's a free trial and prices for Aeroleads start from $49 per month.
Recent review:
"AeroLeads is for B2B and lead generation businesses. The data is accurate and you can nurture and score leads easily. It's easy to use and there are lots of benefits. We have achieved our targets regularly, thanks to AeroLeads. I would recommend this to all." - Quality Analyst on G2
Alternatives:
20. Echobot
4.6/5 on G2 ⭐
As a sales intelligence platform, Echobot specializes in providing premium company and contact data.
Its long list of features helps businesses refine their target audience, generate more prospects, and boost revenue.
Features:
GDPR compliant.
Technographics.
Trigger events.
Employee filters.
Price: Echobot encourages interested users to download their pricing PDF for more information.
Recent review:
"Echobot helps us analyze markets and customer segments that we translate into marketing and sales actions on LinkedIn, Google, and other channels. The great filters and easy export functions allow us an efficient workflow. The open Rest API is another big plus for us." - Cofounder and CEO on G2
Alternatives:
Try Kaspr for free
When it comes to LinkedIn Sales Navigator alternatives, you can't go wrong in choosing Kaspr.
INBOX INSIGHTS
Quick-to-read tactical advice and tool suggestions straight to your inbox.
Kaspr offers you the best way
to reach your customers